The great and the good of UK construction took to the stage at The Vaults in London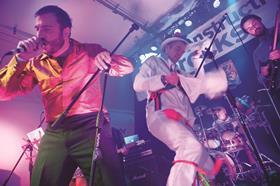 The venue
The Vaults, Waterloo
The winners:
Best performance
The Macenaries (Mace)
Best new band
The Bullets (BskyB Development and Construction Team)
Best fundraisers
Comotosed (Como Interiors Ltd)
Once again the great and the good of UK construction took to the stage at The Vaults beneath Waterloo station last week for the industry's annual charity battle of the bands, Construction Rocks.
When we say "the great and the good"… In some cases we mean a bunch of karaoke-standard, middle-managers inflicting themselves on bands staffed by their less senior, more talented co-workers. And at the other extreme, a group of ringers brought in because of their session-level musical ability and the fact that they have a tenuous connection to the firm in question (that John Bonham-esque drummer is actually the work experience kid's brother-in-law, I bet…). Some of them probably don't even know what BIM is.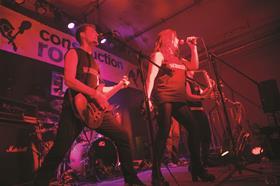 But because this year there was a whopping 11 bands featured on the bill we can't possibly go into sufficient detail on all of them and identify exactly who we mean. Suffice to say WE ARE WATCHING YOU… And we'll be back next year…
So instead, we'll just focus on this year's well-deserved winners - The Macenaries, from multidisciplinary construction firm Mace (nothing says "rock 'n' roll" like a construction firm that can be described as "multidisciplinary").
The band took the stage clad head-to-toe in black and sporting matching Macenaries-branded T-shirts (because, even more so, nothing says "rock 'n' roll" like a band in matching branded tops) and launched into a rollicking rendition of mid-1980s rock classic, and Lucozade advert theme, She Sells Sanctuary, originally by The Cult.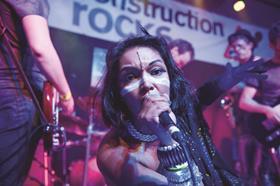 The cod-heavy metal look, rock star posturing (especially by the lead guitarist), and opening song choice all seemed slightly at odds with the fact that the band also sported that perrenial feature of 1970s/1980s middle-of-the-road pop music - the solo saxophonist. Although, despite the incongruity, she acquited herself very well, especially as the next song was Gerry Rafferty's Baker Street (a song all cover bands with a sax are probably contractually obliged to play).
Some other bands in the competition who sported unusual elements included The Cats (a flute), The Wiesner Super Pianist and his Band (a loudhailer), and Comotosed (who appeared to have a Morris dancer). There is never any excuse for a Morris dancer.
Anyway, returning to the Macenaries, they ended their set reverting to hard rocking type with crowd-pleasing covers of Ain't No Love in the Heart of the City, as recorded by Whitesnake, and AC/DC's It's a Long Way to the Top (If You Wanna Rock 'n' Roll).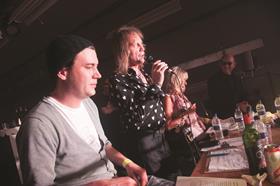 Overall their performance was deemed best by the judges - Pete French, ex-frontman of Atomic Rooster; Gina Way, owner of the Eel Pie Club; Adam Branson, professional and legal editor of Property Week; and Christopher Liddle, chair of HLM Architects - and Macenaries walked away with the top band prize.
Congratulations to them and those named as best new band - BskyB development and construction team's The Bullets - and best fundraiser - Como Interiors' Comotosed.
Congratulations as well to event organisers Bill Price and Nigel Fraser, who had a record year with Construction Rocks 2014 raising nearly £20,000, primarily for property industry charity LandAid, among others.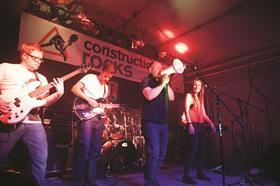 Also, well done to all the other bands: Sweett Group's Blood, Sweett and Tears; Atkins' Controlled Vibrations; Country and Metropolitan Homes' Magic Sticks; Cluttons' Mr Meaner; Assael Architecture's Tender Package; Catalyst Housing's The Cats; WSP's The Wiesner Super Pianist and his Band; and Balfour Beatty's Zero Charm. All of them raised a lot of money for the cause and turned up and played their socks off on the night (despite what may have been implied earlier in this article).
Until next year - rock on!