It wouldn't be Christmas without them. We take a look back at some of the biggest fallouts to hit the pages of Building magazine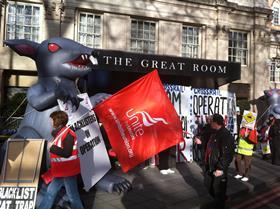 Blacklisting
Without doubt the biggest feud of the year was the continuing wrangling over blacklisting of workers by the industry's biggest contractors. 2013 saw the row reach a new level of intensity and become a genuine business threat to big construction firms for the first time. Campaigners and trade unions ramped up pressure, with a series of court cases. In August Sir Robert McAlpine dragged nine major contractors into its legal case, naming them as co-defendants to action brought by blacklisted workers. This galvanised the contractors to attempt to head off legal liabilities by setting up a compensation fund in October, which has since been criticised by unions for failing to do enough to right past wrongs.
Sweett Group and Francis Ives
The attempted boardroom coup by former Cyril Sweett chairman Francis Ives was undoubtedly the most dramatic company row of the year. Ives, Sweett's second largest shareholder, announced in March he was unhappy with the direction of the firm since his 2010 departure and that he was seeking to oust chairman Michael Henderson. Ives' plan failed as the firm revealed improving financial performance in 2013 and the board slammed his proposal as "failing to articulate a cohesive strategy".
Carillion early payment scheme
Carillion's decision to "help" its supply chain's finances by launching a reverse factoring scheme of labyrinthine complexity, which technically changed suppliers' contractual payment terms to 120 days, created one of the biggest kerfuffles of the year. Ultimately the NSCC was forced to arbitrate, with chief executive Suzannah Nichol saying Carillion's decision to extend terms to 120 days complicated further an already byzantine payment mechanism, and was "unacceptable both commercially and ethically".
HS2
This year saw probably the biggest threat to the go-ahead of the project since its inception, when shadow chancellor Ed Balls threatened to withdraw Labour's support if costs weren't cut. Shortly afterwards, a government-commissioned report by KPMG was widely criticised for claiming the line would boost the UK economy by £15bn. However, the government has so far stuck to its guns, and the appointment of former Olympics boss David Higgins to look at how to bring costs down seems to have temporarily defused the debate.
Airports
The debate over the location of additional airport capacity in the South-east was kept alive when consultant Sturgis Carbon Profiling produced a detailed report for Building suggesting that the so-called "Constellation" proposal (splitting new capacity between existing airports) would result in the lowest carbon emissions, while Boris Johnson's preferred Estuary Airport would be far more polluting. Daniel Moylan, the London mayor's chief aviation adviser, called it "woefully incomplete" and "misleading". Howard Davies' interim report on the issue, published this week, did not shortlist the estuary scheme but held out a sliver of hope to City Hall, saying it would reconsider in 2014.
Qatar workers
A report by the International Trade Union Confederation in September - which found that up to 4,000 workers could die constructing the venues and infrastructure for the 2022 World Cup in Qatar - kicked off a huge row. Building visited Qatar in November to see the conditions workers live in, after unions complained they were denied access to a site run by contractor Vinci. The powerful Qatar Foundation has published mandatory standards for labour camps, but the controversy shows no sign of abating in 2014.
2013 was host to some spectacular successes. You can see our rundown of the year here, and our top 10 successes of the year here. Alternatively, you can have a look at what we consider the biggest blunders of the year…
It was a dramatic year for others. We said hello to some new people, and goodbye to others. There were some high-profile step-downs; we round up the highlights with our Christmas Jumpers feature.
And of course, it wouldn't be Christmas without gifts … Some of the best presents are in our list here, but of course there's the odd unwanted gift …