4Projects by Viewpoint investigates the future of BIM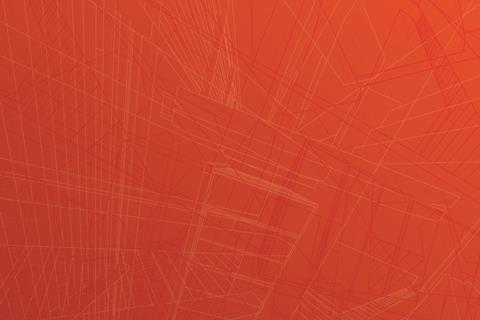 Inspired by BIM: One company's journey
It's not long now till the 2016 deadline set by the government for mandatory inclusion of Level 2 BIM across public sector construction projects. Those companies that have invested in digital processes are already reaping the rewards, as research from technology provider 4Projects by Viewpoint ably demonstrates
To say that BIM is a hot topic right now is a massive understatement. Yes, many in the construction industry have been using digital technologies to improve construction processes for a number of years, but BIM has been given huge impetus by the decision to make it mandatory across all public sector projects come 2016. This time next year, you work to Level 2 BIM or you don't work on government-funded construction projects. It's as simple as that.
There are sound reasons for doing so. An extensive research study by technology provider 4Projects by Viewpoint finds compelling arguments in favour of the return on investment of BIM technologies. "Where measurements have been made, there is a clear financial advantage to adopting BIM, and those are in addition to the main drivers on the government side, which are about sharing digital data on an asset to achieve enormous benefits when running a facility," says Ben Wallbank, BIM Strategy Manager EMEA at 4Projects by Viewpoint.
At the heart of BIM is the notion that by creating, managing and sharing electronic models of the properties of an asset throughout its lifecycle, the industry can reap the benefits of reduced build costs, better solutions, less waste, faster project delivery, reduced risk, enhanced sustainability and better whole-life performance.
The BIM challenge
"The big challenge with BIM, and the reason that it has required the government mandate to actually make the difference, is that all the contributors to a construction project need to buy into it and work to the agreed set of standards," says Wallbank. "You can't do things piecemeal." Wallbank feels the government has got its strategy right by commissioning projects to a set of standards that meet Level 2 BIM. "It's all about commissioning both the built asset and the digital asset in a manner which makes the soft delivery contractual."
If industry thinks it can just wait until 2016 before getting on board, it risks being left behind. "The latest figures outlined to the BIM Technologies Alliance [the subset of the BIM Task Group containing BIM vendors and other technology providers] showed that £20bn of government procurement is already in the market with BIM deliverables. That's about half of the construction work commissioned by government each year," points out Wallbank. "There is a tidal wave of work coming that will require teams to deliver BIM in the next year or two; that's the reality."
Wallbank argues that those that have not yet entered the fray have nothing to fear. "Level 2 BIM deliverables are relatively straightforward and the industry can do that without any problem," he says. "The only tricky bit is COBie." Construction Operations Building Information Exchange (COBie) is a spreadsheet data format that contains digital information about a building in as complete and as useful a form as possible. COBie delivers consistent and structured asset information useful to the owner-operator for post-occupancy decision-making and was developed by a number of US public agencies to improve the handover process to building owner-operators.
It is, typically, a Microsoft Excel spreadsheet, but other spreadsheet applications may be used. "In the short-term, you do need people who understand what they are doing in COBie terms. That is the challenge because these people are thin on the ground and flat out at the moment," says Wallbank.
Future gazing
Wallbank is excited about the future of BIM, where things such as providing COBie data happen automatically. "We are discovering how to make it easier for people to enter data into the model. For example, you could be on site with your iPad, take a picture of the air handling unit you've just installed, sign it off and the server will know that it contains COBie data and you won't have to do a thing."
The future of BIM is mapped out in the government's Digital Built Britain strategy document, which was published in February. Wallbank looks forward to the time when clients will be comparing assets across multiple sites, all made possible because building portfolios will have been realised using the same set of standards. "We are currently beta testing a database solution for a client which will allow them to search across all their assets. You could examine boilers, for example, across all sites and ask questions about how they are serviced, their efficiencies and so on and compare performance. You can only do that if all data is in the common COBie format."
Soon, building models will interact with services such as Google Maps to give visitors to public buildings information on internal areas, in addition to directions on how to get there. Facilities managers may draw weather data from the internet into the model. "The idea is that you use your Common Data Environment (CDE) to broker information that you want to come in, and that which you are comfortable to go out," explains Wallbank. "The future gazing is all about shareable structured data. This is going to help clients to drill into their costs and ease the running of their buildings. When 80% of the costs of a building lie beyond its design and construction, the savings are enormous."
Is the construction sector really ready for such a radical change in its methods? "Why would construction be the only industry that Big Data doesn't come to? There are lots of sectors now - such as the retail, automotive and aerospace manufacturing industries - that are comfortable with data and are using it in sophisticated ways. Tier 1 contractors are now hiring people you wouldn't normally associate with the construction industry who are happy dealing with data."
Wallbank sounds a warning to the naysayers. "The Cabinet Office is not to going to blink on this. It is coming. I hope the industry responds, because the payoff is so huge for everybody that, if it doesn't respond, other industries will step in." Time to make sure your firm is BIM-ready.

Key research findings
Northumbria University conducted a user-led research project on behalf of 4Projects by Viewpoint to explore the return on investment of BIM technologies. The research sought the views of senior executives among clients, client's agents, designers, contractors and facilities managers. Among the key findings were:
Utilisation of digital technologies in construction is increasingly becoming a requirement, most noticeably in large, complex projects. The growing number of government mandates internationally is setting the trend.
The private sector is also keen to utilise the benefits of digital construction and many owner occupier clients now require digital parametric modelling in their projects.
Early adopters are positioning themselves as leaders of innovation and technology to drive competitive advantage. Skills in digital construction are increasingly becoming a requirement in team formations.
Avoiding digital construction will considerably reduce marketability for companies in the construction industry.
Clients are becoming more sophisticated, with higher expectations for quality, efficiencies, engagement, certainty and reduced risk.
The intelligent data that can be extracted from BIM technologies allows teams to make better-informed decisions based on accurate data for the benefit of the client.
BIM enables intelligent decisions to be made about construction methodology, safer working arrangements, less waste, greater energy efficiency leading to carbon reductions and a critical focus on the whole life performance of facilities.
Businesses with fully integrated digital strategies are 26% more likely to be outperformers.
With the downturn in domestic UK markets, companies are bidding for work internationally. The increasing requirements for communication, information management and coordination in this new global working scenario are essential to a project's success.
82% of respondents to a student survey agreed that a working knowledge of BIM technologies increased their chances of employability.

What BIM expertise does 4Projects by Viewpoint offer?
4Projects by Viewpoint provides secure online collaboration solutions for the building and infrastructure sectors.
The 4Projects by Viewpoint toolkit helps teams to increase collaboration and project control at every stage of the project lifecycle and the product suite offers solutions for BIM, document management, project controls and Field View.
With more than 211,000 users globally, 4Projects by Viewpoint is a leader in the provision of BIM collaboration software for the global construction industry. The company is adding 5,000 users every month.
Viewpoint Construction Software acquired 4Projects in early 2013. It is headquartered in Portland, Oregon, USA, and the main EMEA office is based in Newcastle upon Tyne. There are further offices in the Middle East and Australia and the global workforce now stands at about 900 staff.
4Projects by Viewpoint acquired Mobile Computing Systems in December 2014, bringing its mobile field management solution Priority 1 (now renamed Field View) into the product portfolio.
Data volumes increased by over 1.2 Terabytes per month in 2014 and 4Projects by Viewpoint expects to exceed 50 Terabytes by early 2016.
Clients include the Ministry of Justice, e.ON, Scottish Renewables, Arup, Capita Symonds, Mott MacDonald, Sir Robert McAlpine, Morgan Sindall and Vinci.
Digitising construction report summary
4Projects by Viewpoint and Northumbria University's research project focused on BIM in terms of its commercial value to businesses, analysing both market demand and the strategic responses of a variety of organisations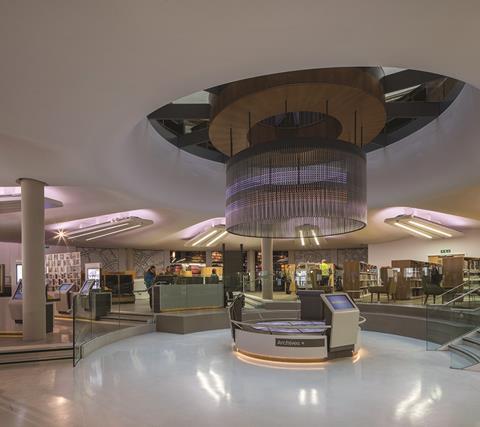 In June 2014 Northumbria University was approached by 4Projects by Viewpoint to carry out a user-led research project to explore the return on investment (ROI) of BIM technologies. The key challenge of this project was to speak the language of its audience: so-called "C-suite" professionals, or senior executives.
C-suite executives aren't as concerned as managers with operational detail. What captures their interest are initiatives that increase market share, expand the brand and so on. The focus of this research, therefore, was to provide hard evidence of how BIM affects business value.
Client mandate
Use of BIM in construction and related professions is increasingly becoming a requirement, most noticeably in infrastructure and large complex projects.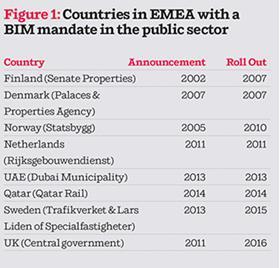 There is a growing number of mandates internationally (see fig 1). The EU Public Procurement Directive has made the use of BIM compulsory for publicly funded construction and building projects in the EU by 2016. In the UK, this will account for 30-40% of new construction projects. The trend is expected to spread to all of Europe, while the Middle East has followed suit with a mandate by Dubai Municipality and Qatar Rail.
The private sector is also keen to use the benefits of digital construction, with major retail companies such as Tesco, Sainsbury and Asda requiring parametric modelling in their projects.
The early adopters such as Skanska, Vinci, Aecom and Laing O'Rourke are projecting themselves as the leaders of innovation in the industry to drive competitive advantage. Skills in digital construction are increasingly becoming a requirement in team formations. Avoiding digital construction will therefore considerably reduce the marketability of construction firms.
Client expectations are becoming more sophisticated, and interest in more efficient ways of working is rising. Google search trends indicate that BIM is a hot topic in the UAE, Ireland, UK, Sweden, Norway and the Netherlands (see fig 2). CAD is still the more searched topic but the trend shows a gradual decline.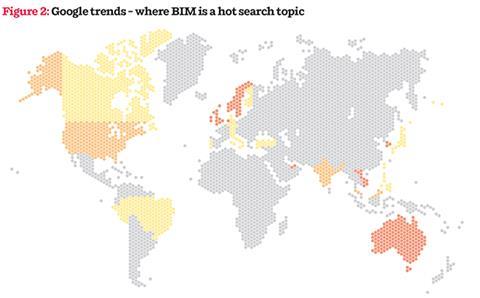 Client demand for value
The latest recession has had a lasting impact on the construction industry and its clients. Private sector demand for new projects in the UK fell by a third from £54bn to £37bn between 2007 and 2008. This lack of demand and the ongoing debate over fundamental change within the sector is forcing efficiencies through greater collaboration and innovation.
Productivity has long been an issue in construction. Construction collaboration platform GenieBelt.com estimates that every year an estimated £2bn is wasted in the UK due to construction rework.
Control, certainty and risk are improved by acting on objective data and reducing estimation and assumption. "The intelligent data that can be extracted from correctly used BIM technologies allows us to make better informed decisions for the benefit of the client," says David Monswhite, associate director at Turner & Townsend.
Moreover, poor communication and information sharing is a major cause of the poor reputation and inefficiencies in the industry.
Use of a common data environment improves this. It creates a single point of "truth" for all project participants that eliminates duplication of information and use of wrong information, and avoids unnecessary rework.
Early BIM demonstration projects have already achieved savings of around 20% during the construction phase, with some on course to make 33% savings over the life of the building; future projects are targeting even greater savings.
Owner-operator clients are demanding more involvement and transparency in the construction activity, forcing the industry to seek out new design management methodologies such as BIM. They are also starting to see the potential value of improved project handovers and the development of assets that are resource efficient and provide improved user comfort.
The Government Soft Landings (GSL) announced by the UK government aims to achieve better project handovers and assets that deliver more value for the UK public sector.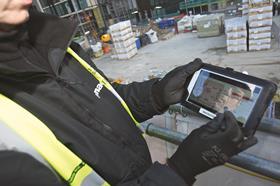 Investing in infrastructure
Technology is no longer seen as a back-of-house essential. It is now accepted as being a key part of delivering a business strategy. Research by IBM indicates that businesses with fully integrated digital strategies are 26% more likely to be outperformers, and "digitally enfranchised and empowered customers lead the agenda for every C-suite profession".
However, as we see the transition from analogue to digital, two-thirds of construction businesses still have weak digital strategies. Expenditure on IT has seen a steady fall; if this trend continues, there is a very real danger that the profession will fall behind in both software and hardware, just at the time when new, integrated design packages are becoming a requirement in many sectors of work.
That said, there is evidence to suggest that the uptake of digital construction is gathering pace. The National BIM Library (NBL) by NBS is a major provider of BIM content. The content download patterns from NBL has shown a dramatic increase in the last two years (fig 3).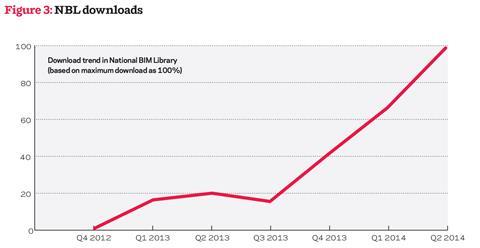 The need to incorporate field solutions into the new digital world is also paramount and vendors are responding to this need for functionality. For example, Viewpoint acquired Priority1 (now Viewpoint Field View) late last year, and this will be integrated into its Common Data Environment (CDE) in the coming months. It is already working on the field capture of COBie data (enabling supply chain members to capture COBie without even knowing they are doing so).
Back to the here and now and the first COBie efficiency enhancement for Viewpoint Field View has already been made with the ability to import COBie spaces into Field View, avoiding the need to manually populate spaces on drawings. With the addition of mobile data entry to the CDE from the field, project stakeholders are empowered to embrace the philosophy of BIM.
To be successful at Level 2 BIM delivery a little time must be invested in planning, setting out the roles and responsibilities of all contributors to the BIM. Only by doing so can progress against targets be monitored, validated and, of course, recorded. If delivery teams avoid these tasks (implicit in the UK Standards) BIM adoption is put at risk.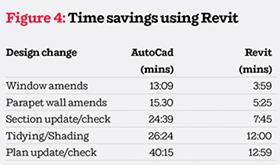 In a quest to determine the return on investment (ROI) of digital technologies, Northumbria University ran a simple experiment with the help of Ryder Architecture to explore the potential time savings in switching from 2D computer-aided design to a 3D model-based approach. Stewart McKenna, architectural director at Ryder Architecture, says: "Between 60 and 70% of our time can be spent carrying out design modifications, rising to 100% at some stages of the project."
The experiment compared in this case AutoCAD and Revit. The same operator and project were used and the same basic design changes were made to window types, cill heights, and parapet heights, affecting plan, section and elevational drawings. This enabled a precise timed experiment to be conducted.
The results showed that AutoCAD took over three times longer to carry out the basic drawing changes (fig 4).
Operating globally
With the downturn in domestic markets, western European companies are increasingly bidding for work internationally. On many larger projects, the project teams are often built up from different geographical locations - for example, the Stockholm Bypass has participants from seven European states.
Traditional, document-based management systems are less suitable to manage this way of working effectively. The increasing requirements for communication, information management and coordination on this new global scale are essential to a project's success.
Digital parametric design and construction has the inherent strength to manage these new challenges effectively. Central to such a system will be the common data environment that will allow transfer, usability and tracking of all project information. Advanced common data environments such as 4BIM by 4Projects by Viewpoint facilitate viewing of digital models online for the client and other project participants. Model authoring and management tools are used together with online collaboration tools such as cloud-based information sharing and GoToMeeting to allow teams in different countries to coordinate in real time.
Emerging markets
The construction industry is buoyant in the Middle East and Africa (MEA). The Dubai market is starting to gather pace again with the announcement of Expo 2020. There is steady growth in Abu Dhabi and unprecedented construction activity in Qatar. Saudi Arabia, Kuwait and Oman have joined in and massive projects have been announced in Africa.
These markets present new challenges. There has been a surge in vertical construction in the last 20 years. The number of towers taller than 150m in MEA has increased from two to 289 in the past 20 years.
Increasingly, companies are investing in digital construction to manage such projects effectively.For example, EC Harris and Mace have used BIM effectively to manage the 1,000m-plus Kingdom tower in Saudi Arabia, which will be the tallest tower in the world when completed.
Building the team
The industry faces a pressing need for a capable workforce that can deliver transformational change in the next decade. As the wider economy emerges from recession, construction firms must be able to recruit, retain and develop skilled, hard-working people in sufficient numbers to meet the increasing demand for construction. Peter Hansford, the chief construction advisor, has stated that the construction industry and associated professions need a further 100,000 workers by 2018.
In a survey of built environment undergraduates conducted in August 2014, the students were asked what they considered to be the most important factor when selecting an employer. Salary was top of the list, with 67% of the students selecting
it as one of their top three drivers. This was followed by progression prospects within the organisation.
Employers must ask themselves how they can be in the most favourable position to pay the level of salary required to attract the best talent and how their organisation can retain high performers by delivering progression and promotion. Some 82% of the respondents agreed that a working knowledge of BIM technologies increased their chances of employability.

Market consolidation: Manchester Central Library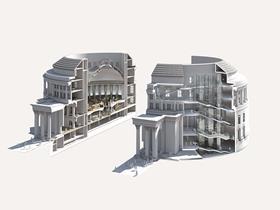 In an effort to negotiate the competition and embrace market opportunities through BIM, new partnerships have emerged and new services are being offered, all creating a need for new collaborative mechanisms.
Manchester Central Library was designed by two architectural practices: the central library by Ryder Architecture and the extension by Ian Simpson Architects, with Laing O'Rourke as the main contractor. The core team, including suppliers, was about 100 people. This project was managed in a truly collaborative environment with a fully integrated open-plan project office. According to thenbs.com, projects delivered in a similar way have delivered £150,000 of savings.
One example of the use of BIM at Manchester Central Library was the design and construction of the concrete structure. Laing O'Rourke used BIM to create the concrete and reinforcement details, allowing it to detect and eliminate clashes and associated construction problems before issuing it to the reinforcement fabricator. The fabricator took the data directly from the model to its machinery. On site, the concrete team reviewed the rebar in the model on their tablet computers, giving them an instant understanding of what was required.
Client agent's perspective: Turner & Townsend
We have adopted an approach of looking after our existing clients, embedding the value of being able to collect intelligent data across the entire business, and avoiding providing this as a new bolt-on service
Anna Thompson, cost management bim lead uk, Turner & Townsend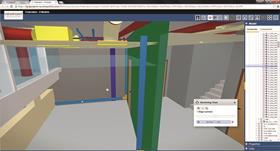 Anna Thompson is consultant Turner & Townsend's UK lead on BIM. She says: "Through the use of BIM and our BIM strategy design and implementation we are able to deliver an optimised solution for our clients […] optimised design to suit capital investment and operational requirements. The ability to capture data and the availability of accurate model data now achievable through the digitising revolution enables this level of certainty and accuracy."
One example of the effectiveness of its BIM strategy is a major retail chain client, which has over 2,500 outlets and is using BIM to understand and record accurate information about refrigerators. In one case, the appliance had malfunctioned in over 80% of the stores, but the unreliability of the model and the effect on the business had gone undetected. Understanding the refrigerators' performance across all stores can prevent huge capital losses and influence the right purchase on future appliances. In this way, decision making is increasingly influenced by objective data, with less reliance on estimating.