… and unfortunately the government can't hear a word they're saying. It has never been more important for the industry to speak with one voice. Now the chairman of the CPA has a new plan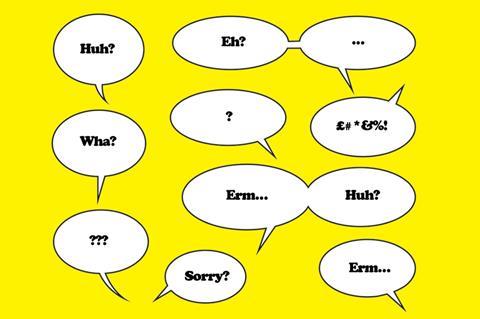 "Ten chief executives in a room will agree on nothing. They won't sort anything out. We need to go higher. We need to get chairmen involved." So says Bill Bolsover, chairman of the Construction Products Association (CPA) on how to fix one of the construction sector's most enduring problems – the lack of a unified, coherent voice.
The problem appears to be getting worse, with government and clients alike throwing their arms up in frustration at the conflicting messages coming from more than 100 different bodies. Bolsover is calling for a major review of construction's approach to delivering its messages to government. To this end, meetings have been taking place over the last six months between him and members of the UK Contractors Group (UKGC) and the Construction Industry Council (CIC) to work out how best to make this happen.
Bolsover pulls no punches when describing the current state of affairs, branding the industry "hugely immature" and the Strategic Forum – the body originally set up for the industry to raise key issues – "a nonsense" that either needs to be reformed or replaced.
A source close to the UKCG says: "The Strategic Forum is a bit of a busted flush. I can't quite see the point of it. You could argue it was set up two years ago to populate Paul Morrell's review, but he decided to go to individual leaders instead and the result is a forum that we just don't see as very useful."

We need action
Evidence of the industry's lack of unity has been in plentiful supply over the past month. An interview given to Building by construction minister Mark Prisk suggested that what the government is hearing from construction isn't necessarily what the industry thinks it is saying. Prisk told Building that he didn't think the future of the PFI was one of construction's priorities, despite it clearly being among main contractors' top anxieties.
And while the industry's communications with government might be getting lost in translation, its messages to clients are just plain confusing. Martin Young, chief architect at Tesco, the construction industry's biggest retail client, said that it would be easier to work out how best to procure work if suppliers could present a clearer message: "It would really help if contractors had a clearer, more unified idea of what they want," he said. "Some want frameworks, others want single-stage tendering and when there is a mixture of opinions, we'll just pick a route - and it might not be the one you like."
Such mixed messages make it very difficult for the industry to have any effective influence on policy. The issues that run across the whole of the industry are, in fact, the very same that Prisk highlighted when he spoke to Building last month: apprentices, skills, training and order book management. The trouble is the industry is unable to speak as one voice. "It's like a rowdy classroom," says Suzannah Nichol, chief executive of the National Specialist Contractors Council (NSCC). "If the teacher asks what the class wants to do and no one can agree, then he or she will either do nothing as no consensus has been reached or say, 'Well, if you can't work it out then I'll choose for you.' But if enough of the children can work together to choose something the majority wants to do, then the teacher is much more likely to go with that. That's what the construction industry needs to do with government."
Some want frameworks, others want single-stage tendering and when there is a mixture of opinions, we'll just pick a route – and it might not be the one you like

Martin Young, Tesco
So why hasn't it? We know it can be done: both the automotive and, more recently, the chemicals industries have successfully pulled together to present united fronts. Both sectors are clearly making an impression on government, judging by the regularity with which they are name-checked in speeches by ministers. And the construction industry itself has seen flashes of what could be achieved. The success of the industry-wide campaign that made clear that for every £1 spent in construction £2.84 is generated in GDP is evidence of that. It was a clear message, backed by everyone and it caught the government's attention.
Even if the £2.84 campaign didn't change government policy, it was regarded as a success, its strength stemming from having been presented by one body - the UK Contractors Group - but firmly backed by all. The problem is that the effectiveness of the body set up to represent construction and engender a collective voice, the Strategic Forum, run by Lord O'Neill, is being called into question.
Industry body representatives including the NSCC's Nichol, the Federation of Master Builders' chief executive Brian Berry and the CPA's chief executive Diana Montgomery are unanimous in believing that the forum doesn't deliver on unifying the industry's voice.
The general consensus is that the Strategic Forum is good at addressing non-contentious issues such as waste management and disposal in construction and apprenticeships but that it fails to galvanise or lead on policy. "The Strategic Forum needs to be more agenda focused," says the CPA's Montgomery. "Big issues like collaboration, skills and fair payment need to be addressed." But Nichol adds that the industry may need to take the lead on this before an effective unified voice can be presented to government: "For an effective strategic forum or alliance to work, the industry has to want it to work," she says. "I think there needs to be some pretty gloves off conversations about our differences as a sector behind closed doors. Payment issues are at the top of that list because we are never going to have a collective voice when one part of the sector has a commercial advantage."
The CPA's Bolsover is particularly cutting in his evaluation of the situation: "I have been to a few Strategic Forum meetings and I listen to what's said. And I wait. And nothing happens. And nothing will continue to happen. These meetings are attended by Mark Prisk and Paul Morrell - we have the audience we need - but the messages aren't getting through. It's just a nonsense."

The pretender
There is a mooted pretender to the Strategic Forum throne, the CBI Construction Council, set up in July 2008, and now with a new chairman, Midas chair Steve Hindley. He is desperate to be clear the council is not attempting any kind of power-grab over trade associations, but plainly he believes the council has what it takes to be the single voice the industry so desperately needs, as long as all parts of the sector decide to come together: "I'm old enough to have been in this situation in the eighties with various organisations in the construction industry. Talking to Michael Heseltine and John Gummer, who was environment secretary at the time, both of them got very frustrated because there wasn't a single voice for the construction industry, and we re-organised several organisations of contractors, and various things, and tried to put things together.
"[But] eventually government said - they didn't say it to our faces but we knew what was going on - they got bored. 'There's no point talking to these people because they haven't got a single voice' - politicians won't tell you that. I think the [CBI Construction] council has the potential to be that single voice. As long as people [in other parts of the industry] understand that it can be used by them, and their views will be taken in to consideration […] I'm not about to create an organisation that says this is the voice for the industry, because I can't do that. That can only be built up through trust."
I think there needs to be some pretty gloves-off conversations about our differences as a sector behind closed doors

Suzannah Nichol, NSCC
A source close to the UKCG adds: "The CBI Construction Council was set up as no one in construction was getting to government in the way the CBI does. Most major contractors are members of CBI and we would argue that over the last three years the council has been key in upping industry's attention in communicating with government. Some would argue that CBI isn't a collective voice as members tend to be main contractors. But there is nothing stopping companies from other sectors joining. We think the CBI Council is a good place to start in terms of building up a collective and consistent voice for construction."
Although some have high hopes for the CBI Construction Council, others believe the emergence of the council while the Strategic Forum is still in operation is adding to the confusion,says the FMB's Berry. "It doesn't help when we have them both presenting themselves as bodies representing industry, but with conflicting pictures."
The answer, according to Bolsover, is to merge the best elements of both into a new body - a Construction Industry Alliance, ominously abbreviated to CIA. This would play on the Strategic Forum's ability to hook key players and command an audience with government ministers, while benefitting from being run by an industry chairman, rather than a chief executive, as the CBI is now.
The idea is that this will address the most fundamental problem that any proposal for a "single industry voice" faces: the awkward truth that the industry agrees on very little. As Berry says: "The construction industry is just so big, so varied, it's impossible for everyone to agree on so many issues. PFI is big for main contractors, but not such an issue for SMEs, for example."

League of chairmen
Bolsover believes chairmen running the show would help the sector to move past its differences. Chairmen, he says, are "people with experience but who are now slightly removed from the sector", while chief execs "have a lot to gain or lose from the way industry issues are presented to government".
In fact Bolsover envisages something like a network of chairmen. The new group would have a number of sub-divisions feeding in ideas and issues and working groups reporting back on key issues. "We need something like the Strategic Forum," says Bolsover. "But I do feel it needs to be more of a CIA set-up so that it sits over all other associations, run by a chairman with other bodies feeding in, also run by chairmen.
"Then the overarching body would choose four or five main issues we want to get across to government based on what is being fed in from the other associations. And suddenly we have clarity."
Bolsover himself says he has no intention of putting himself up for the chairman's role. "I don't want the job. I think that's a good thing as it allows me to lead this plan and help without people thinking I am doing it for the job. The reason I am pushing it forward is that if I drop it, it will be dropped. And we can't afford for that to happen."