RIBA president Angela Brady has picked a fight over the Olympic No Marketing Rights Protocol. But, one year into her term, how are her other battles progressing?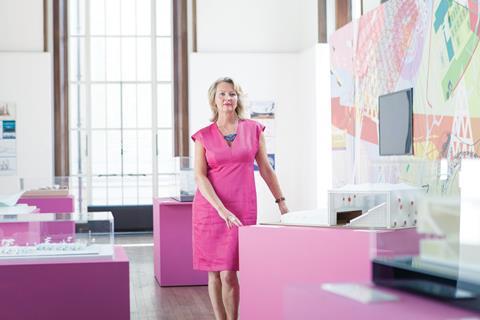 London has spent the summer splattered with Angela Brady's favourite colour. The fuchsia pink adorns one wall of her office, her dress and is also the chosen colour of all the Olympic Games signage. "Everyone seemed to love it. I take absolute credit for it," she says, tongue firmly in cheek.
Irish-born Londoner Brady is now half way through her two-year term as president of the RIBA. She was elected on three pillars: to internationalise the organisation, improve public procurement, and bring architecture to public attention. But it is when talking about the ongoing bugbear of Olympic marketing restrictions that she becomes most animated.
Firms that worked on the Olympics have complained all year about the No Marketing Rights Protocol, which prevents them from shouting about their involvement in building the park and venues. The issue was first raised by Peter Murray, chair of New London Architecture, and has been the subject of a campaign by Building since January to get it relaxed.
"To stop everyone [from publicising their involvement] who can't afford to be a sponsor, which is everyone except [architect] Populous and [engineer] Atkins - because they can afford the sponsorship - is a shambles and a shame," says Brady. "I was so annoyed by that that I was driven to stand up personally." But given that she only began to speak on the issue in July, following months of campaigning by Building and Murray, why did she wait so long? "I thought that it [the protocol] was until the Games opened," she says. "I thought it was about not ruining the surprises, like Heatherwick's wonderful cauldron."
To stop everyone who can't afford to be a sponsor talking about the Olympics is a shambles and a shame
Brady may have been late to the Olympic marketing battle but she is a natural campaigner - before becoming president of RIBA, she spent five years campaigning for greater equality for female architects as chair of RIBA's Women in Architecture group - and has been making up for lost time on an issue which overlaps with her pledge to raise public awareness. Over the summer, she ambushed ministers including then culture secretary Jeremy Hunt and spent three days of the Paralympics personally interviewing 35 architects and engineers for a forthcoming promotional film. She has also had lawyers draw up a potential amendment to the protocol which would give 2012 firms far more freedom to publicise their work, she reveals. Brady insists there is still valuable currency in the Games' success and hopes the amendment will be adopted by the IOC and by the British Olympic Association, which has taken over responsibility for the issue in the UK from Locog.
Brady also wants to give the institute, which has been accused in the past of being a poor political operator, renewed voice. "The RIBA is a sleeping giant and I think I'm awakening it - in quite a startling way," she says. But whereas the industry as a whole is beginning to unite in order to be heard in Westminster, the RIBA hasn't always been present. Alongside other consultants' bodies, its name was absent from the list of organisations attached to the launch of the Construction4Growth campaign. Brady admits the body has in the past been "slow to react", but says she is keen to be involved in any campaign of this type. "We want to be involved with as many of these as possible. We are here to help," she says.
She is certainly making a noise. Jack Pringle, former RIBA president and the current chair of the Construction Industry Council, agrees she is doing a "fantastic job" representing the profession but argues greater engagement with the wider industry is needed. He praises the "energy and communication skills" Brady has brought but adds: "Keeping things integrated is an ongoing task - you have to work at it all the time. I would welcome Angela participating more."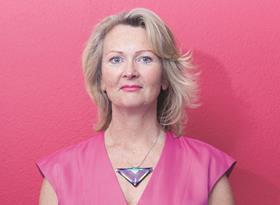 As for reforming public procurement, Brady argues that the OJEU process not only rewards mediocre design but locks out the 90% of architecture practices with fewer than 10 staff. Tackling this could be a game-changer for SME firms, especially those outside the capital hit hard by the downturn.
Back in May, the RIBA produced a report on the issue, Building Ladders of Opportunity. One of the report's key findings was that architects as a whole spend £40m a year bidding for public work - around 40% of the total earnings derived from such work. Although generally well received, there were those who criticised it because a number of its 30-plus recommendations were already being pursued by government - a fact Brady claims is down to the engagement between the RIBA and the government while researching the reports.
Brady acknowledges the government's efforts but says it is only half-way to solving it. She singles out school procurement, which she says is often "lazily" bundled into multi-school lots, locking most architects out.
What's more, she argues, better procurement could help achieve the 20% saving on construction costs that the government's outgoing chief construction adviser Paul Morrell is aiming for. "Look at the Virgin [trains] bid - millions of pounds were wasted in people submitting bids," she says.
On internationalisation too there are signs of progress, with the launch of a Hong Kong chapter last week following the opening of chapters in the Gulf and Singapore. This latest outpost is intended to support the more than 600 RIBA members in Hong Kong and mainland China and to foster closer links in the wider Asia Pacific region.
Brady is planning other changes. She remains keen on the idea of opening another RIBA premises in London which is more member-focused than 66 Portland Place and has commissioned a committee to look once again at making the presidency a paid post - she advocates a system similar to one used by the RICS which has a £50,000 pot which presidents can take or donate to charity.
The RIBA is a sleeping giant and I think I'm awakening it - in quite a startling way
In many ways, Brady is precisely what the RIBA needs, especially following on from the academic-leaning Ruth Reed. She is a cheerleader who avoids architect jargon and - as a sometime TV presenter as well as practising architect - can boil issues down to a simple message the wider public can understand. They are essentially the skills of a campaigner: "I've always been a campaigner. You have to stand up and fight in order to achieve anything. There's no point talking to the converted. You need to get the ear of the opposition - that's what's important."
Asked whether her campaigning zeal sometimes comes at the expense of an eye for detail, she says: "I don't do it alone. I can't necessarily get into the detail on everything, but I very carefully pick people to do these things who can.
I am able to delegate to very specific groups of people - as with the fantastic architect Walter Menteth on the procurement campaign - to look at the detail."
Brady has proved a formidable champion when she gets her teeth into an issue like Olympic marketing. Now she just needs to bring those communication skills to bear on the industry as a whole.