Following a turbulent 12 months of engineering delays, in-fighting and inadequate planning, Network Rail's fortunes seem to have turned following George Osborne's increase to capital spending and Sir Peter Hendy's reconfigured spending programme. So has the company got away with it?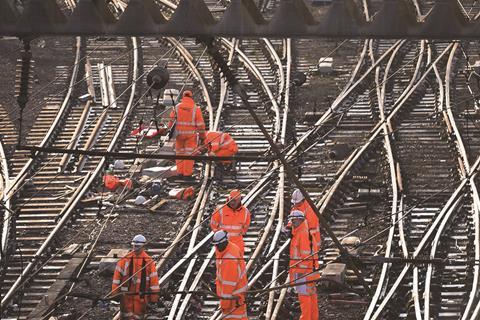 Brimming with the confidence of a man who had masterminded a startling election victory only six months earlier, George Osborne used last month's Comprehensive Spending Review (CSR) and Autumn Statement to tell the House of Commons he was the chancellor who could both balance Britain's books and transform its infrastructure.
Continuing the focus on capital spend, Osborne announced both a 37% decrease in the Department for Transport's (DfT) operational budget and a 50% increase in capital spending to £61bn. With a Cheshire Cat grin, Osborne could let rip with his second-favourite slogan: "For we are the builders." (His favourite remains "long-term economic plan".)
He added: "By making the difficult decisions to save on day-to-day costs in departments, we can invest in the new roads, railways, science, flood defences and energy Britain needs."
But railway spending has not always appeared so secure over the past 12 months. At times, it seemed that Network Rail, which runs and maintains 20,000 miles of track as well as 6,300 level crossings and 40,000 bridges and tunnels, was in real trouble.
Engineering overruns triggered chaotic scenes at Paddington, King's Cross, and London Bridge. In February, Network Rail chief executive Mark Carne stunned DfT officials when he launched into the organisation by admitting that "sometimes we let passengers down".
Former Labour transport secretary Lord Andrew Adonis said Carne had performed a "systematic hatchet job" on his own company. DfT officials grumbled that chairman Richard Parry-Jones had failed to control his chief executive, who only joined the organisation in 2014.
By summer, Parry-Jones was replaced by Transport for London Commissioner Sir Peter Hendy, who launched one of three separate reviews into Network Rail's structure, spending plans, and future. There was a £2m fine for missing punctuality targets, former Eurostar boss Richard Brown was installed as a "special director" to report directly to transport secretary Patrick McLoughlin, and, most notoriously, two major electrification projects were put on hold because of budget-busting construction inflation.
But now Osborne's warm words and the publication of Hendy's report, which reconfigures Network Rail's tight spending programme, alongside the CSR seems to have calmed nerves. Several rail sources use the same words: "Network Rail has got away with it."
The Hendy Review
Network Rail is in year two of its latest five-year spending programme, Control Period 5 (CP5), but this was thrown into disarray when McLoughlin "paused" those two electrification projects.
The cost of upgrading the Great Western Main Line between Cardiff and Maidenhead is now estimated to be £2.8bn, up from £1.6bn only a year ago - a rise described as "staggering and unacceptable" by the Commons' Public Accounts Committee. The Transpennine electrification was beset by problems of accessing old infrastructure and the work needed reassessment.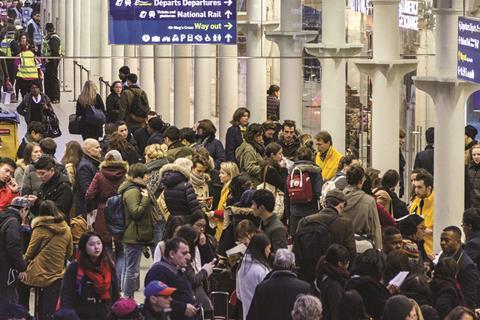 Hendy's review confirmed these two schemes would be delayed, and that several smaller projects "where the scope was poorly defined from the outset" had seen their costs increase greatly.
The review states: "Firstly, there was inadequate planning and scope definition of a number of projects in their early phases. Secondly, there was poor cost estimating, particularly on electrification projects.
"Network Rail has not carried out any electrification of significance for 20 years, so there was limited information to support cost estimates. It is clear that some of Network Rail's early cost estimates, particularly for electrification schemes, were inadequate."
Its conclusions are a huge embarrassment to an austerity chancellor. The upshot is the cost of the CP5 programme will actually rise by £2.5bn, paid for by land sales and more borrowing, but it will still fail to deliver what was originally intended by the end of the period. As well as the electrification programmes, other jobs, such as the enlargement of Oxford station where there will be 3.3 million more passengers by 2026 compared with 2011, will be delayed into CP6.
A leading rail consultant says: "The funding envelope isn't reducing, but the amount of output we're getting is going down. They'll just deliver less output for the same money in a fixed period of time."
The source adds that engineering firms should be "rubbing their hands" because, coupled with HS2, there is plenty of work available, but it means they won't have to find so much skilled labour to throw at electrification projects to get them finished quickly.
"From an engineer's point of view, the biggest problem they've had is a lack of people," says the consultant. "In a weird way this helps them."
Hendy's review points to the lack of signaling experts, particularly testers and data experts, as "an area that poses risk to a number of projects and needs careful monitoring and management".
McLoughlin was impressed by the 43-page report, telling Hendy in a signed letter: "Not every project will go to plan. But we will see the job through."
A senior rail executive says: "This report has given Peter some breathing space, he's got the time to come up with a more detailed plan. Peter needed some space to get Network Rail's act together.
"Had the original scope of work been even attempted, Network Rail would have soon breached [its spending limits]."
By making decisions to save on day-to-day costs, we can invest in new roads, railways, science flood defences and energy britain needs

George Osborne, autumn statement
The politics of rail
But the executive also points out that Network Rail had lost its "financial rigour". In the past, the organisation could borrow from the bond markets, underpinned by a government guarantee, to make up any finding shortfalls because it was, in effect, run as a private company despite state backing.
This changed in 2014, when Network Rail was brought back on to the government's books to adhere to European accounting rules, bringing tens of billions of debt on to the government's balance sheet.
A second report published last month by Dame Colette Bowe, which focused on what lessons could be learned from CP5's poor planning, states: "Whilst not a cause of cost escalation, reclassification exposed a previous reliance by all parties on access to financing that was off government balance sheet as a means of managing financial overruns."
Even before the reclassification, though, the previous chief executive, Sir David Higgins, had warned that the Office of Rail Regulation's CP5 settlement for Network Rail of £38.5bn was "unbalanced and therefore unrealistic".
Bowe certainly alludes to the conflicts between ORR and Network Rail, as well the DfT, when she says: "The definition of organisational responsibilities between the department, Network Rail and the ORR […] were unclear, lacking the relentless focus and clarity required for the design and execution of a major infrastructure programme."
Interestingly, there have been rumours that Bowe's report was slightly revised after DfT officials were shocked at the level of criticism they received. True or not, the report is still critical and backs up another rail executive's view that officials "didn't have the time or skills" to oversee Network Rail when it was re-nationalised.
A number of rail executives and civil servants privately thought Higgins' successor, Carne, might not have lasted in the role beyond summer, despite an impressive focus on health and safety. They were concerned the former Royal Dutch Shell executive's talk of a "digital railway" was in danger of failing to address the more prosaic challenges of a beleaguered Victorian-era network.
Carne claimed technology could vastly improve Network Rail's performance. In-cab signaling would see signaling failures reduced by 30% and trains running faster, he said.
"Carne pushed too hard for a digital railway," says one insider. "Network Rail has got to go back to basics - the job is to patch up a railway that is 150 years old.
"Carne came from oil, where the engineering is all about software and sonar. He wanted to change the engineering of Network Rail. That's fine - as long as the trains are running on time and the engineering does the basics."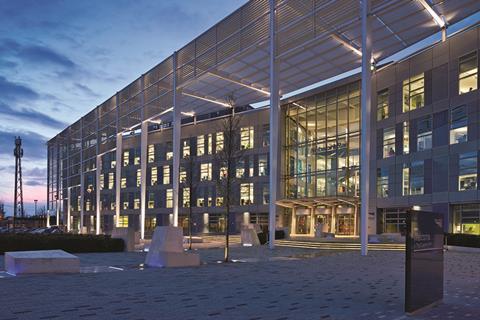 The source believes that Network Rail should "give the stations to someone else". Network Rail owns and looks after 18 of the country's biggest stations, including Birmingham New Street, Glasgow Central, and 10 in London, such as Cannon Street and Charing Cross.
The Treasury agrees and Osborne has asked officials to look into handing over the management of them to an outsourcing specialist, a developer, or possibly train companies that have experience of running smaller stations.
Officials also want Network Rail to let other companies run its telecoms, such as providing wi-fi to passengers, and energy supply, such as overhead cabling and distribution networks. KPMG has just been appointed to run a six-month review into the latter, which could be sold for an estimated £2bn.
This is on top of the £1.8bn that the DfT and Treasury is letting Network Rail raise from 'non-core assets' to meet the rising costs of its programmes, including by selling retail units in its managed stations and depots.
Politically, Osborne needed to be able to tell parliament that Network Rail and, specifically, the Transpennine electrification between Manchester and York, were back on track because of his vision of a "northern powerhouse".
That is the Chancellor's third favourite slogan and is a vision of rebalancing the British economy away from its dependence on London.
This lacks detail at the moment, but ministers agree that it is dependent on improving public transport in the north. A source close to the DfT suggests that Osborne would have clamped down harder on spending more on fewer projects in CP5 had it not been for "Osborne's commitment to the northern powerhouse".
Whatever the reason, Network Rail appears to have, at last, a viable plan, both in terms of its capital spending programme and the refocusing of the organisation on its traditional role as the country's train track engineer.
If that plan doesn't come off, though, Osborne's claims of being George the Builder will be fatally undermined.