Letters continue to pour into our own informal consultation on the future of the RICS, inviting suggestions from members in the wake of the recent scandal that has engulfed the surveyors' body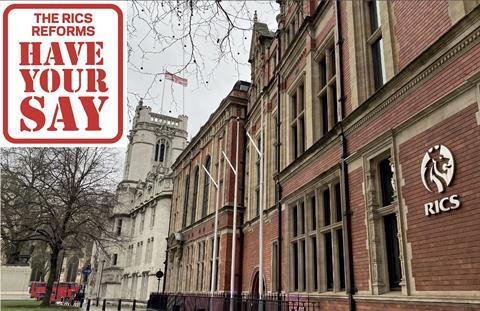 Last month Building told how a dispute between four RICS directors and the management board had turned into a full-blown crisis. With the 153-year-old institution still searching for solutions, we asked its members to point the way forward. The response has been huge, with many echoing concerns already voiced by high profile industry figures about RICS bosses chairing a review into the organisation's future purpose. Some have even called for the leadership to stand down.
> Also read: Members demand sweeping changes
Simon Prichard, RICS chair of its UK and Ireland world regional board, has said that the furore among members over the last few months was a "good sign".
He said: "There is a lot of noise and emotion currently surrounding events at the RICS and certainly some strong opinions about the new Defining our Future review.
"I think it's actually a good sign because it says to me that it matters to members and that being the case, we have an opportunity now to engage and shape the future of the profession.
"RICS boards like the one I chair, and RICS Governing Council, are made up of experienced surveying professionals with a real stake in the future strategic direction of our Institution.
"It saddens me to hear members say they might consider not renewing their membership, or are writing off this exercise when it's only just been launched because if you want to affect change for the future you have to take a seat at table and get engaged."
Here are the latest thoughts from RICS members, followed by a response from the institution to some of the concerns.
RICS members views
RICS should get rid of all directors, upper management including the executive team. There are far too many directors at RICS. They make themselves directors of anything but they do clerk work. They are not directors in the true sense of the word. They are not innovative, they are not thought leaders.
– Alexandra De Beer
There should be an overhaul of the management structure to include a review of the compensation package of the CEO and other members of the management board.
The £510,000 salary paid to the CEO, including a £250,000 bonus, is outrageous [in the year to 31 July 2019]. Should any bonuses be paid to the CEO of an organisation where the majority of its income is from members' fees and more so when the organisation has made a pre-tax loss of £4.7m from an income of £91.3m from members' fees?
Essentially we want back control of our society so that its prime focus will be to provide relevant value and services to members with an urgent reassessment of the policy for global expansion.
– E Harrison
As a fellow of the institution, I am saddened that the organisation now provides little relevance to my surveying activity.
When I qualified in 1985, the institution was regarded in high esteem and its members were proud to be called surveyors. I have spent all but the last eight years of my professional life as a commercial building surveyor with two large practices. The RICS's global expansion is totally irrelevant to me and the costs of the aggrandisement of the organisation is excessive in the extreme for SMEs and sole practitioners.
I get absolutely no benefit from my £658 annual membership. I have to pay large additional sums for CPD through the institution, which surely should be the primary raison d'être of the RICS, and I never, ever, get asked if I am a member of the institution by my clients when they first contact me. The CPD that the RICS provides is often of such poor standard that I would expect graduates to gain little benefit from. But, hey, it earns lots of money for the RICS.
In my area, there are very few youngsters interested in the residential survey market. When I attend CPD events, few attendees have hair, let alone hair that has yet to turn grey! The profession, particularly in the residential sector, is dying a death and soon there will be a real dearth of surveyors for house buyers to turn to. They will be at the mercy of the large "pile 'em high, sell 'em cheap" companies that offer little real service to their clients. I take pride in the after survey service I provide to my clients at no additional fee and the personal relationship I build with them.
What needs to change:
Greatly reduced fees to reflect the benefits.
Free CPD and of a good standard, and provided both locally and online.
A good website designed to inform the members.
A revised local branch structure that allows members a say in their local areas, and which encourages new and younger members.
Concentration on the UK. Only a handful of the larger companies are concerned about international instructions.
Promotion of the profession to youngsters at school age.
Sadly, I am now only a member because I assume obtaining insurance would be trickier if I were not – the only tangible benefit of membership I can perceive. Otherwise I would relinquish my membership immediately.
– David Allen, director, Alpina property consultancy
So the president and the CEO Sean Tompkins are going to undertake the future purpose review of the RICS themselves. That's the way to get the answer you want! I am staggered that they clearly just don't get it. No, madam president, I don't want you and Sean being judge and jury in the case and it's long past time that Mr Tompkins was sent somewhere else to build empires for someone new.
As you will discern, I'm not happy. And they don't even send me a magazine any more for my £650 fee. Plenty of threats about compliance with the rules, though.
Keep up the good work!
– David MacMullen, director, MacMullen Associates
Congratulations on a fabulous piece in last month's Building. You are quite rightly showing the RICS what engaged members have been trying to do for a long time without any success. The power you hold as the press is the base we RICS members need.
There is a fundamental issue and that is transparency. We, as members, are held to a set of ethical standards; these standards do not appear to be the same for the management of the institution.
I think the bigger story is why are RICS putting out this "we want to listen" line and then doing everything but? Where is the transparency and ethical considerations we have to uphold in the actions of the RICS to these reasonable requests?
– Adrienne Yarwood
The current management structure of the RICS should be scrapped entirely. When I joined the RICS there were an insignificant number of directors. Now they seem to be everywhere coupled with people who seem to acquire fancy but meaningless titles. They are just an overhead.
Whatever the outcome of the open and public enquiry, Sean Tomkinson must go.
– Anonymous
I am not yet a member but am on a path to be. I am not from a background of surveyors and would be a first-generation member so am doing this journey basically on my own.
It was interesting reading a few members' viewpoints in regard to the RICS "farming out training to universities" and the lowering of standards. I would second this as I feel my university course didn't really enhance my knowledge.
Exams, back to basics and free CPD for those training would be a much better use of the RICS and bringing up standards. I feel completely unprepared for my APC and my workplace feels like somewhere that doesn't really know how to train you up or expects you to have knowledge not taught on university courses.
– Anonymous
I'm a chartered surveyor who has served the RICS Middle East membership and the wider institution. So, what could the RICS do differently?
Complaints procedure: I propose an impartial/independent ombudsman that is outside the control of the executive (appointed by members).
Revisiting the selection vs election model is also essential: currently "selection" typically leads to subordinate boards and governing council representatives being populated from a prescriptive list of candidates. Election allows for democratically elected surveyors to be voted into position by the membership. This has been significantly diluted over the last 10 years and is one of the main reasons membership is now so disconnected from the governing council, as are most boards. The governing council should have 66% democratically elected representatives.
SMEs and people new to surveying form the backbone of RICS membership, adding greatly to its diversity and reach. They are both under-represented at all levels. This should be corrected.
I hope the pending review will be carried out in an open, transparent and democratic manner, with the results being approved by the membership.
– Martin A Seward Case
Recent audit allegations of financial mismanagement and the unprecedented dismissal from the management board of four non-executive directors, chartered members who had regulatory and inspection roles, confirmed the fears of a caring and engaged membership.
The dilemma facing membership now is to identify by what means can the ultimate power of governance in RICS be taken back from those of the executive who have systematically subsumed that same power. Young graduates embarking upon the designated route to chartered membership are encouraged by caring, dedicated and engaged members to develop high standards of professionalism, altruism, probity, honesty, transparency, respect for others and good faith; to what extent are these principles demonstrated by the executive?
– Stephen Moore
The RICS responds
Responding to points made by our readers on salaries and council elections, a spokesperson said:
"RICS actively encourages participation in the governing council election process from our professionals, both in voting and also submitting themselves for the nomination process. Unfortunately, very occasionally we do not have enough candidates to cause an election to be needed.
"The remuneration committee is responsible for setting and reviewing the remuneration strategy for senior employees of RICS […] The committee is responsible for setting the total renumeration for the CEO and reviews the remuneration of the executive team, independent non-executive directors and senior managers that fall within its remit. The committee is comprised of non-members (independent) and members of RICS, and is advised by external experts Mercer."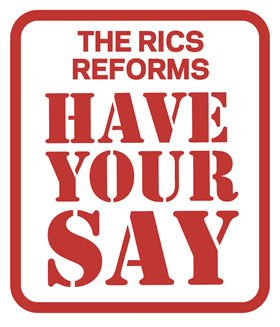 Six key reforms that RICS members want
From your emails we have distilled your suggested actions under six headings:
- Reduce fees
- Provide relevant value for money to members
- Improve engagement with members
- Change top-down leadership
- Reassess global expansion
- Improve website
What do you think needs to change at the RICS? Please tell us below or email the Building newsdesk at tom.lowe@building.co.uk