This #buildingdoodle sketch shows The Water Gardens at London Dock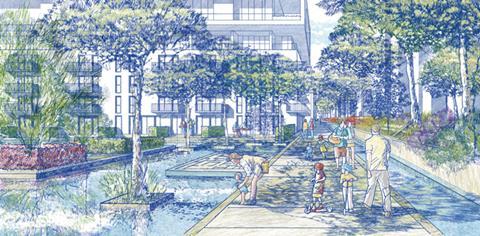 This attractive #buildingdoodle sketch is an initial sketch by Adriette Myburgh for Patel Taylor, depicting the public realm at The Promenade, which is part of the larger London Dock development by St George.
She says it shows: "The Water Gardens is a green link promenade that connects a semi-private water courtyard and private terraces. The courtyard is made of a series of ponds interspersed with Scots pine trees and floating docks to create a tranquil, biodiverse environment with a sense of calm and well-being, where people can connect with nature in an enclosed setting."
Colour-pencil effect has been used digitally to give an air of domesticity and creative freedom.
To submit your sketches for publication please email building@ubm.com or post via Twitter using the hashtag #buildingdoodle