Despite rising tuition fees, university applications in the UK have risen to an all-time high. How is the industry is coping with the demand for student accommodation?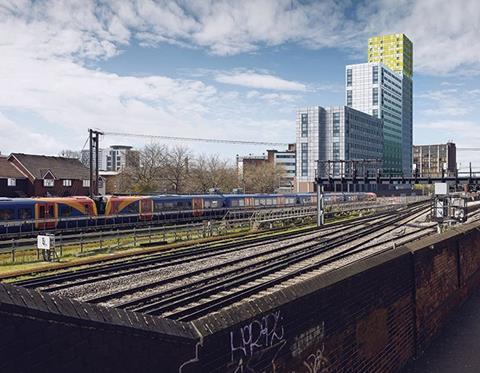 Student accommodation has come a long way from the squalor immortalised in TV's The Young Ones.
These days, the typical undergraduate is likely to be living in a modern, purpose-built block whose management would take a dim view of the madcap antics performed three decades ago by the late, lamented Rik Mayall et al.
In the intervening period, student housing has become big business. An analysis of the development pipeline, carried out for Building by construction data organisation Barbour ABI, shows that the total level of contracts awarded for student accommodation so far this year stands at £1.16bn. With four months left to go, such contracts look set to surpass last year's figure of £1.48bn which was itself an improvement on 2012's £1.28bn. Individual contracts let in June topped £70m in value, with a £73.4m student accommodation development for Brighton & Hove College.
A recent study published by property researcher Savills estimated that there are 30,000 student housing units in the development pipeline in London alone, 7,000 of which were under construction.
Universities themselves remain the main providers of purpose-built student accommodation, accounting for 55% of the UK's 325,000 such units, according to research conducted last year by property consultants GVA. Higher education institutions' capital expenditure on their own residential estate will grow to £380m next year, much of which will be delivered through joint ventures with companies like UPP, according to a soon-to-be-published report by the Association of University Directors of Estates (AUDE).
However, much of the sector's growth over the past 20 years has been generated by private developers, like Unite, which is the UK's largest provider of student beds. GVA predicts that private operators will overtake universities in terms of bed numbers over the next five to 10 years. Colin Rankin, business development director at Vinci Construction, which currently has nearly 2,000 student units in its development pipeline, says that universities are becoming increasingly interested in design, build, finance and operate contracts.
The student boom
This boom has of course been fuelled by the massive expansion in the UK's student population over the past two decades.
Just over a year ago though, the outlook was less rosy for student accommodation developers. The hugely controversial raising of the tuition fee cap to £9,000 had led to a 7.4% fall in university applications, posing a big question mark over the continued expansion of the student numbers that had underpinned the growth of this new market.
These concerns were exacerbated by the collapse into administration of the UK's fourth largest student housing provider Opal.
However, barely a year later, the student accommodation market has rebounded.
"I've seen a number of cycles, but this one has turned around incredibly fast," says Paul Oliver, chief executive of Curlew Capital, a recently launched fund that invests in student new
build projects.
The chief factor behind this turnaround is the less-than-anticipated impact of fees on student numbers. University applications have reached record levels with the number increasing 3.1% this year alone.
This figure included a 6% rise in the volume of applications from overseas students, which gives ballast to forecasts that their numbers will increase by 20% over the next five years. International students are a particularly strong source of demand for purpose-built student accommodation.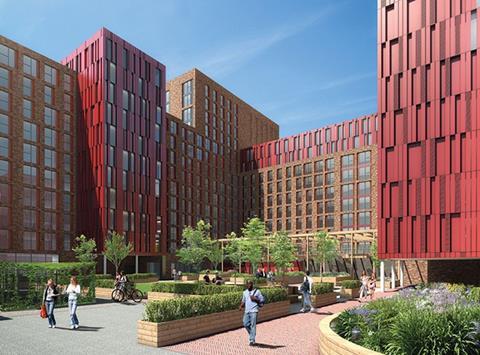 "More people are going to university and they are going to have to be housed somewhere, which is positive for the student accommodation industry," says James Hunt, development director of Unite.
Tied in with the increase of tuition fees, the government is lifting the cap next year on the number of students that each university can admit, sharpening competition between higher education institutions. Beneficiaries of this relaxation are likely to include the higher quality and more established universities, like those in the Russell Group.
This is also driving growth, because with more competition between institutions, the quality of the living environment is an important part of any university's offer. Vinci Construction's Rankin says: "Students are becoming a lot more discerning because they are spending a lot of money on their education."
Andrew May, director of estates at the University of Hertfordshire, agrees: "If any university is going to attract students, it has got to increase the attractiveness of its estate, it's got to have excellent, 21st century facilities. If you don't do this stuff, the competition is going to steal a march on you."
This means that as well as a drive to build new accommodation, universities are also refurbishing old stock that doesn't meet modern standards.
However, while universities are keen to upgrade the quality of their student accommodation, they often lack the funds to do the work themselves. Tuition fees have merely substituted other pots of now withdrawn government income, points out May, who sits on the AUDE executive. He argues that cash constrained institutions will focus spending on the academic buildings that are their core activity, and as a result they will increasingly rely on the private sector to build new student housing or enter into joint ventures.
The good news for universities is that there is clear investor appetite for student housing.
During the recession, student housing was able to command a premium of more than 3% compared to returns across the rest of the commercial property universe. "It looks quite recession-proof compared to all commercial property," says Yolande Barnes, head of global research at Savills. Oliver agrees: "The fundamental numbers were so stable during the recession that it was unbelievable."
The gap between yields in the overall commercial property market and student housing has recently narrowed to around 1%, says Barnes.
Nevertheless, institutional investors, seeking safe alternatives to the rock bottom returns on offer from UK government bonds, are still attracted to student housing operators, which have had few problems raising funds from the bond and equity markets. Last year also saw the establishment of GCP Student Living, the UK's first student accommodation real estate investment trust, providing investors with a fresh vehicle for investing in the sector.
Meanwhile, Opal's £800m student accommodation portfolio has been bought up, mainly by US providers keen to establish a foothold in the UK market. These new entrants will, GVA predicts, "act as a catalyst for further development because they will want to develop their own stock to gain greater market share".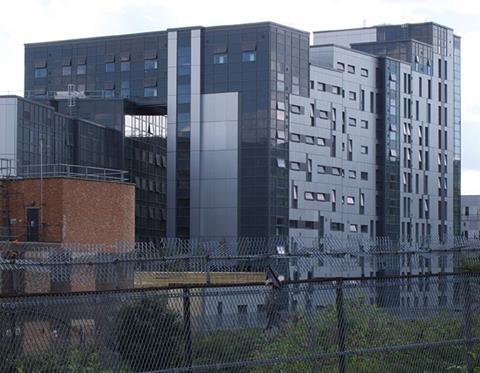 Location, location, location
There are challenges, though. The first is finding sites. Students want to be at the heart of the action, near bars and nightclubs, rather than stuck out on the edge of town. But student housing providers face tough competition from mainstream residential developers, who are able to squeeze more value out of inner city sites. Oliver says: "The problem now is buying sites because our residual values are much lower than commercial and residential. We would love to bring through more supply but it's really difficult."
Hunt agrees that opportunities are limited, particularly in the capital. "The market in London has been challenging for the price we want to pay to create sustainable rents for students."
These inner urban sites also tend to be inherently more challenging in planning terms. Student housing doesn't tend to be popular with council planners, who are often wary about attracting concentrations of potentially anti-social youngsters into their neighbourhoods. In addition, student accommodation does not count towards planners' house number targets.
Hunt says councils are also wary of it due to the quality of most of the schemes brought forward during the recession by what he describes as "opportunistic operators", who were attracted to the sector by the dearth of viable development options elsewhere.
Hence the bad name student housing has developed for design quality in recent years. Both the "winner" and runner-up in the 2013 Carbuncle Cup for the year's worst designed building were student housing developments.
"Some of the things that go up sadden me," says May.
Philip Watson, UK design director for Atkins, agrees: "Student resi has been the lowest end of the market, lower even than budget hotels, but hopefully those days are past," he says. "'Pile it high' is never going to go away because you need to maximise the value of the site, however the quality of urban design has to improve - and the market recognises that."
Student resi has been the lowest end of the market, lower even than budget hotels, but hopefully those days are past

Philip Watson, Atkins
One way of squeezing value is, of course, to make greater use of off-site or "modern" methods of construction. However, the kind of urban sites student housing developers are increasingly working on tend to be fiddly sizes and shapes.
Unite had its own modular construction factory which it sold two years ago. While the company still uses modular construction for bathroom pods, it has reverted to site-based concrete for frame build. Hunt says this more traditional method provides greater design flexibility when dealing with the awkward shaped plots it is increasingly working on.
"If you are responding to a site in an urban location, there is a limit to what you can achieve," Hunt says, arguing that traditional building methods are better suited to these more awkward plots. Oliver agrees: "Because buildings are often fitted on to odd-shaped sites, traditional build methods are preferable, frankly."
But Watson counters that off-site methods remain the best way to build on such sites, particularly because they cause less disruption.
"These are largely urban sites where you can't spend a lot of time: modular construction really lends itself to that."
Another factor encouraging more sophisticated design solutions is the growing variety of accommodation types and facilities in the student housing estate.
At the luxury end of the spectrum, gyms, screening rooms, film rooms, libraries and break out spaces are increasingly common features. For Chinese parents, meanwhile, "twodios", or two bedroom flats, are growing in popularity.
More generally, layouts are increasingly focused on encouraging greater sociability, with floors centred around kitchens and lounges, which are no longer shoved to the end of the corridor.
This fresh thinking even extends to a reinvention of the traditional student house.
Trevor Price of LSI Architects, which has worked on a number of projects for the University of East Anglia, says the Norwich-based practice is looking at a new townhouse concept.
This would see the whole of the ground floor devoted to high-ceilinged lounge, kitchen and dining spaces with the bedrooms arranged on the levels above.
May says this townhouse concept could help reduce costs by avoiding the need for each space to have its own en suite bathroom pod.
So while The Young Ones may be a not-so-fragrant memory, maybe the student house is set for a comeback. Albeit probably a bit less anarchic.