It should be a no-brainer. If modular construction can save so much carbon, then surely, one way or another, it needs to succeed? But this year has seen a succession of firms go to the wall and doubts persist among many more traditional builders. Tom Lowe looks at the issues involved and talks to those who are determined to see it succeed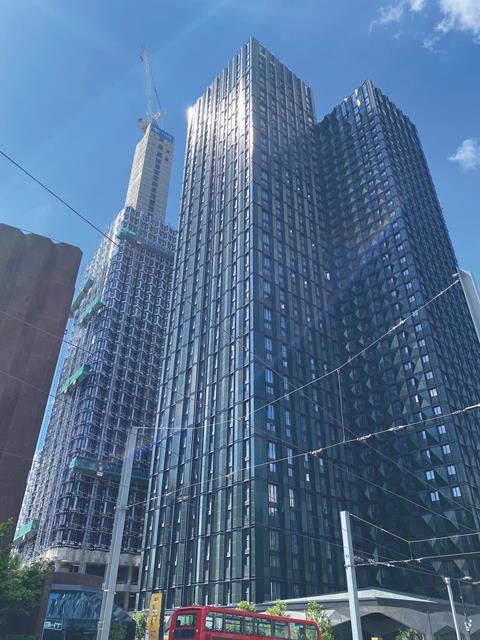 A couple of months ago, a study by two academics found that using modular construction could cut carbon emissions by as much as 45% compared with traditional building methods. Modular builder Tide Construction had asked researchers at Cambridge University and Edinburgh Napier University to look into two of the firm's factory-produced housing schemes. They found that using modular to build 900 homes had saved a combined 28,000 tonnes of carbon.
The report caused a small sensation within the construction world after it was shared widely across social media by professionals citing it as a potential Eureka moment for the industry's carbon problem. It came in the wake of a string of negative headlines about the financial troubles faced by firms working using modern methods of construction (MMC), such as modular. Four developers working in MMC have become stuck so far this year, with two modular firms, Caledonian Modular and House by Urban Splash, sinking into administration since March. Mid Group, a £55m turnover offsite specialist, also collapsed last month after posting losses of £2.5m in its latest accounts.
The rate of failures is starting to look like the industry is witnessing the end of modular as a viable concept, but the report pointed to an obvious conclusion: if modular can save so much carbon, surely, one way or another, it needs to succeed? Tide Construction chief executive Christy Hayes certainly believes so.
We feel we have a credible solution to the housing crisis and the climate crisis … We feel we're on the cusp of making this method of construction mainstream

Tide Construction chief executive Christy Hayes
"We feel we have a credible solution to the housing crisis and the climate crisis," he says. And he is bullish when asked about troubles faced elsewhere in the modular sector, describing Tide's pipeline as "sizable".
But modular's failure to take off despite the huge amount of hype around MMC over the past ten years cannot be ignored. The sector faces a number of challenges, including the difficulty in ensuring its construction methods comply with building regulations, and huge input costs which can only be recouped by constant demand in a notoriously choppy market. The latter is one of the reasons why housebuilder Countryside announced last month that it was closing its brand new £20m modular factory in Leicestershire to reduce losses.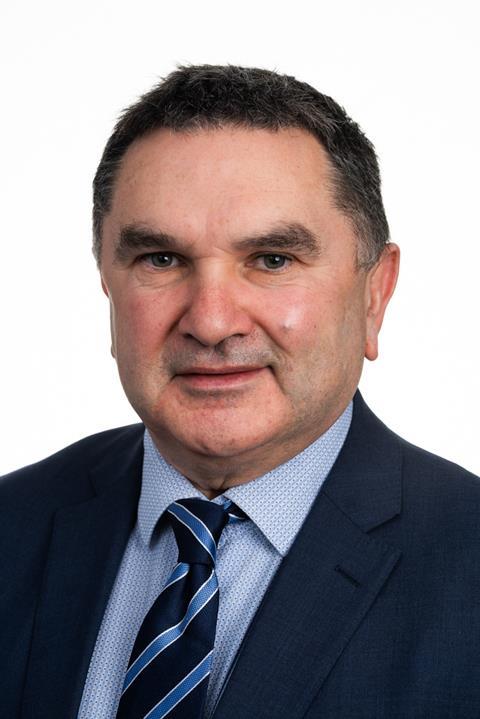 Building sat down with Hayes in the firm's site office in Croydon, where it is building a 50-storey tower which will become the world's tallest residential modular development when complete. Known as College Road, it neighbours the current record-holder – another Tide scheme called Ten Degrees – and will surpass it by six storeys.
HTA Design is the architect behind both schemes, which tower over central Croydon. Another huge scheme, a 48-storey student accommodation tower housing more than 1,000 student rooms on Marsh Wall on the Isle of Dogs, east London, received planning permission in May.
The firm uses a type of MMC called volumetric modular construction (VMC), which involves individual modules being precision-engineered on a factory production line. Each module is fully fitted out before being transported to site on the back of a lorry, where they are lifted into position before being installed with electrics, plumbing and given a final coat of paint.
"This is where we make big [carbon] savings," Hayes says. Traditional construction would normally result in many more individual deliveries, along with the waste that comes with vertical distribution of fit-out materials by workers inside the building and the damage and pilferage which inevitably occurs. College Road will contain 1,725 individual modules, providing more than 900 homes.
Tide says it has built more than 7,000,000ft2 of modular developments in recent years, and is about to start on site with over £500m of new projects. The firm posted a turnover of £167m in its latest accounts to 31 August, 2021, with a pre-tax profit of £11m. Its sister company, Vision Modular Systems (VMS), which produces the units which make up Tide's schemes, posted a turnover of £64m and pre-tax profit of £7m in the year to 30 November, 2020. These numbers demonstrate that it is possible for a modular manufacturer to turn a profit in construction.
Momentum building
Speaking to Hayes, it is clear that he feels a sense of momentum building at Tide and VMS. "We feel we're on the cusp of making this method of construction mainstream", he says.
The firm is now looking for ways to scale up faster and further, something which could be made easier by associating modular with the wider green agenda in the public consciousness. Already clients are advertising Tide-built housing schemes as greener than traditionally built buildings, Hayes says.
Another route is greater government support. The £12bn affordable homes programme currently requires 25% of all homes built through the scheme to use MMC; Hayes wants this to be 40%. He also wants ministers to introduce a fast-track planning system for modular developments to get spades in the ground sooner than traditionally designed schemes, and for stamp duty to be reduced on modular housing.
Hayes says that Tide is engaging with the government and has had a number of officials visit its sites – including from overseas. Representatives from the government in Hong Kong visited Ten Degrees during construction.
The case for modular for any government which is serious about getting to net zero is a no-brainer, says Hayes. He reels off statistics without checking his notes, clearly animated by the findings of the academic study.
Tide's model produces buildings which require 80% fewer truck movements, he says, and can be completed in half the time of traditional schemes. The onsite workforce can be almost a fifth of normal sites – the workforce at College Road will max out at just over 100, compared with around 500 for a traditional scheme of similar size. Utility bills and running costs of the firm's buildings once occupied are also between 20% and 25% cheaper because of how the units are manufactured.
Solving the skills crisis
VMC also offers solutions to construction's skills crisis, the Tide team says. Their schemes need fewer staff on site because much of the work is done in factories, a more "pleasing environment" which attracts a younger and more gender-balanced workforce. And the prospect of a regular nine-to-five job in a fixed location is also a factor, according to Hayes. "We have a very settled workforce,", he says.
For a typical construction job, he says "you would probably have to get up at five o'clock in the morning, hop on a train, drive to the train station, hop on a train to here, then your materials don't show up – as opposed to working in a controlled environment"
Around half of the workers at the firm's two factories in Bedford and south Wales also cycle to work, as they can leave their tools and materials at the factory. "We have a huge skills crisis here and we're not saying we're immune to it, but we're certainly helping to attract construction skills back into the industry," says Hayes.
The close relationship between Tide and VMS, and their collaboration with HTA Design, an architect with extensive experience in modular, is key to the success of projects. The model sets Tide apart from other project teams working in modular, where there has often been a disconnect between the contractor and the manufacturer of modular units.
Industry caution
The question is, can Tide's model be replicated elsewhere in the industry? Tide is helped by the fact it enjoys a good relationship with investors and has a solid pipeline of work. A large proportion of its work is student accommodation and build to rent projects which feature repetitive layouts particularly suited to modular construction. The time saved using modular by these types of development reap dividends for investors unlike private housebuilders which do not want to flood developments with new homes too quickly as this could depress prices.
Manufacturing facilities require a substantial investment of time and money to set up and need a constant throughput of work to provide a return on that investment. The stop start nature of construction is not conducive to keeping a factory running at capacity all the time.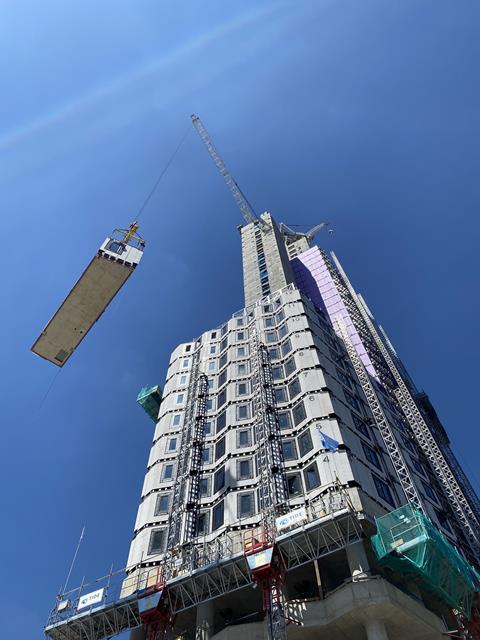 This has been the primary challenge for others attempting to break into this market. Laing O'Rourke made huge losses in the years after it set up its offsite factory in the Midlands, while Legal & General's modular housing business has posted five consecutive losses in its annual accounts since 2016 – totalling £137m. Following these well-publicised setbacks, it is not surprising that firms have been wary about investing in modular factories.
Another factor is the general industry caution over embracing new methods of construction. Mark Farmer, the government's MMC champion, believes this is largely due to developers who are concerned about whether they can get their building funded and insured. It could also partly be due to firms preferring to play it safe following the Grenfell fire.
But Farmer says the fire has actually exposed the weaknesses of traditional construction. "Site labour-intensive approaches, which lead to mistakes on site where workers are left unsupervised and self-certified, has led to many of the issues that have led to Grenfell," he says.
MMC, he adds, is providing a way to overcome these issues. This especially applies to ensuring that initial designs translate to what actually gets built, which is easier on modular schemes where units are manufactured in a factory.
Hayes says Tide's projects are fully fundable, mortgageable and insurable – and mentions that fact several times during the interview. Making sure the firm's methods are fully accredited has taken years of research, development and testing.
No role for timber
Perhaps this is why Hayes firmly rules out using timber in Tide's developments, despite the huge carbon savings that it could achieve by replacing concrete and steel – on top of the 45% carbon reduction already reached by using VMC. "Tide have spent a lot of money on large-scale fire testing to prove the robustness of their system," Farmer says. Much of that has been done without official guidance, and has been agreed directly with the fire brigade.
"It's too difficult," Farmer says. "All of the manufacturers are having to do that as one-offs rather than there being a system, setting out what you have to do to prove that your system is properly accredited."
Farmer has been working with government officials for several years on an industry standard which will govern the ways MMC systems are accredited, and says it could be operational within around 18 months. "The key thing we need to do is to build confidence that, when you have a system by Tide, and it's being used, that level of complexity that they are using it… it shouldn't be treated any differently to traditional construction.
"It's a perception issue, rather than a reality issue."
The opposing view
Others have a different view. Mike Leonard, chief executive of the Building Alliance, a trade body which champions traditional construction, said that modular construction has struggled because it is seen to be more expensive than building conventionally. He says modular firms often ask for upfront payments from clients to cover their input costs – an unappetising prospect for developers who prefer to be flexible in order to deal with the ebb and flow of the housing market.
"It's rather like deciding to have a new plasma television and being asked to pay for it a year in advance so they can make it for you," Leonard says. "You probably wouldn't do that. That's essentially the proposition they are putting on the table."
Leonard adds that the government's "unfair market interference" in supporting the sector through the affordable homes programme is "frankly the only reason" modular is being used, as developers need to include MMC in their programmes to ensure Homes England funding.
Does the government tell car manufacturers how to build cars? They don't – they leave that to the market and the industry to produce the right solutions

Mike Leonard, chief executive of the Building Alliance
Leonard says public money would be better spent on supporting the decarbonisation of traditional construction and low level housing, which is less reliant on carbon-intensive steel imported from China. "We all want to move to decarbonise our sectors. I would suggest to government that their money would be better invested in helping industries that do work and do not need financial subsidies generally to work, to make that transition to a decarbonised built environment," he says.
"Does the government tell car manufacturers how to build cars? They don't – they leave that to the market and the industry to produce the right solutions. And that's fair, and that's good governance."
The form the industry standard mentioned by Farmer will take is yet to be determined, but it could include amending building regulations to refer to the new standard. Accelerating approval for innovative systems so they can come forward to the market would make a big contribution to overcoming concerns about MMC, Farmer says. "It's all about education. It's all about awareness building, it's all about confidence building."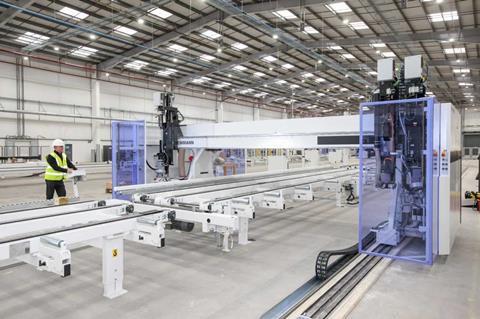 The new standard could be joined by another, potentially much more significant regulatory change. Plans to amend regulations to include carbon limits at design stage were reintroduced to parliament last month, after being shelved earlier this year.
The Embodied Carbon (Buildings) Bill would require firms to report on carbon emitted during the construction of a project. It is not yet clear if the government will support the bill, but it could have a huge impact on the industry and put rocket boosters beneath the modular sector.
"It will force traditional builders, it will force designers, it will force MMC manufacturers to think about their materials, to think about their efficiency, and to reduce their whole-life carbon footprint," Farmer says.
The bill proposes phasing in the changes from 1 January next year for non-residential buildings and from 2025 for residential buildings. But, in all likelihood, these dates will be pushed back.
Embodied carbon in construction emits more than the UK aviation and shipping sectors combined. It will be impossible for the government to get anywhere near its net zero targets without addressing this with interventions – and quickly. For traditional construction, the Embodied Carbon Bill could force a much faster rate of decarbonisation. For the modular sector, it could be a lifeline.
High-profile MMC difficulties
Swan, seen as a pioneer in modular development in the housing association sector, was found to be non-compliant with regulatory standards by the Regulator of Social Housing after losing control of development costs last December. Essex-based Swan, which only manages 11,000 homes, had previously said it has a secured pipeline of 8,000 homes. It was targeting 1,000 modular homes a year through its factory in Basildon which produces volumetric modular housing using cross-laminated timber and had planned a second facility to manufacture light gauge steel modular housing.
Caledonian Modular collapsed in March. The business branded itself as the "UK's leading offsite building solution provider" and worked as principal contractor/lead designer, or as a specialist subcontractor delivering more bespoke products across a variety of sectors in addition to residential, including the hotel, education and defence sectors. The following month Caledonian, which reported a £2.8m loss in the year to March 2020, was snapped up by concrete frame specialist contractor JRL.
In April Countryside said it was "reviewing all options" for its new MMC factories after reporting excess manufacturing capacity had led to a £6.1m loss for its modular business in the six months to 31 March. This was one of one of several factors, along with losses in regional businesses, behind a profit warning which led to the departure of chief executive Iain McPherson this year. In July, chair John Martin resigned and, the following week, despite the firm having stressed that it remains committed to MMC, it announced it was closing its new £20m modular factory.
House by Urban Splash, a joint venture 48% owned by shareholders of developer Urban Splash, 48% by Japanese housebuilder and 4% by Homes England, went into administration in May with debts of more than £20m. Administrator Teneo said the collapse was caused by the under-use of its modular factory, along with design defects in the homes it produced, which led to customers losing confidence in the firm.
The most recent high-profile difficulty was the collapse of offsite contractor Mid Group late last month, with all 37 staff at the £55m-turnover firm losing their jobs. The contractor, which was founded in 2014, had described itself as one of the UK's "fastest growing construction companies", but posted a pre-tax loss of £2.5m for the 2020 financial year.