Architect reports increase in revenue and profit, but director takes 80% pay cut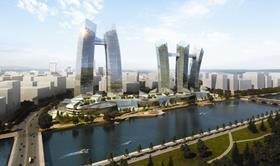 Architect Benoy's sole director has taken massive pay cut despite the firm reporting a 30% jump in pre-tax profit.
In accounts filed at Companies House, Benoy Limited reported pre-tax profit of £8.2m for the year to 31 December 2012, up from £6.3m the previous year.
However, the firm's sole director, Graham Cartledge, took a pay cut of 80%. He received remuneration of £647,210 in the year, down from £3.2m the previous year.
But Cartledge's pay was similar to what he received in 2010, when he was paid £605,000.
The firm also reported an 8% rise in revenue to £41m in 2012, up from £38m in 2011.
Writing in the accounts Cartledge said he was "pleased" with the overall performance of the business during the year.
He added: "The business continues to benefit from a portfolio of work spread across sectors, countries and client base. The business will continue to invest in overseas opportunities."
Benoy increased its complement of architects in the year to an average of 429, up from 390 in 2011.
But turnover per employee fell slightly to £88,562 from £90,314.