Architect bounces back from £1.9m pre-tax loss in 2011 to report a profit of nearly £200,000 in 2012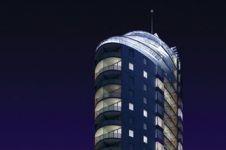 Devereux Architects' UK arm has reported a return to profit in 2012 following a restructure in 2011.
In accounts filed at Companies House, Devereux Architects Limited reported a pre-tax profit of £195,220 for the year to 31 December 2012, up from a £1.9m loss the previous year.
The company's loss in 2011 had been compounded by restructuring costs of £779,332.
Devereux's return to profit was achieved despite a fall in revenue to £4.4m from £5.1m over the period.
The firm reported an average of 64 architectural, sales and administrative staff in 2012, down from 80 in 2011.
Plus, it reported that it had cut the number of directors to 8 from 9 over the period.
Writing in the accounts Darius Umrigar, managing director for the UK, said the restructure had had a "significant impact on profitability" in 2011 but the business had "performed satisfactorily in 2012".
He added: "The order backlog in 2012 was much improved mainly with increased public sector healthcare work for execution in 2013."
"In 2013 on-going public sector budget constraints and healthcare sector cutbacks have impacted the timing of release of these orders and the environment for the business has remained challenging."
But he said the firm had widened its sector base to offset this.
Umrigar added that there were good opportunities in the research sector.
He said: "We have unique expertise in this sector being able to offer architecture design through Devereux Architects and specialist process and utilities services through our sister company, PM Group."
He said recent project wins included a new School of Veterinary Medicine for the University of Surrey, a £30-40m project currently at the planning stage, with the firm also on the shortlist for a £22m research centre for the Royal Free Hospital Medical Research and Clinical Trials new build.
He also pointed to project wins in the healthcare sector to demonstrate that this remained a priority for the firm including work for the University College London Hospitals NHS Foundation Trust including the expansion of the accident and emergency department; work for the National Hospital for Neurology and Neurosurgery, expanding its operating theatres; and for Belfast Health and Social Care Trust on the new Belfast acute mental health development.