Former Kier board member Ian Lawson will take over reins at steel specialist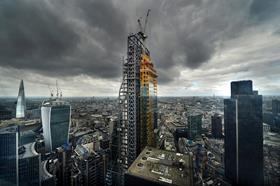 Troubled steel specialist Severfield-Rowen has appointed former Kier board director Ian Lawson as chief executive.
His appointment follows the resignation of former chief executive Tom Haughey in January following a series of profit warnings over the last year due to a number of problem jobs, including the Cheesegrater (pictured).
Lawson will take up the post on 1 November, at which point John Dodds, currently executive chairman after Haughey's resignation, will resume the role of non-executive chair.
The appointment will see Lawson and Dodds, who was formerly Kier chief executive, working together again after Dodds retired from Kier in 2009.
Lawson stepped down from the same firm earlier this summer following Kier's merger with May Gurney.
He joined Kier in 2000 where he was a director Kier Regional and managing director of Kier Investments. He was appointed to the board in 2005 with responsibility for its services division.
John Dodds, Chairman, said he was "delighted" to welcome Ian to the Group. He said: "He has a wide range of experience from 35 years in the construction industry. I have worked with Ian over many years and believe he brings the right mix of skills and experience to lead the Group for the next phase of its growth and development."