From playing I-spy with heavy plant on a long road trip to gasping in awe at the majesty of football stadiums and hydro-electric dams, here is our nerd's guide to enjoying 'geeking out' on construction while on holiday. Jamie Harris liberally applies the sunscreen

'One of the joys of being a construction nerd is that you can indulge your nerdiness almost anywhere". So says one self-confessed industry geek responding to our call for readers to help compile a guide to "geeking out" at construction while on your summer holiday.
So here are some of the holiday destinations of choice (spoiler alert: there's not a beach or theme park in sight) for and by those industry professionals who want to combine rest and relaxation with the pleasure of taking in extraordinary buildings and impressive engineering feats.
There are clearly cases where the love of great architecture and fine workmanship has dominated years of family holidays, so let's spare a thought for those long-suffering spouses and offspring as they are dragged on massive detours to view yet another construction gem they have never heard of and will no doubt quickly forget.
No matter, family disharmony is all part of the summer holiday experience and must not get in the way of your construction travel bucket list. And just like all good bucket lists, this one is unfinished.
If you'd like to add to the list and share your top construction holiday tips with the Building community, get in touch by emailing building@building.co.uk or tweeting us using the hashtag #constructionholiday.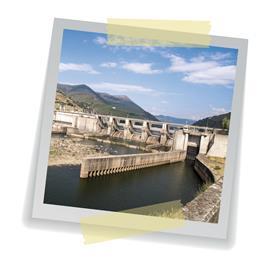 The five dams on the river Douro – Portugal
A trip to the home of Port wine has plenty to offer, (port, for example), but if you tire of blue-tiled walls, scenic streets and languorous seafood lunches, then sate your engineering hunger with a trip on the River Douro from the border village of Barca D'Alva.
The five dams that lead downstream will ease the suffering of all that lazy holiday wining and dining, with the concrete and steel at any one of them sufficient to perk up the engineering soul laid low by views of scenic vineyards, the occasional swoop of wild eagles and the chore of swimming in uncrowded seas.
If concrete dams are not enough to compensate for such hardships, you are sure to be uplifted on your arrival back in the city by the bridge engineering history lessons that span between Oporto and Gaia.
Bridge engineers Gustave Eiffel, Théophile Seyrig, Édgar Cardoso and António Adão da Fonseca are the stars of this show. Not for nothing do the French call heavy civil engineering ouvrages d'art.
Paulo Silva, director at Robert Bird Group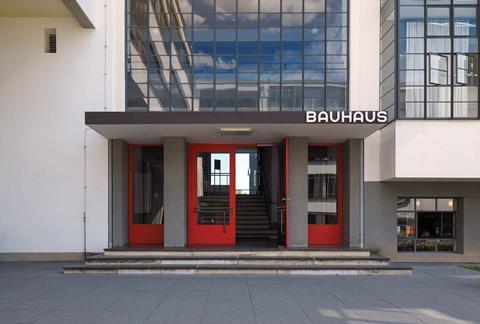 Bauhaus - Germany
I've dragged my family and friends to many places of architectural interest while we've supposedly been "on holiday". Memorable trips include encouraging a group of people to leave a massive festival in the German countryside near Dessau half-way through the event to take them on a tour of the Bauhaus School in a nearby village. I may have oversold it as there were quite a few disappointed faces.
Ali Mowahed, director stations and TOD, Atkins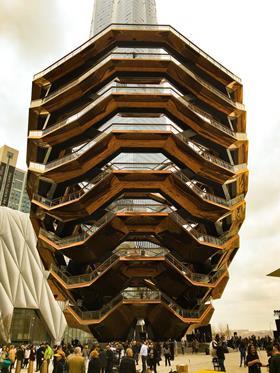 Heatherwick's Vessel — New York
I get a bit obsessed with checking out new sites I've read about in Building's pages. Earlier this year I just had to head to the other side of Manhattan, New York, while I was in the city, to experience the grand opening of the Hudson Yards project. In its centre sits Heatherwick's 2,500-step sculpture, named the Vessel. My companions were disappointed to discover that the largest private property development in the US offered them little more than outrageously expensive shops and bars.
On another trip, I did stop short of driving to the other side of Kauai, Hawaii, to see Tesla's solar farm. But I was so close …
Jamie Harris, digital editor, Building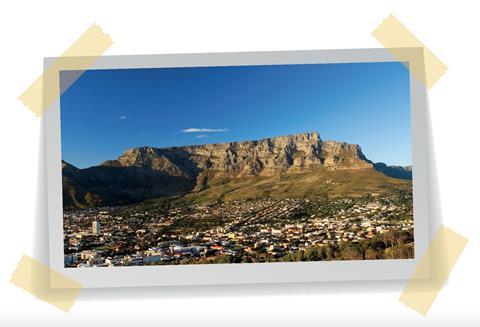 Table mountain — Cape Town
My 14-year-old son has been dragged to the Trullis in southern Italy and bridges in Porto. Poor bugger. At Christmas I took my son to Cape Town to show him where I grew up. While there, I simply had to show him the magnificent villas perched on the uppermost slopes of Table Mountain, (above). Brilliant! That is until we spotted a monstrously wasteful and huge concrete cantilevered swimming pool, quite without such structural need, sticking two fingers up at common sense, the environment, design creativity and resource efficiency. It's always good to be inspired by beautiful buildings, but it is even more important to stop and learn from the fatuous excesses which we can no longer afford in any sense. Unfortunately, they are all about us wherever we go on holiday.
Tim Ibell, structural engineer, University of Bath, department of architecture and civil engineering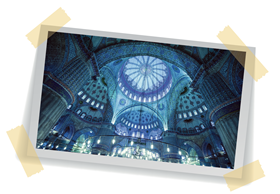 Blue Mosque — Turkey
My favourite holiday destination has to be Istanbul. It's a fascinating city, with influences from Europe and Asia. For me, its biggest draw is the Ottoman empire's Blue Mosque and Grand Bazaar, both fine examples of well-performing buildings. As a building services engineer, I see important lessons to be learned from these structures about basic engineering principles still very relevant in design work today.
They achieve impressive temperature control in a difficult climate and while modest in terms of cost, they have stood the test of time. I've dragged my wife to see their aquifer tanks and passive cooling systems before, and we're planning another trip.
Peter Sutcliffe, operations director, buildings and places, Aecom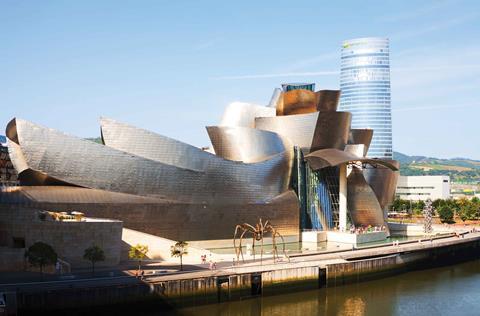 The Guggenheim – Bilbao, Spain
Number one has to be Frank Gehry's Guggenheim in Bilbao, and the ensuing swathe of modernist architecture that transformed the port town into a thriving tourist destination, including Norman Foster-designed subways, with the entrances inspired by prawns or "Fosteritos".
Will Squires, digital lead, Atkins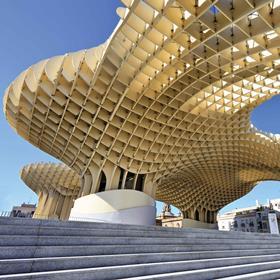 Metropol Parasol – Seville, Spain
My partner is a structural engineer so we have taken specific trips to Barcelona to see the La Sagrada Familia, to see the beautiful brickwork in Casa Milà and gaze at the bewildering facade of Casa Batlló. We also squeezed in a trip to Seville before a wedding in Spain to "geek out" over the Metropol Parasol (left).
Kirsty Pesticcio, senior architect, Atkins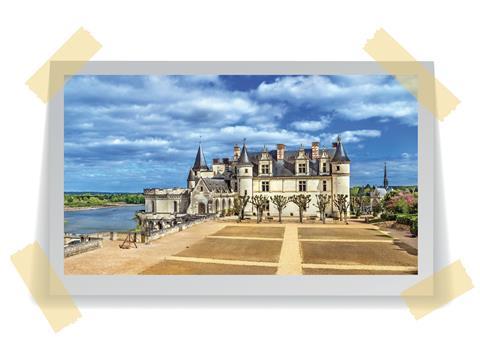 Amboise – France
There are obvious candidates, London of course has an incredible portfolio of work and New York is unlike any other city – as you approach across the bridge from JFK it is like driving into some sort of alien world. But, for me, one area which combines the ability to get away from the stress and pressure of our industry, escape to the peace and tranquility of beautiful countryside and yet supply a daily fix of architectural intoxication is the Loire Valley in France. Beautiful towns with fascinating architecture abound, such as Blois, Saumur and, my wife's personal favourite, Amboise.
These are, of course, interspersed with stunning chateaux, for which the region is renowned, including Chambord, Chenonceau, Azay-le-Rideau, Ussé and so many, many more. Go see! I challenge you to be disappointed!
Richard Brackstone, former commercial director of BECK
Eden Project – Cornwall, UK
From a landscape architect's perspective, I would happily make a detour for the Eden Project in Cornwall, Singapore's Gardens by the Bay and New York's High Line. More obscure would be the Red Ribbon Park in Qinhuangdao, China, and Kyoto, Japan, in blossom in the spring. When studying for an MA in urban design, while working part time at Atkins, I arranged a group holiday with friends to Malmö's Bo01 – an environmentally friendly, sustainable city district that originated as part of the European Housing Expo in 2001 – to help with my dissertation.
Neil Manthorpe, associate director of landscape architecture, Atkins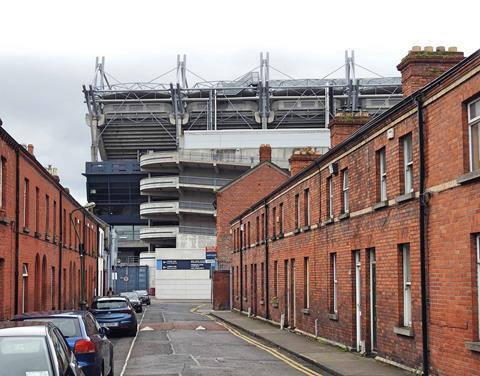 Croke Park – Dublin, Ireland
For stadium lovers, Croke Park stadium in Dublin (above) is a gem at the heart of the Emerald Isle. It's predominantly used for the sports of hurling and Gaelic football, as well as concerts. It's not particularly well known due to a lack of media coverage in comparison to international sports such as football or rugby. With a capacity of 82,300, it is one of the biggest stadiums in Europe.
Construction on the stadium started in the 1990s and was completed in 2005. The structure comprises steel Toblerone-shaped cantilevered roof trusses supported on reinforced concrete "Y" portal frames at regular grids, which forms the horseshoe, tied together by reinforced concrete beams that are then infilled with precast concrete.
Apart from the main dominant structural elements, there are also many small structural features worth paying attention to, such as footbridges, transfers over rail and canal, cantilevered staircases and many more.
Hon Lau, senior engineer at Robert Bird Group