Agency faces triple threats of market uncertainty, fire safety and net zero if it wants to deliver homes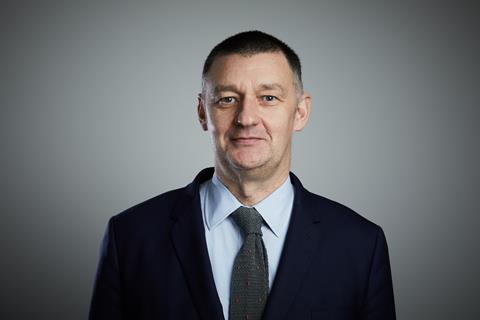 The resignation of Homes England chief executive Nick Walkley last week came as a surprise to both his staff and the industry. Widely seen as having transformed an under-performing Homes and Communities Agency with the creation of Homes England in February 2018, Walkley will leave the agency at the end of this month with his reputation at a high watermark.
Overseeing the administration of Help to Buy and the £12.5bn affordable housing programme, alongside a raft of other initiatives and deals, Homes England enables the construction of more than 40,000 homes a year. While the agency's chief investment officer, Gordon More, will take temporary charge, Walkley's departure leaves the body without a permanent leader at a crucial moment as the country emerges from the pandemic, with the housing market facing huge challenges. His eventual successor will have big shoes to fill.
With no explanation for his sudden departure given, beyond "personal reasons", the resignation has inevitably prompted a flurry of rumour and speculation as to what could possibly be behind it. But probably the more important question for the sector is working out the situation that will face whoever is brought in to replace him – and what direction the agency will move in now.
A disrupter
Walkley's departure after exactly four years in charge has triggered plenty of tributes from across the housing sector – including from private developer bodies, planners and, of course, housing associations. He was appointed during Theresa May's tenure as prime minister with a brief to accelerate housing supply by disrupting the housebuilding industry. By all accounts, he has had some success.
In practical terms, most significant has been the formation of strategic partnerships with housing associations, where larger organisations have been given long-term flexible funding packages in return for committing to build more homes than they otherwise would have done. This has yielded more bang for the government's buck in delivering affordable homes, and allowed housing associations to take a longer-term view – albeit some say this has been at the cost of on-the-ground engagement with local authorities, as the agency has centralised around programmes.
There is much speculation that the suddenness of the departure was actually due to a falling out with his ultimate boss, housing secretary Robert Jenrick
Walkley has also made the agency more development savvy, bringing in experienced residential property executives such as Stephen Kinsella, formerly partnerships director at Barratt.
But symbolically, probably most important has been a string of eye-catching deals with new entrants and firms with disruptive business models – most obviously the £30m of finance he put behind Urban Splash's modular joint venture with Japanese housebuilder Sekisui House. Other similar deals, such as the £30m loan to Ilke Homes, or the land acquisitions for major strategic developments at York Central, Burgess Hill and Northstowe, are also obvious examples.
By championing modern methods of construction and, latterly, design quality and sustainability, Walkley's Homes England has sent a strong signal that – while it is not biased against traditional housebuilders – it is willing to support small firms with big ideas if they have genuine potential to change the sector.
Sudden departure
So, what has happened? It is not clear. The official line is that, effectively, Walkley has simply had a long hard think about his goals and his priorities, and decided that his time is up. It is certainly worth noting that Walkley has left both of his two previous jobs – as chief executive of Haringey council and Barnet council respectively – after almost exactly the same duration.
Chris Brown, chief executive of Igloo, says Walkley views himself as a change agent, so he may of course simply feel that the job of reform and disruption he wanted to do has been performed.
However, there is much speculation in the sector that the suddenness of the departure – Walkley will leave in just a matter of weeks, without any clear succession plan – was actually due to a falling out with his ultimate boss, housing secretary Robert Jenrick, who does not necessarily share the same world view as his predecessor, Sajid Javid, the man who appointed him.
Asked if this was the case, a housing ministry spokesperson simply pointed to Jenrick's tribute to Walkley on the announcement of his departure from Homes England, in which Jenrick lauded Walkley's "transformation of the organisation that has helped deliver more homes that communities need and helped so many families onto the housing ladder."
A Homes England spokesperson said: "Nick is leaving for personal reasons. He leaves with the full support of the chair and has been personally thanked by the secretary of state."
But, certainly, Homes England has suffered some sharp criticism from those close to Jenrick, with the final report of the Building Better, Building Beautiful Commission, led by influential government adviser Nicholas Boys Smith, saying the agency "fails to put quality first" and needed "urgent change". Several separate sources say that the relationship with Jenrick has been difficult for some time.
Tricky timing
Whatever the truth of any of this, the more important question is where Walkley's departure leaves the agency, and the government's housebuilding objectives. There is no doubt that his departure is trickily timed, given the move to a new Help to Buy programme at the end of March, just as the stamp duty holiday and furlough schemes end – all of which have the potential to rapidly cool the housing market. At the same time housing associations and developers are currently bidding for the new £12bn affordable housing programme, due to start funding works from April.
Any incoming chief executive will have to manage all this alongside the general market and policy uncertainty created by the pandemic. While many are predicting a strong housing market recovery from 2022, nothing is certain, and others are concerned that pressure will grow to recoup the unprecedented public expenditure incurred during the pandemic – pointing to budget cuts down the road.
But probably the biggest problem is presented by the organisations that are still Homes England's primary route to housing delivery – housing associations. Many of the biggest of these bodies, which have been increasingly ambitious and commercial developers in the past decade, are pulling in their horns in the face of a triple-headed challenge: market uncertainty, investment in fire safety measures, and the drive to net zero.
This challenge is forcing many to set aside millions – in some cases hundreds of millions – of pounds to upgrade their existing homes, limiting their headroom to take on development – particularly of "for sale" housing that has in recent years cross-subsidised affordable homes. This challenge is in part what lies behind the regulatory downgrade to One Housing revealed last month, and has seen the sector's biggest developer – L&Q – publicly make clear its focus on improving its exisiting stock, rather than building new homes.
The upshot is that many are asking for more grant per home in order to build. For housing association chief executives such as Paul Hackett at G15 association Optivo, the only way of addressing this is by Homes England taking a holistic approach, which wraps up development investment, fire safety investment and net zero investment into one conversation – for example ensuring that planned works to tackle cladding problems are also done in a way that furthers the net zero agenda.
"The thing we need is a broader relationship and a discussion with Homes England that encompasses net zero, rent levels, building safety repairs and development, with an open-book approach," he says.
The new chief executive, whoever he or she is, will face multiple challenges from day one, but that potential drop-off in housing association development appetite will certainly be at the top of the list. Whether the new broom is willing, or enabled by government, to take a more holistic approach remains to be seen.