With a smaller pool of projects and severe pressure on fees, winning work in the education sector is about to get even tougher. Building asks Amir Ramezani, a director at London architecture practice Avanti Architects, to assess the market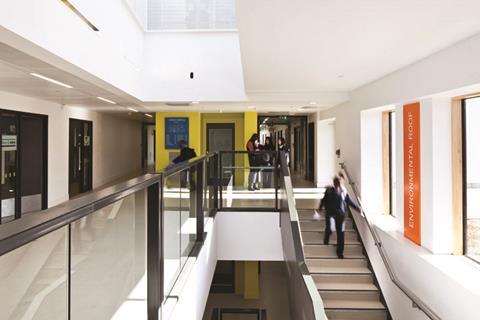 How big is the practice?
We have 70 staff.
What sort of projects you do?
We are involved in public and private projects including work within education, health, residential, mixed use, commercial, conservation and regeneration sectors. Within education our experience covers the full range from pre-school, primary, secondary and special needs to higher education. We also work on the advisory side, offering scoping, feasibility and masterplanning services to clients, as well as delivery of completed buildings.
What percentage of your workload is education?
Thirty per cent. We have been involved in over 35 education projects. This broadly breaks down as nine primary and early years, 12 secondary, nine special needs and six universities and further education colleges.
What education buildings are you currently working on?
We have six at the moment, four of them in Hackney: a new-build secondary school, the Free and Parochial CoE School, and a new primary school at Thomas Fairchild Community School, plus a part new, part refurbishment project at Haggerston School, a grade II-listed school built in 1963-7.
In Tower Hamlets we are working a a new block on the Morpeth School site, and the Beatrice Tate Special Needs School.
What impact will the government cuts have on the practice?
We have been very fortunate to ride the wave of cuts thus far but we are seeing a very competitive market emerging for new work. Government cuts have resulted in a far smaller pool of projects to go round and this has the inevitable effect of bringing fees down to untenable levels as practices fight for work. On many occasions the winning fee will not allow the consultants to deliver on what they have promised and it will impact on quality of service and on the final product. It is likely that a number of very good practices will run into financial difficulties.
What is the impact of politics on education buildings?
Successive governments have tampered with education far too readily and have implemented too much change. This has often been ideologically driven rather than looking at how long-term outcomes can be achieved through steady and practical means of addressing shortfalls.
The last government sought to address years of underinvestment in the schools estate. The poor state of many buildings, the need for urgent action and an unsophisticated procurement system have inevitably led to mixed results. A number of schools remain in ageing, substandard buildings, which would put any modern democracy to shame.
How will cutbacks affect school design?
The scale of cutbacks being considered can only practically result in a reduced scope of work. It will be very difficult to develop large cost savings through tweaking of specifications. The need to refurbish or to extend existing buildings will also require more bespoke solutions on many of the schools that have constrained sites. It is hard to imagine how this can lead to greater standardisation.
Will the cuts impinge on the quality of space and the pupil and teacher experience?
We are likely to see less of the big flagship projects. But high-quality design that is educationally driven and that provides pupils and teachers with a high-quality experience is still achievable.
Will you work on any free schools? What sort of challenge does this represent?
Building Schools for the Future (BSF) and the Partnerships for Schools framework provided a systematic way of knowing what schemes were in the pipeline. This allowed individual practices to develop long-term business plans and focus efforts on projects they could win. A more fragmented procurement system will require much more effort to find opportunities. This, combined with smaller schemes, will put real strain on the viability of projects for consultants. We envisage we will be involved in free schools projects, but there will be some which will not be feasible for medium-sized and larger practices.
One of the challenges that free schools represent, especially in the secondary school sector, is accommodating their needs within buildings that were previously used for other purposes. While many buildings are capable of being adapted to school use, they often do not come with enough outdoor space to meet a modern curriculum.
Do you envisage doing more refurbishment?
School refurbishment projects have been very problematic for large delivery vehicles such as BSF. Often the work is messy, too complex or too small for large contractors to be able to manage effectively. The opportunity to bring in smaller specialist contractors to undertake more of this work may be a positive step.
The success of refurbishment relies heavily on how well the project is scoped in the first instance. We have been involved in refurbishment schemes that have been badly conceived and where a large design team cannot add real value. It is useful to distinguish between what the school and the local authority's own facilities management team can address, and those areas that require the expertise of designers.
Any clever ideas for delivering quality on a smaller budget?
It may be worth rethinking this question by suggesting that high quality outcomes can still be achieved if school projects can be scoped in a different way. It may not be possible to do all the things required to meet the needs of the schools, but, by developing a long-term strategy, work can be organised around phases as more money becomes available. This will allow the budget at each stage to be focused on delivering a high quality and lasting legacy.
Do you see any new issues on the horizon?
We are being led to believe that the large quantity of guidance and regulation will be relaxed. Some of this will be pragmatic and well received. However we need to be wary, especially if considerable efforts have been made to arrive at these standards over many years.
On our most recent projects, build areas seem to be the issue most under scrutiny. For example, we were asked why a hall in a primary school needed to be sized for a full badminton court. It is easy to be shortsighted and think there is no such use for the hall at the moment, but this can hamper management and occupiers from having this benefit in the future These short-term decisions are likely to have greater impact on future flexibility.
If space standards are reduced, how will you respond architecturally?
We try to evaluate where flexibility can be provided with less area, but it is our professional duty to let clients know when they are pushing the space standards below operability and functionality. Area and space standards are only one of the tools to control cost and align projects with budgets. We would like to see a more sophisticated approach to area, space standards and cost planning.