As the communities secretary stands poised to decide on the latest plan to restore Battersea Power Station, Emily Wright looks at why, this time, things have to be different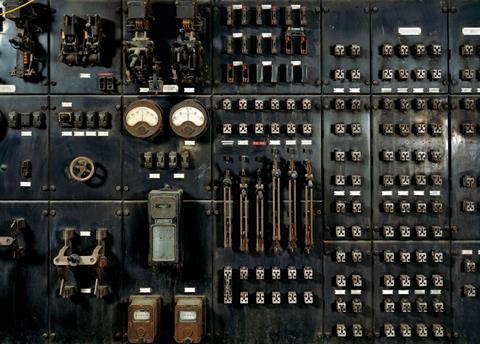 A wall of dials for readings from the transformers and feeders in control room A
Here we go again. After 27 years, four designs, two masterplans and three failed attempts to complete - or even properly start - the redevelopment of Battersea Power Station, in south London, the current developers are gearing up for another big push to get the £5.5bn scheme off the ground. Treasury Holdings, which took on the site in 2006, is convinced that it will be a case of fourth time lucky, following planning approval from Wandsworth council and London mayor Boris Johnson last year and reports that there are 15 investors queueing up to back the project.
After so many years of waiting, so many failed plans and so many dashed hopes, expectations have reached dizzying heights that the latest attempt to remodel one of London's most iconic sites will finally come off. And with so much at stake - billions of pounds to be invested in building 16,000 homes, the regeneration of a major swath of the capital, and the creation of 25,000 jobs - there is mounting pressure to get things right this time around.
But we're not there yet. Three major hurdles stand in the way of finally realising the Rafael Viñoly-designed project: first, final go-ahead is awaiting a decision from communities secretary Eric Pickles - expected within days. Then there's the matter of the crumbling structure - if work doesn't begin soon, redevelopment may become economically and physically unviable. Finally, there are question marks over whether the developer, a division of which has debts of €1.8bn (£1.5bn), will be able to fund the deal. Financing from other companies is understood to be dependent on the communities secretary's go-ahead for the scheme. But even if this funding comes through, some people doubt that it will be enough to allow the entire scheme to be built, and believe later phases are at risk.
On the other hand, a confluence of auspicious factors, including the upcoming development of the US embassy just behind the power station site and the development of the Northern Line tube extension, have the capacity to propel the scheme forward.
So will it be different this time?
Stopping the rot
After 20 years with no roof - it was removed by the scheme's first developer John Broome in the eighties - the station has been left open to the elements and now needs more work than ever, and fast. "The building is in a pretty sorry state," says Rob Tincknell, managing director of Treasury Holdings. "It's in desperate need of a start on site, which is why we want to get on as quickly as possible."
If the building is exposed to the elements much longer, it won't be able to last. We're talking years, not decades


John Drew, Pringle Brandon Drew
When Building last visited Battersea Power Station in 2008, it was already in a bad way. The steel frame was being eaten away by corrosion, the concrete around the base of the chimneys was full of cracks, and glass from the roofs of the station's annexes was falling into the space below. Three years on and, not surprisingly, things are even worse; it can't be long before the only option will be to tear the whole thing down - a course of action some have been calling for for years.
The building is now a priority case on English Heritage's "at risk" register, which "underlines its severe condition", according to an English Heritage spokeswoman. "The state of the structure is very serious," she adds. "It needs action. And now."
Apart from the need to replace the station's crumbling chimneys, it is the condition of the steel frame that is the main subject of debate. Brian Barnes, chair of Battersea Power Station Community Group, says he believes the steel frame may need replacing altogether, a lengthy - not to mention costly - process. His view is denied by Treasury Holdings. A spokesman for the developer said: "Some of the steel will need repairing, but the steel frame will not be replaced."
John Drew, from Pringle Brandon Drew, worked with Viñoly on the project's masterplan back in 2007. "If that building is exposed to the elements for much longer, there is a serious concern that it won't be able to last," he says. "Already, there are huge cost overheads in the restoration and at some point you have to say: 'has this deterioration become undoable?' I don't think we're quite there yet, but we're not far off. We're talking years rather than decades."
Mark Whitby, director of structural engineer Davies Maguire + Whitby, adds: "If things don't happen now, we won't be able to make the most of this site, which would be a shame."
The time is right
Aside from the physical considerations urging development, Battersea is going through a period of regeneration, which means that now is the optimum time to get this project off the ground.
Treasury Holdings' Tincknell says there are three new factors favouring the scheme: "The first is density," he says. "There was never enough density proposed originally. The last plan was for 4 million ft2 and ours is for 8 million ft2.
"The second is public transport. This hasn't always been taken seriously but the Northern line extension is a real game changer.
"Third is the fact that we're no longer alone. We'll benefit from [the proposed] Nine Elms development, which adds another 14 million ft2 of space and it's much better to be part of something of that scale."
It's the Northern line extension, along with the development plans for the new US embassy, that are arguably the most beneficial external elements.
The extension was approved as part of the redevelopment of the power station by London mayor Johnson and Wandsworth council but will need to be delivered through private sector funding. The entire process, to be completed in two phases, is expected to cost over £500m, £200m of which will come from Treasury Holdings. An infrastructure study by the Greater London Authority is expected to propose a tariff payable by developers in the Nine Elms opportunity area to cover the rest. The completed extension will include a tunnel from Kennington to Battersea, a new Battersea station, and the construction of a mid-station at Nine Elms.
If funding is secured, then work on the Northern line extension could start in 2012 with passenger services beginning in 2016.
Then there is the £650m Kieran Timberlake-designed US embassy. Work is due to start on the 12-storey structure in 2013 for completion in 2017 and has, according to industry experts, given the surrounding area a much needed boost. Hanif Kara, founding partner of structural engineer Adams Kara Taylor, explains: "The US embassy could mean that despite some hurdles, now is the right time to be doing all of this. It creates a hotspot and a need for activity and infrastructure. This makes a lot of the Battersea project look suddenly much more viable."
"Access and transportation to that site were not exactly brilliant before," says Tim Mote, regional director at Aecom. "Because of the US embassy, the Northern line extension has more weight behind it now and those two things combined make the whole thing a lot easier. I really do think things will move forward now."
Is the money there?
But Mote adds that it is still unrealistic to expect the whole scheme to be developed as planned. And this is where the problems rear their ugly heads. A scheme of this size,
8.8 million ft2, or roughly three times the size of Canary Wharf if you include Nine Elms, is difficult to get up and running at the best of times. But in a recession? "Treasury Holdings are not quitters. But this project requires a huge amount of money and although the market is improving, I can't see the whole masterplan going through," says Mote. "I think we'll see the residential and the hotel, but not those millions of pounds worth of offices. I just can't see that."
Adams Kara Taylor's Kara agrees: "I am not sure they have all the money they need," he says. "I can't really see how they will achieve everything they have set out to do on this."
Tincknell denies that the scheme is destined only for a partial build: "That's not true," he says. "You just simply can't build that much in one go. The project is split into 10 phases and will go on for nearly 14 years. It will not be stop-start, stop-start once we're going - we'll carry on."
But it appears there is still a funding gap to be plugged. Ireland's National Assets Management Agency (NAMA) and Lloyds bank have agreed to roll over loans to allow the scheme to go ahead. NAMA has also approved a business plan submitted by REO, the Irish division of Treasury Holdings that owns Battersea Power Station. But it is understood that Treasury Holdings only has funds to take it to the end of phase one. It is in talks with "around 15" potential investors to fund future phases and although a partner has yet to be named, Tincknell says an announcement is imminent and the company is just making sure it gets the right fit.
If things don't happen now, we won't be able to make the most of this site, which would be a shame


Mark Whitby, Davies Maguire + Whitby
That may be true, but REO's financial situation is crucial. The Bank of Ireland contributed €100m to the €600m REO used to acquire Battersea at the peak of the property boom in 2006. When REO posted a loss of £872m last year, it became one of the biggest losses ever reported by an organisation linked to NAMA. The "bad bank" set up by the Irish government now owns part of Battersea Power Station as a result and is negotiating a refinancing deal with REO regarding $500m of outstanding loans.
This raises questions over the future of Battersea Power Station's ownership as fears mount that a stake in the landmark may be sold off to pay back the debt. As it is, REO, along with Ballymore - another Irish developer with a large swath of work around the site - must now run all financial plans through NAMA. A spokesman for Treasury Holdings said it was difficult to comment on this before any decisions had been made on the refinancing. He added that this also made it "impossible" to put an accurate figure on funding: "You can't put a number on it. Discussions are under way with potential JV investors but the funding level at this stage is not known."
One senior developer source says these sorts of financial stumbling blocks are unlikely to be overcome easily: "I am very concerned that they really need to get their finances sorted out. It's a big goal for someone to invest that kind of money - particularly money they don't have at the moment. And I know they say they have got some planning approved but they still need it from the secretary of state. It all looks like a bit of a mess to me. Honestly, at the moment, I can't see much happening."
Indeed, despite receiving planning approval from Wandsworth council and Johnson, the final call is down to Pickles. If he gives permission, it will boost the value of the site, making it more attractive to take a stake in REO. Without his seal of approval, however, the scheme will not be able to go ahead and Treasury Holdings will have to consider yet another application. While Tincknell prefers not to dwell on the possibility of falling at this final hurdle, he does admit that if it were to be refused by Pickles, the scheme could be in trouble: "If the plan wasn't supported now for any reason, I do think the power station could struggle if we had to go through another round of planning."
But he remains determined to see the project through: "The development will happen and the power station will be restored. It is the absolute key to the entire site. It is the brand. We will fight tooth and nail to save it. There are lots of opportunities for construction companies to get involved - we always said we'd work with more than one team. Pretty much everyone in London has worked on this project at some point but this time it will be different. This time it will be to actually build a building rather than just design one." Here's hoping.
Did you know … ?
In 1940, RAF pilots used the plumes of white vapour from the chimneys of the power station to guide them back to base. The Luftwaffe also found the building useful for navigation, which explains why it escaped bomb damage.
The interior of control room A inside the power station is lined with Italian marble - a touch by the original architect Sir Giles Gilbert Scott.
If completed, a total of 15,000 people will work at Battersea Power Station across retail, hospitality, commercial, service, community and creative sectors.
The residential buildings will create nearly 13 acres of stepped roof gardens and terraces.
It took more than 30 consultants with 200 members of staff to prepare the latest Battersea Power Station planning application.
Battersea Timeline
Scroll through the ages with our timeline. We have documented the many milestones that Battersea has seen over the past 65 years since it has closed.
Development Zones
The proposed development is to be subdivided into eight primary development zones which reflect the broad disposition of uses within the site . Buildings within each of the zones are generally contiguous and the detailed design will incorporate flexibility to meet changing market demand.