Despite having the worst fuel poverty numbers in mainland England, Birmingham council has scrapped the energy efficiency drive brought in to help. David Blackman examines how the £1bn Birmingham Energy Savers scheme and the Green Deal's fates were inextricably bound, and what the city's options are now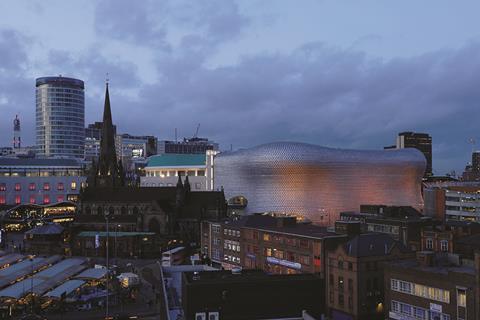 Birmingham has many claims to fame: being the fuel poverty capital of England isn't one to shout about.
According to Department of Energy and Climate Change (DECC) figures, last updated in May, 78,086 of the city's 412,401 households suffer fuel poverty, nearly one-fifth (18.9%) of the total. Only the tiny and considerably warmer Isles of Scilly contains a higher proportion of fuel-poor households (22%) than England's second city. A fuel-poor household is one which has income below the poverty line once energy costs have been paid.
The next biggest total is in Leeds, where 38,133 households live in fuel poverty, less than half that of Birmingham's. However, despite this, last month Birmingham City Council announced the cancellation of its programme to tackle this problem - which had been the most ambitious energy efficiency drive ever embarked on by a UK local authority.
The authority's cabinet decided to pull the plug on the £1bn contract with Carillion to deliver the Birmingham Energy Savers (BES) scheme. This had sought to harness the now virtually defunct Green Deal to deliver a wider retrofit of the city's vast swathes of ageing pre-First World War terraced housing and poorly insulated post-war council stock. So how did this huge failure happen, and what kind of options does the scheme's collapse leave for councils looking to address similar problems?
A win-win situation
The programme was meant to be paid for by a mix of three funding streams: the council's own borrowing, a contribution from the Energy Company Obligation (ECO) levy on the so-called "big six" power companies, and private finance raised by householders themselves via the Green Deal.
The target just within Birmingham was to refurbish 60,000 homes and 1,000 non-domestic buildings by 2020, significantly reducing fuel poverty at no cost to the local authority.
They gave it a really good go, but it was only a matter of two to three months before they realised that turnover would be significantly less than they expected

Andy Johnston, Local Energy
The contract was worth up to £1.45bn over eight years according to the original tender, of which £600m was expected to be generated within the area covered by Birmingham council itself. The initiative's architects hoped to also roll it out across the Midlands and at one point the council was in discussions with nearly four dozen other councils and housing associations across the Midlands.
Paul Tilsley, deputy leader of the Liberal Democrat-Conservative coalition which ran Birmingham council at the turn of decade, led the establishment of BES. The Lib Dem says: "My intention was not to save the world. Bluntly, it was to create employment opportunities."
He saw the scheme as a win-win situation for the council and those residents living in fuel-poor households. The council would earn revenue from the feed-in tariffs (FITs), the city's long-term jobless would get low-skill job opportunities in what then looked like a growth market, and poor households would benefit from warmer homes. "We could have cut down on emissions, created employment and overcome fuel poverty," he says.
The scheme was underpinned by the generous feed-in tariff rates, which provided a guaranteed payment for electricity generated from renewable sources, then on offer.
Tinsley won an enthusiastic hearing for his plans from the then Liberal Democrat secretary of state at DECC, the disgraced Chris Huhne, and later his successor Ed Davey. The recently ennobled Greg Barker lauded Birmingham's "tremendous work" when Carillion's energy services arm was awarded the contract to run the BES in October 2012.
The government had a stake in the Birmingham scheme's success, says Andy Johnston, chief executive of Local Energy, a social enterprise that works with councils. "Everybody quickly realised that this [the Green Deal] would not work unless a big city had a scheme in place driving it forward," he says.
Andrew Warren, who was then chief executive of the Association of the Conservation of Energy, remembers how the Birmingham scheme was seen as the "great showpiece" in energy efficiency circles, reflecting the broader enthusiasm for the Green Deal.
"Everybody was inspired by the rhetoric about how this was supposed to be the biggest improvement to the housing stock since 1945," he says, adding that competition was keen for the contract to run the BES, which was won by Carillion in late 2012. "A number of companies were very upset that they didn't get the contract," he adds.
The scheme's pilot phase, which was paid for by grants and the council's borrowing, had gone smoothly, resulting in the installation of solar panels on nearly 2,000 of Birmingham's own properties.
The authority used the income it received under generous FITs to repay the loans it had taken out for the £9.4m cost of installing them. The residents and occupiers of the nearly 2,000 homes, schools and commercial buildings that had been upgraded benefited from free electricity.
In a report presented to the council's cabinet last month, Birmingham acknowledges that Carillion mobilised "sufficient resources" to deliver BES.
These included the establishment of a 50-person call centre in Birmingham, along with a team of Green Deal assessors. In addition, the contractor used radio, posters and newspaper advertising to encourage take-up of the Green Deal. "Carillion put in an enormous amount of resource," says Warren.
Tilsley had already lost control of the initiative in 2012 when Labour had regained control of Birmingham. At this point, he says, there was a loss of momentum. "It wasn't a priority for the incoming administration. We had built up a head of steam and we lost a lot of staff who had been involved on the project," he says.
But within a month of Carillion being awarded the contract, BES was contending with headwinds bigger than whoever controlled Birmingham council.
A bureaucratic nightmare
In January 2013, the Green Deal was launched, for which the BES was seen as a national pathfinder.
However, take-up of the Green Deal was low, mainly because the Green Deal Finance Company's 7% financing costs were twice the 3-4% interest rate for personal loans typically on offer at the time. In addition, the Green Deal proved a bureaucratic nightmare.
"They managed to come up with a process that is so bureaucratic they made it unworkable," says Lisa Trickett, the councillor who holds the green, smart and sustainable city portfolio in Birmingham's cabinet.
Tilsley admits that, when installing solar panels on his own property, even he didn't use the Green Deal that was key to financing what had been his pet project. "I installed solar panels without going through the Green Deal because of the bureaucracy that was involved in it," he says.
Across the country, householders were shunning the Green Deal when undertaking domestic energy efficiency and installing solar panels. Despite Carillion's efforts, Birmingham was no exception. In addition, the government's progressive reduction in FIT rates and the scaling back of the ECO obligation further undermined BES' financial viability.
By mid- to late 2013, according to the Birmingham cabinet report, it was "becoming clear" that few householders were signing up to Green Deal plans, even if they had received the free energy efficiency assessments that Carillion was carrying out.
"They gave it a really good go, but it was only a matter of two to three months before they realised that the turnover would be significantly less than they expected," says Local Energy's Johnston, who remembers paying a visit to the BES office a year ago. "It was nowhere near as big as it was intended to be when it started, it was running on a minimal team."
Carillion, which according to the cabinet report was by this point under "financial strain" on the contract, tried to find a specialist Green Deal provider to partner on the project. However, this mooted partnership fell through when the Green Deal provider withdrew. During 2013, it became clear that none of the other councils that had been discussing participation in BES would sign up, forcing Carillion to write down the value of the £1.6bn scheme by £600m in its annual report for 2013.

An end to it
"It was pretty clear by then that the way the government was putting together the Green Deal wasn't going to work," says Trickett, for whom energy efficiency problems are close to home. Her elderly parents live in one of the city's leaky homes. Trickett insists that the Labour administration was committed to the BES, arguing that it could have pulled the plug in January. "We still wanted to see if there was a way of making this work."
But following the summer raft of announcements from DECC, pulling support from the Green Deal and renewable energy, Trickett says the council had no option but to terminate the contract with Carillion last month. "We had to put an end to it."
According to the council, just over 3,100 domestic properties have received an energy upgrade, barely a fifth of the 15,000 target Carillion was set to complete by next year. This included the installation of a district heating system, known as an "eco-pod" on a 343-home tower block.
Energy efficiency measures have been installed on just 14 out of the 40 non-domestic buildings due under the same schedule. The programme has delivered £38.36m of investment, but only £4.29m of that was private money.
We left the trenches earlier than anybody else and we've been shot down quickest

Lisa Trickett, Birmingham council
In a report, prepared for the council's cabinet, the failure of the national Green Deal is blamed for the failure. Handing the work over to another contractor wouldn't have solved the problem, the council says, given the effective collapse of the wider Green Deal. Carillion will complete its existing contracts with the council, including the installation of eco-pods on a further nine tower blocks.
When asked for comment on the situation, Carillion gave the following statement: "Carillion has worked very closely with Birmingham City Council to deliver the BES programme and we are extremely proud of having being able to deliver energy-saving measures to over 7,000 residents during the course of the programme. We understand and accept that changes to the Green Deal market has prompted the council's decision to withdraw from its own local version of the initiative. We will continue to deliver our current contracted work and expect this to be completed by the end of 2016. We are looking forward to working closely with BCC on other projects as we have done previously on the Library of Birmingham."
Johnston says Birmingham's mistake was "to believe the government's modelling and the announcements coming from DECC and Greg Barker". Trickett concurs: "We left the trenches earlier than anybody else and we've been shot down quickest."
DECC is understood to be working on a replacement energy efficiency programme for householders, which may be published following next month's Autumn Statement. But the failure of BES will make local authorities, as well as companies, nervous about putting faith in government promises on energy efficiency.
Trickett knows individuals who poured their savings into setting up small businesses on the back of the government's lofty commitments. She says: "Potentially sustainable local businesses are going to the wall."
"If they come up with a new programme, the government are going to have to work very hard to persuade people who spent a lot of money getting people trained for Green Deal to get back in the game," says Warren.
Birmingham will clearly need some convincing too. In a nod to David Cameron's famous photoshoot in the Arctic, Trickett says: "This government is utterly untrustworthy on green issues. They haven't just put the huskies in the kennel, they've had them put down."

What happens next?
Despite the winding up of its BES partnership with Carillion, Birmingham council is not giving up on its drive to upgrade the city's housing stock.
England's biggest local authority is exploring options, such as how to mobilise its still huge stock of land and property to generate energy.
And despite the harsh financial climate they find themselves in thanks to wider government cuts to their budgets, other councils haven't entirely abandoned energy efficiency. The London borough of Kingston, for example, recently announced the launch of an initiative to offer home improvement grants or interest-free loans, worth up to £10,000, to poor households. The loans can be used for works like installing insulation or repairing leaky roofs.
Local Energy's Johnston cautions, though, that such initiatives will rely on councils prioritising energy efficiency over a host of other, potentially more pressing issues, like care for the elderly.
He adds that it no longer makes much financial sense for councils to borrow for renewable energy projects, given the meagre returns on offer from feed-in tariffs. Johnston says that, following the winding back of support for renewable power and energy efficiency, there is "very little" councils can do to support such initiatives.
As a way forward, he points to efforts to develop energy savings companies, or Escos. These partnerships between private companies and councils can provide power on a local basis, thus cutting out much of the cost and waste involved in distributing electricity on the National Grid. Escos could implement energy efficiency measure as part of a broader remit to cut energy bills, he says, before adding that any such arrangements will have to be self-financing. "As much as possible you make sure that you can do it without the need for subsidy because it is then insulated from government fiat."


There will be a session on Infrastructure, cities and the northern powerhouse at this year's Building Live event on 26 November.
For more information and to book tickets go to: www.building-live.co.uk/programme