Kevin Selvester puts building contracts on hold to direct support for nephew and superstar diver Tom Daley
I admit it. I have, once or twice in my time, rolled out of a bar after day break. But on each and every occasion it was an ill-advised decision on my part and one I soon regretted.
One thing I never done though is arrive at a pub on a normal working day suited and booted before I have even had my morning latte. That was until this morning. I dragged myself to the Barracuda Bar near Liverpool Street in central London for a 7:15am start bleary eyed and far from bushy tailed. My phone may have got a bit of a bashing when the alarm went off at 5:45 but I am so glad I dragged myself out of bed because the pay-off far outweighed the rude awakening.
I was off to join a party which was being thrown for 14-year-old Olympic hopeful Tom Daley as he did his first dive at the Beijing Games. Tom's uncle Kevin Selvester of ABS, a London-based building services contractor, threw the breakfast party so Tom's family, friends and the media could gather to support him as he somersaulted, piked and double tucked his little heart out. The whole point was to watch the event live and due to that pesky time difference between here and China the early start was unavoidable.
As most guests stumbled through the doors of the pub looking a little worse for wear staff were on hand with coffee and quickly directed people to the full English, all-you-can-eat breakfast buffet. But by the time the synchronised diving got underway plates were abandoned mid bacon sarnie and cups of tea and coffee were left to go cold on tables and sideboards. No one could take their eyes off the screen as Tom and his diving partner Blake Aldridge stepped up to do the first out of their six dives.
It was pretty nerve-wracking stuff – even for me, a non-family member or close friend – I found it almost too tense to watch. The camera zoomed in on Tom's face as he perched on the edge of the board and picked up him saying 'ready'. His partner counted them in and they were off. It all looked impressive to me as they plunged into the water in unison but those Olympic judges can be pretty picky. Something about a non-vertical entry. I was lost at this point but got the gist that it wasn't great news. And as the event went on it became clear that, dive for dive, Tom and Blake were not up there with the best of them and they finished last.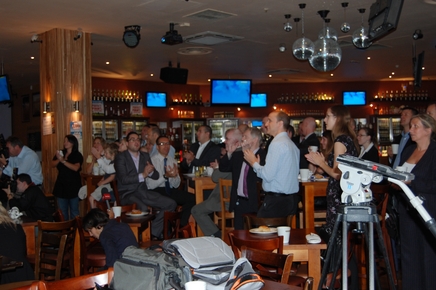 But the atmosphere was still electric as every time Tom came onto screen a huge cheer ricocheted around the room and his young cousins leapt up and down – though this may have been the result of a sugar overload after they successfully inhaled most of the chocolate muffins and doughnuts within the first five minutes of arriving.
Although there have since been news reports of tensions between the diving pair as Blake is allegedly blaming Tom's age and pre-diving nerves on the end result the Daley/Selvester camp remained upbeat today. And I have to agree that for a boy of just 14-years-old his performance was staggering.
There are high hopes for him in the individual competition on the 22nd August as he is currently ranked three in the world. And in 2012 when he has four years more experience under his belt and will be on home turf the other competitors had better watch out!
"Obviously it's not the result we were hoping for," said Kevin at the party this morning. "But Tom is still very young and he will only continue to get better. Now we are focussing on the individual diving. I'm heading out to Beijing later this week with Tom's other uncle and some other family members to join his parents and grandparents who are already out there so we will be cheering along from the sidelines!"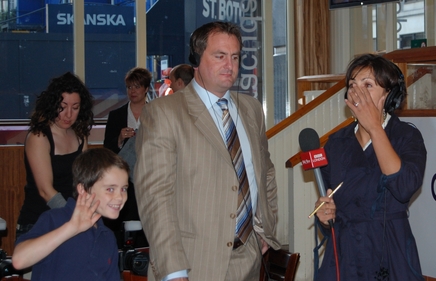 There was one notable absence at this morning's breakfast bash. Apparently London Mayor Boris Johnson had been invited but had been reluctant to RSVP because he would rather the extra few hours tucked up in bed. "There's still some hope Boris might have changed his mind and come along to show support," said one bystander half way through the broadcast, "we thought the offer of a free all you can eat fry-up may have swayed it for him."
But alas, the lure of sausage sarnies and fried eggs failed to tempt the blonde-haired one and he was a no show. "I hear his response was 'seven-bloody-thirty? You must be joking?' Said another party guest."