With just over four months to go before BIM level 2 will be required on all central government projects, Building reveals the responses to its second annual BIM survey. There's good news … and there's bad news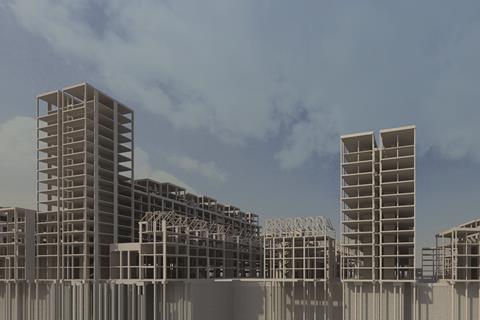 Common data environments … Soft landings … COBIE … PAS1192 … EIRs … If all this building information modelling (BIM) terminology is double Dutch to you, the chances are you won't be winning central government construction work from April next year. We are fast approaching the government's long-trailed deadline for all central government departments to deliver projects using BIM Level 2 - it kicks in on 4 April 2016.
First launched four and a half years ago by then chief construction adviser Paul Morrell as part of the government's ambitious construction strategy, the 2016 BIM mandate is that rare thing, a government policy that has resulted in a genuinely positive transformation in the way the construction sector works - a digital revolution no less. Yes, it's a shame about the stultifying jargon, but for those who can stomach the lingo, BIM Level 2 enables project teams to deliver projects more quickly and cheaply, and with more costly errors ironed out.
Construction firms should be in no doubt the government is serious about its BIM Level 2 mandate. From 4 April all central government clients will be required to issue Employer Information Requirements (EIR) with tenders, setting out their BIM Level 2 information requirements on projects. "All central government departments will have EIRs issued, I have no doubt," says David Philp, head of BIM at consultant Aecom and head of implementation for the government's BIM task group.
So how many construction firms are now using BIM and, crucially, how many at Level 2? What are their experiences of using it? And what factors are still hampering wider adoption? Building reveals the response of readers to its second annual BIM survey, to see what progress has been made.
Take-up on the up
Building surveyed 190 people across a number of disciplines - including consultants, architects, engineers, contractors and clients. The headline results are encouraging: more firms are using BIM than last year, at higher levels of complexity, and are more convinced of its benefits.
The proportion of people who had used BIM on projects lifted to 66%, up from 52% last year. Less encouraging is that for the all-important Level 2, progress seems to have stalled. The proportion of firms working at this level was up, but only by a single percentage point, to 32%. Around half of firms said they hadn't used BIM Level 2, with the remainder saying they didn't know whether they had. For those that were using BIM on projects, they were using it more often. Just under a third (32%) said they were using BIM on more than half their projects, compared to 24% last year.

Respondents were less inclined to say the benefits of BIM were over-hyped. Last year more said they thought it was over-hyped than those that didn't, whereas this year only one-third said BIM was over-hyped, and 52% said it wasn't.
The BIM experts Building spoke to said they were encouraged by the survey results, despite acknowledging they mean many firms in the industry will not be ready for the BIM Level 2 mandate. The problem is likely to be most acute for SMEs. Almost all large firms - 91% of those with a turnover of over £100m - have used BIM, up from 76% last year. Small firms lag behind, with 58% of firms with a turnover under £100m having used BIM, although that figure is up from last year. Firms with a turnover of over £100m were also much more likely to have used BIM Level 2 compared to those below that turnover threshold, by 45% to 26%.
Aecom and contractor Bam told Building more than 60% and 50% of their UK projects respectively are now being delivered using BIM Level 2. Aecom's Philp believes there will be "sufficient capacity in the market" to meet the government's BIM mandate, but he is unapologetic in believing firms like Aecom will capitalise on the initial shortfall in expertise. "If providers don't [adopt BIM Level 2], clients should come to Aecom," he says.
Andrew Pryke, head of design at Bam, believes the survey is a good indicator of current levels of BIM adoption. He expects "a third to 40%" of firms to have adopted BIM Level 2 by the government deadline. "But that can't be the end of the story," he says. "You can't rely on two or three large firms." He believes firms like Bam have a responsibility to "support our supply chain" with BIM adoption, agreeing with Philp that the market will quickly respond to the BIM Level 2 requirement. "In a year it will be a different place," he argues. "I expect it will be 70% using BIM Level 2 in a year's time." That implies the major shift in practice is still to come.
Terry Stocks, a director at Faithful + Gould, who is also the government's delivery director for BIM Level 2 and a former buyer at the Ministry of Justice (MoJ), shares Philp's confidence that all departments will be issuing EIRs for BIM Level 2 from April, adding: "All the departments have got a desire to make BIM Level 2 work." He notes that some departments, including the MoJ and non-departmental public bodies such as the Environment Agency, have already started asking for BIM Level 2 on all their projects. He adds: "Where we are now is incredible really. Over the past three years we have made such massive leaps forward."
This year's survey also suggests that industry's use of BIM is maturing. Project teams are now much less likely to turn to a dedicated BIM consultant to be a project's BIM co-ordinator or BIM information manager. Less than 10% said a dedicated BIM consultant would fulfil these roles - at 6% and 7% respectively, down from 22% and 27% last year. Architects are the most common candidates for these roles at 47% and 43%. Richard Saxon, former BDP chairman and author of the RIBA's forthcoming book BIM for Construction Clients, says: "Dedicated BIM consultants used to be regarded as a quick way in for clients that wanted to do BIM. Now it appears project teams can do it for themselves."

Rewards and challenges
Bam's Pryke is convinced BIM is "definitely saving us money". He adds: "If you are building in 3D, then you need to co-ordinate design in 3D. So it saves design time in that respect on its own." The most commonly cited benefits of using BIM in this year's survey were improved clash detection (79%) and improved collaboration (69%). Pryke also says BIM usage saves the firm money in terms of planning and sequencing of both temporary and main works, as well as affording "up to 20% savings on facilities management". He balks at the survey finding that more people this year thought using BIM enabled them to charge higher fees - 55%, compared to 43% last year. "BIM means lower design costs and lower delivery costs for us. It is allowing us to bid lower and lower and still make a profit," he says.
The most commonly cited problem firms faced when using BIM was by some distance difficulty recruiting staff (60%). Pryke says "staffing is definitely an issue". He adds: "We have been finding staff poached for ridiculous sums of money because teams can't do BIM. Junior staff will be paid £25k more to move. We are addressing it with courses and I think [improving] diversity is one of the things on the agenda." Aecom's Philp says the industry must "upskill our engineers and designers" to use BIM as well as "look to recruit from other industries, including computer science".
With a new construction strategy with BIM at its heart once again on the horizon, F+G's Stocks is hopeful BIM's momentum will be maintained: "I'm confident BIM will stay a key focus in delivering value in public sector procurement," he says. Whether the industry as a whole gets on board quickly enough to make BIM a true success, remains to be seen.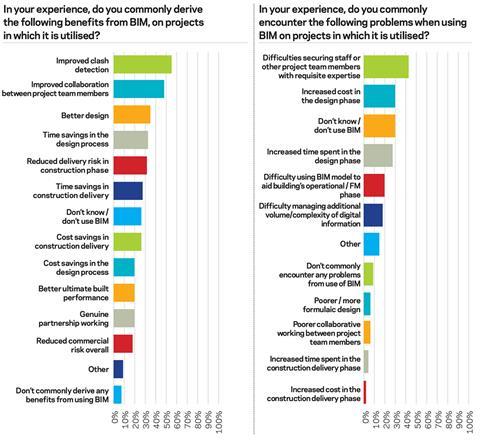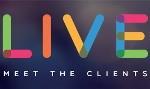 Building live
There will be a session on the future of BIM at this year's Building Live event on 26 November. For more information and to book tickets go to:
www.building-live.co.uk/programme