As main contractor on the delayed Wembley stadium and chief player in the legal battle afterwards, Multiplex became a byword for tough contracting. But 10 years on the firm is set to become a £1bn turnover contractor noted for its considerate approach. So, what happened?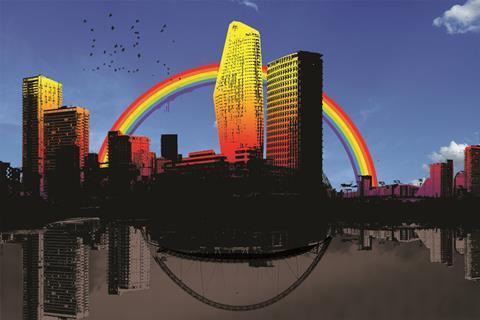 It's time to forget everything you thought you knew about Brookfield Multiplex.
The contractor's name is inextricably linked to the Wembley stadium build – probably the most notorious problem project in the whole of UK construction in the last 20 years. The delays and cost overruns racked up in completing the UK's national football stadium sparked a huge legal fight on multiple fronts, including a £253m battle with engineer Mott MacDonald after Multiplex filed the biggest law suit in UK construction history. With many of the details played out publicly in court, the various rows sullied the reputation of many involved and cost the Australian main contractor responsible for the build - then called Multiplex - an eye-watering sum understood to be in excess of £200m, despite the fact it scored partial victories in many of the court battles. Payouts included £63m to the listed firm's shareholders who had sued it for failing to inform them of problems.
Meanwhile some specialist contractors started shunning a firm whose conduct the judge, Mr Justice Jackson, described in the court battle against steel contractor CBUK, as "ruthless" and "deplorable" even though ultimately legal. He said there were several opportunities to resolve the dispute, but that he had "never before seen parties so devoted to litigation for its own sake". Many assumed that Multiplex's foray into the UK market, begun only in 1999, would never recover.
However, fast-forward a decade and Multiplex, now owned by Canadian investment giant Brookfield Asset Management and known as Brookfield Multiplex (BM), is confounding its one-time critics and looking for all the world like the ultimate comeback kid.
We made errors in our UK market entry. We took on Wembley at an aggressive price and risk profile, and it went pear-shaped due to a number of factors

Ashley Muldoon, Brookfield Multiplex
The firm, whose UK revenue fell to £150m as recently as 2010, is confidently expecting to turn over more than £1bn next year in UK, with a roster of high-profile projects for the UK's bluest of blue-chip clients. This was cemented last month by the confirmation of its role on the city of London's next mega-project: 22 Bishopsgate, formerly known as the Pinnacle. When other contractors have been shrinking, the last five years have seen the firm grow faster than many of its peers while building a reputation not only for reliable delivery, but also - shock horror - for the openness and transparency of its relationships with clients and the supply chain. Multiplex's spectacular rebirth raises questions not only of how on Earth it has been achieved, but also whether it is both genuine and sustainable.
The story of Wembley, the contract for which Multiplex was awarded in 2002, is well known. Aside from the enormous cost to Multiplex - more than all but the largest contractors could bear - the public court battle cemented in the minds of the industry a perception of it as aggressive and hardnosed - a main contractor it was dangerous to work for. One boss of a major formwork contractor, which refused to price for Multiplex at the time, says: "We had a very negative opinion of Multiplex. They were very hard." Gerry O'Brien, partner in engineer AKT2, who has nothing but good things to say of BM now, says: "We did not work with them during the Multiplex years, but it appeared from the outside that there were cultural challenges with the UK market. It's a relatively small pool in the UK and relationships really matter."
Life after Wembley
When Multiplex's Australian parent realised things on Wembley were starting to go awry in early 2003 they drafted in one of the firm's rising stars from the homeland, Ashley Muldoon, to take over the UK business. Muldoon, now chief executive for BM in Europe, the Middle East and Africa, has overseen the business ever since. Speaking to Building, publicity-shy Muldoon accepts the firm had got things wrong. "We made errors in our UK market entry. We took on Wembley at an aggressive price and risk profile, and it went pear-shaped due to a number of factors. But we also realised that we couldn't come in and work like an Australian contractor, we had to adapt to the UK environment […] What clients wanted in the Australian market wasn't what was wanted at the time in the UK," he says.
When in 2006, after a restructure, Multiplex said it was now focusing "predominantly" on building out the projects of the firm's development arm, some thought it was the beginning of the end of the company as a UK contracting force. But it was in 2007, says Muldoon, that the company really consolidated and took stock of its Wembley experience, and formed the strategy to rebuild the business in the UK. "We were the black sheep of the family here in the UK. But we looked at our mistakes and decided we were not going to go back to Australia with our tail between our legs," he says.
"We took time to understand what had happened. We had to understand the clients, consultants and the suppliers chain and what drove them. If you've been to hell and come back you learn."
He even worked out how to turn the Wembley story into a demonstration of Multiplex's commitment to the UK. When it finally opened in 2007 it was a popular success; who else, the argument went, would have stuck to the task and not walked away from the job given such problems? This fightback was announced in spectacular fashion in the same year by the firm winning the £575m contract to build the Pinnacle tower for Arab Investments (AI). Multiplex's argument was making headway, as AI's managing director Khalid Afara recognised at the time. "Everyone makes mistakes, but it's how you deal with them that matters. They did not walk away [from Wembley], and in the end they finished the project to an extremely high standard."
While this UK strategy review was happening Multiplex was bought by Brookfield Asset Management for around £3bn, changing its name to Brookfield Multiplex (BM). Its new parent not only backed the UK strategy of BM despite all the ongoing post-Wembley legal shenanigans - which were not finally resolved until 2010 - but ultimately its financial strength allowed the global BM business to provide a group indemnity against all future Wembley-related claims, effectively safeguarding the contractor's future in the UK. The strength of the balance sheet of Brookfield Asset Management, which manages $200bn of assets across the world, remains a key selling point of BM.
A new way
But what was the new strategy? The plan was to become a boutique construction business with the technical capability to take on the biggest and most complex building projects. Perhaps most surprising was that the BM pitch would be to be construction partner that was fundamentally open, with solid relationships down the supply chain - far removed from the old Multiplex's reputation. Much of BM's current success seems to be down to the fact that, so far at least, it has lived up to its sales pitch. The same subcontractor that in the early 2000s refused to price for Multiplex, says: "The have a completely different reputation now. They are a very different firm, everyone I speak to says so." Another current regular subcontractor says: "There's no hangover from Wembley now. They have a very good reputation and are a quality outfit."
They talk a lot about their relationship with their supply chain. I genuinely think they have changed

James Pellatt, head of projects at Great Portland Estates
James Pellatt, head of projects at Great Portland Estates, which is working with BM on 100 Bishopsgate and 73/89 Oxford Street, agrees: "They talk a lot about their relationship with their supply chain. I genuinely think they have changed, because we check. They pay well and they pay on time, and they've been quite good at opening up their supply chain to new entrants."
BM has also impressed clients with a strong technical ability and a straightforward commerical attitude to projects underpinned, according to well-placed market sources, by the fact it unashamedly asks for a higher profit margin than most of its rivals, bar Sir Robert McAlpine. GPE's Pellatt says: "They're a very good two-stage contractor, they're extremely easy to negotiate with. They do it in as open-book a way as I've seen, which allows you to have an open debate and dialogue about risk."
Underscoring its progress as it prepared to expand were key figures such as Laing O'Rourke's Ross Ballingall, lured to Multiplex in 2006 and made Muldoon's European managing director in 2011, and hires including former Bovis Lend Lease operations director Tim Atkinson.
Core to the execution of the strategy seems to have been a ruthless focusing on identifying the UK's most important construction clients, and slowly and deliberately rebuilding the firm's reputation with them. The construction director at one major UK developer says: "Ashley is incredibly well-connected. He spent a long time finding out who the serious people in UK development are, and fixing his relationship with them. And he hasn't taken work for [just] anyone."
In Muldoon's own words part of this was about identifying long-term players that could become repeat clients. "Ross Ballingall and I spent time meeting clients, finding out who were creating great products and growing, who would still be developing in the lesser times. [We asked] who are those clients and how do we get closer to them?"
The road to recovery
Nevertheless, the journey has been very far from plain sailing. The landmark Pinnacle deal turned into an expensive false start when the funders halted construction in 2012, with BM understood to have been left around £20m out of pocket. BM managed to get the debt turned into a second charge on the project, but it was eventually repaid the money only when the scheme was bought by fund manager Axa earlier this year.
It was the 2009 signing of a deal to undertake the £840m construction of the New South Glasgow hospital campus that finally put it on the road to recovery, and kept it busy during the recession. But it is only in the last 18 months that this preparation has borne fruit, as clients have pushed ahead with projects a long time in the gestation. From turning over £295m in 2013, the last period for which it has accounts filed, Muldoon says the company will turn over £750m this year. With around 480 staff and a workbook - by which he means deals actually signed or at preferred bidder stage - of £3bn, next year he confidently expects to turn over £1bn-1.2bn, which he says is the "ideal size" for the business. Having virtually reached this scale he says BM is now just "selectively bidding." "We're not going out hunting for work," he says.
Ashley is incredibly well-connected. He spent a long time finding out who the serious people in UK development are, and fixing his relationship with them

UK developer source
With its roster of jobs including work for Almacantar, Berkeley and two projects for Derwent, including its "White Collar Factory" concept on London's so-called "Silicon roundabout", BM is in the premium tier of major project contractors, including Mace, McAlpine, Skanska, Laing O'Rourke and Lend Lease, which are considered for the biggest London projects. Pellatt says BM is now "one of the most pre-eminent contractors in London." AKT2's O'Brien says: "We are currently working with BM on two exceptionally challenging projects in London and have experienced none of the perceived tensions of their earlier contracts. They're technically up to the challenge, and in amongst a group of only four or five who are."
The only question that remains is whether Brookfield Multiplex's rapid expansion in recent years will, as so many other contractors before have found, leave it exposed as skills shortages bite and the cost of subcontract packages shoot up. Muldoon says Brookfield Multiplex has prepared carefully for its expansion, recruiting before the market started heating up more widely, and is meticulous about ensuring the people that it tells clients will work on their jobs are actually made available. "We're not worried about delivery. Clients aren't silly. If we couldn't put forward a team then clients wouldn't be asking us to do the work."
Again, so far, Muldoon's comments appear to check out. Pellatt says GPE has no concerns about Brookfield's capacity, and while O'Brien says it is always possible to ask questions of fast-growing contractors, BM's global reach gives it distinct advantages over its peers. "BM seems to use its Australian connections to access people outside of the UK and bring them in. Clients are so concerned about who the team is going to be at the moment, but BM seems to be offering that longevity with key staff," he says.
So at the moment BM's star is very much in the ascendant. And Wembley seems a very distant memory. "You're the first person that's asked about Wembley in the last three years," says Muldoon. At the moment, it seems likely to stay that way.