In what will be Rishi Sunak's first Budget, Tom Lowe considers what construction can look forward to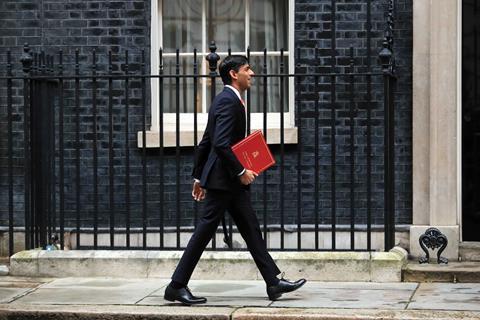 Wednesday's Budget, the first for nearly 16 months, is likely to herald the beginning of a bold new era in construction spending. Back in October 2018 when the last Budget was delivered by then-chancellor Philip Hammond, the country was entering the most chaotic period of the Brexit saga. A minority government was clinging on, the People's Vote movement was in the ascendency and the prospect of Brexit itself was hanging in the balance.
Now, the UK has officially left the European Union, some confidence has returned to the economy – COVID-19 notwithstanding – and an 80-seat majority government is preparing to launch the most ambitious construction and infrastructure agenda for decades. All this, and the Budget is to be delivered by a shiny new chancellor barely three weeks into the job. So, first question, who is Rishi Sunak?
The new chancellor
Catapulted into the second most powerful position in government after Sajid Javid's surprise resignation in last month's reshuffle, the 39-year-old Brexiteer and University of Oxford graduate has had a meteoric rise since being elected to parliament less than five years ago.
Following a stint as a junior minister for local government, his decision to back Boris Johnson in the 2019 leadership contest was rewarded with the post of first secretary to the Treasury, Javid's deputy.
He will undoubtedly reinvigorate the Northern Powerhouse agenda

Henri Murison, director of the Northern Powerhouse Partnership
Johnson and his chief adviser Dominic Cummings have since seized on Sunak's 2016 report recommending the creation of free ports after Brexit, and as an MP in a Yorkshire seat, he is a strong advocate of the Northern Powerhouse. Henri Murison, director of the Northern Powerhouse Partnership, is an admirer: "As chancellor, he will undoubtedly reinvigorate the Northern Powerhouse agenda," he said.
Federation of Master Builders (FMB) chief Brian Berry said Sunak's appointment was "a good thing for construction. Sajid Javid was a much more Thatcherite chancellor. Sunak is more inclined to spend on infrastructure and is more aligned with Johnson and Cummings".
What is driving the Budget?
There are three ways to understand how this Budget will play out. First, the prime minister is determined to hold on to the former Labour seats in the North and Midlands which, as he said in his victory speech, had "lent him their vote" at the last election. Big infrastructure projects such as Northern Powerhouse Rail and phase 2b of HS2 linking Birmingham with Manchester and Leeds are topping the wishlist for northern voters.
Meanwhile, voters in the Midlands want to see an expansion of the Midlands rail hub and a successful delivery of HS2 phase 1. One megaproject to look out for is a Tube-style metro network linking central Birmingham with surrounding areas. West Midlands mayor Andy Street announced the £15bn concept last month, revealing an ambitious multi-coloured map showing eight new metro lines and 21 new stations. No 10 is yet to comment on the idea but Street has been in talks with the prime minister for the past few months.
Javid's Budget was expected to include huge short-term spending increases
Second, the government can now take advantage of record low interest rates, even lower than the rate of inflation. This, in the words of former chancellor Javid, is "a unique situation in terms of government investment" and means that the government will effectively be paid to borrow. The upshot is that the Treasury sees now as the time to borrow for investment, so expect some extravagant announcements for construction and infrastructure.
Finally, Javid was forced out following a row over fiscal rules. While he was a supporter of big infrastructure investment outside London and loosening the Treasury purse strings, both of which are central to No 10's agenda, he was keen not to burden the Treasury with long-term debt. Javid's Budget was expected to include huge short-term spending increases but the reason why this one will now be delivered by Sunak is that his proposed spending increases were simply not huge enough.
What construction wants
RIBA
In a letter to Sunak last month, the RIBA called for investment in housing and infrastructure to be "fundamentally smarter". Stressing the need for an outcomes-based approach, it recommended "prioritising social value, ensuring buildings meet performance targets, and empowering communities".
RICS
Topping RICS' official submission is a UK infrastructure investment bank, an independent body working alongside the government in the place of the European Investment Bank. Also included is a strengthening of modern methods of construction in public infrastructure schemes, reducing VAT by 5% and improving skills in the workforce with proptech training.
Azad Azam, managing director of SME contractor Design Plan Build
"Prices are going up, so we're looking for tax breaks for SMEs. We also want to see reform of section 106 agreements to make them more affordable for SMEs – at the moment they unfairly restrict SMEs on those projects while the big contractors can afford them. Back in the 1960s and 1970s, SMEs built 80% of our housing. Now it is only 20%. The only way we are going to hit the housing target is if SMEs build more houses."
Paul Howells, chief executive of Accumulate Capital
"If the government wants to rebalance supply and demand in the property market, it needs to ensure more new residential developments are built across the UK – lots of them. To achieve this, chancellor Rishi Sunak must make spending commitments as well as making life easier for developers, which includes assessing their access to finance and reviewing planning regulations."
Rebecca Larkin, chief economist of the Construction Products Association
"As someone with an interest in housing, I'd like some more detail on the First Homes scheme and whether it is intended to come into play alongside Help to Buy or whether it is intended as its eventual replacement post-2023. If the former, that throws up clear questions about how the two policies interact, and if it's the latter, there's the not-so-great precedent set by Starter Homes that needs to be overcome."
Jamie Johnson, chief executive of FJP Investment
"The Conservative Party plans to implement a 3% stamp duty surcharge on non-UK buyers. The government could go further still and also reduce the tax on first-time buyers who have yet to gain a foothold on the property ladder."
Shaking up the rules
Javid had written a new set of fiscal rules for the Conservatives' 2019 election manifesto in an attempt to reassure voters that the Treasury was in control of an escalating list of spending pledges. The rules promised to balance departmental spending halfway through the government's five-year term, allowing Johnson to announce a £100bn spending bonanza for infrastructure.
Cummings' desire to scrap these rules so infrastructure spending could be increased even further led to a simmering rivalry within government, from which Cummings emerged victorious. In his resignation statement after last week's Prime Minister's Questions, Javid launched a parting shot at his former rival, saying: "Not everyone at the centre of government always feels the pressure to balance the books." The implication was clear – Cummings wants the government to splurge and there is now a chancellor in place who is prepared to do it.
First for the shredder was the Treasury "green book" – a set of rules used by ministers to decide which projects are the best value for money. Critics of the rules have said they create a positive feedback loop by favouring already wealthy regions such as the South-east, in turn leading to poorer "left behind" areas falling into a cycle of decline. Cummings wants to reform the green book by adding regional rebalancing into the appraisal criteria for what is considered value for money.
An 'infrastructure revolution'
So what does this all mean for construction? The Treasury had planned to publish along side the Budget its national infrastructure strategy - a set of infrastructure recommendations drawn up by the National Infrastructure Commission, a government agency - but it has reportedly been pushed back to May.
Rebecca Larkin, chief economist of the Construction Products Association, warned that "the risk is that it ends up looking like the government's wishlist instead of a firm plan that enables the construction industry to plan and invest in the skills and capacity required".
The strategy had been expected to set out the government's approach to what the manifesto called an "infrastructure revolution", which included the Northern Powerhouse Rail link between Manchester and Leeds, an expansion of the Midlands Rail hub, and £29bn for roads.
HS2, quietly brushed under the carpet in the manifesto, will take up a hefty chunk of this government's expenditure as construction begins in earnest following the green light for phase 1 last month.
300,000 homes a year
The manifesto promised to build one million homes over the course of this parliament, reaching 300,000 a year by the mid-2020s. It also pledged £10bn to support "infrastructure first" developments so that roads, schools and doctors surgeries are in place before people move into new homes. But do not expect too much about housing in this Budget. Arcadis head of strategy Simon Rawlinson said: "Nothing I'm hearing is suggesting there will big changes towards housing in this Budget. All the heavy lifting in terms of housing is more likely to come later in the November Budget."
How the Treasury will approach housing is hard to predict. As secretary for housing, communities and local government (MHCLG) for nearly two years, Javid might have been expected to be sympathetic to lobbying from the housing sector while at the Treasury. Sunak is another MHCLG veteran, having served as a junior minister for local government before being promoted to chief secretary to the Treasury in Johnson's first reshuffle last summer. However, he spent little time directly dealing with housing issues while serving below Javid at the department. Sunak's views on housing are largely a closed book, but in any case many will be sceptical about future housing targets while present ones are so far off from being met.
Net-zero carbon
Former prime minster Theresa May's pledge to reach net-zero carbon emissions by 2050 is already having major repercussions in the government's construction plans. Last week, the Court of Appeal ruled the Heathrow airport expansion unlawful because it breached the Paris climate agreement, which obliges signatories to undertake measures to mitigate global warming and report on their progress. This raises serious questions about the viability of future megaprojects in the UK which have a significant impact on the environment – the government is already being challenged on its plans for road building.
The government has talked about zero-carbon but we're not seeing anything concrete

Brian Berry, FMB
But while the net-zero pledge may cause havoc with some projects, elsewhere in the industry it could create huge opportunities. The FMB's Berry has called for the Budget to include funding for a nationwide programme to retrofit every UK building which emits too much CO2. "The government has talked about zero-carbon but we're not seeing anything concrete about upgrading our existing building stock."
Coronavirus
But there is a chance that many of these bold ideas may not quite go to plan. The Treasury has been thrown a major curveball with the coronavirus, which is causing a slowdown in China's economy and hit stock markets around the world. Rawlinson said that the construction industry could be vulnerable if the government implements emergency measures in the event of an outbreak: "It's not possible for assembly workers and site workers to self-isolate."
Added to this is a downgraded growth forecast from the Bank of England which, despite consumer confidence being at its highest level since 2009 in a recent Ipsos Mori survey, calculated that there is a 38% chance that the economy is actually in recession.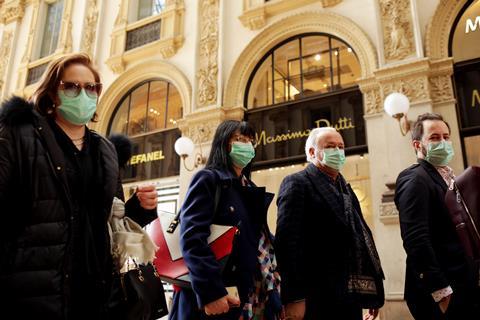 Facing what one Treasury official told the Financial Times was a "challenging economic context", Sunak may be forced to delay some announcements. There have been reports of three separate budgets being drawn up for this year. Institute of Fiscal Studies director Paul Johnson said: "The chancellor is hemmed in by a rising deficit and fiscal targets set out in the Conservative manifesto [which] will not allow substantial increases in current spending, or tax cuts, to be funded by more borrowing.
In other words, manifesto pledges to not put up income tax or VAT and to raise the national insurance threshold to £9,500 may have to be offset by new taxes if Sunak intends to deliver the blockbuster Budget envisaged by Johnson and Cummings. Javid gave a further indication of his reason for resigning in his last Commons speech, reminding his successor that "already our tax burden is the highest it has been in 50 years". And over the weekend, he indicated that his Budget would have included a tax cut of 2%.
It would risk creating a backlash in rural and suburban areas which do not have the same infrastructure
Fuel duty is one tax which may be in the Treasury's crosshairs. Frozen since 2010, the Treasury has estimated that raising this tax could give the government an extra £4bn to play with during this parliament. But it comes with a health warning. Some 18 "blue-collar Conservative" MPs from traditionally Labour seats in the North, Midlands and Wales – exactly the kind of seats Johnson wants to impress – wrote to the prime minister last week calling for the fuel duty freeze to stay.
Although a fuel duty rise would fit in nicely with the government's 2050 net zero carbon pledge while barely affecting city-dwellers largely reliant on public transport, it would risk creating a backlash in rural and suburban areas which do not have the same infrastructure. In the words of the blue-collar group, "the Conservative Party should be supporting these people, not setting them back".
Besides, the precedent for such measures is hardly promising. French president Emmanuel Macron increased fuel prices in late 2018, sparking the gilets jaunes protest movement that continues to this day.
This first Budget of a new government is traditionally used to raise revenue. Tearing up fiscal rules and raising taxes will ruffle feathers on the Conservative back benches, but the party's influx of Labour "red wall" seats has given Johnson a mandate to "level up" parts of the country which have been left behind.
For the prime minister and for Cummings, Brexit is only partly about leaving the European Union. This Budget will reveal the more immediate agenda – a dramatic reversal of the austerity era that led to it.