The historic but neglected Victorian factory buildings at Cromford Mill in Derbyshire were overdue a refurb. But decontaminating the timber from chemicals used in industrial dyeing proved a test of modern ingenuity
Many consider Cromford Mill in Derbyshire to be the birthplace of the Industrial Revolution. Built in 1771 by legendary 18th century inventor and industrialist Richard Arkwright, it spearheaded a new kind of factory system that was quickly copied as far afield as in Germany and the US and which revolutionised means of mass production across the world. Arkwright himself is widely hailed as the inventor of the modern factory system and at Cromford Mill he created the world's first water-powered spinning mill that manufactured acres of a new raw material that was to become the cornerstone of British industrial trade and production over the next century and beyond: cotton.
In recognition of its international historic significance, today Cromford Mill is the centrepiece of the Derwent Valley Mills Unesco World Heritage Site, the only World Heritage Site in the East Midlands. Cromford Mill's largest and most prominent structure, Building 17, is also now grade I listed. However, these worthy accolades obscure the ravages its building fabric has suffered over the years.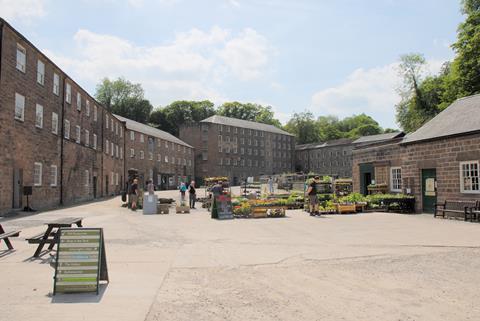 The cotton mill closed in the early 20th century, after which many of its buildings were destroyed while a disparate mix of other uses was selected for those remaining. Building 17 was converted into a dye factory which closed in 1979. By this time, many of the mill buildings were in an advanced state of dilapidation, prompting the recently formed Arkwright Society to mount a major programme of restoration. While this £4m venture resulted in the sensitive repair of much of the site and its gradual transformation into a popular tourist attraction, Building 17 remained empty and disused and was placed on English Heritage's Buildings At Risk register.
Decontamination
The Arkwright Society's current £50m masterplan seeks to transform Cromford Mill into a multi-use leisure venue emphasising sustainable heritage and cultural tourism and providing hospitality, business and enterprise amenities. Building 17 is central to this strategy and is currently being refurbished to provide a gateway to the World Heritage Site visitor centre on the ground floor and a cluster of managed workspace units for creative and innovative businesses on its four upper floors. The refurbishment is due to be complete and open to the public by the end of this year.
But beyond the general wear and tear one might expect in a building that is almost two-and-a-half centuries old, there was another significant problem that seriously threatened the restoration of Building 17: contamination. Much of its internal timber structure had been attacked by highly corrosive paint dye from the period when the building had been used as a dye factory.
While the dye left the masonry largely untouched — in fact the building's masonry is in surprisingly good condition for its age and required virtually no structural improvements — the acid within the dye, reacting over time with air, unleashed a chemical reaction known as hydrolysis which relentlessly breaks down wood fibres.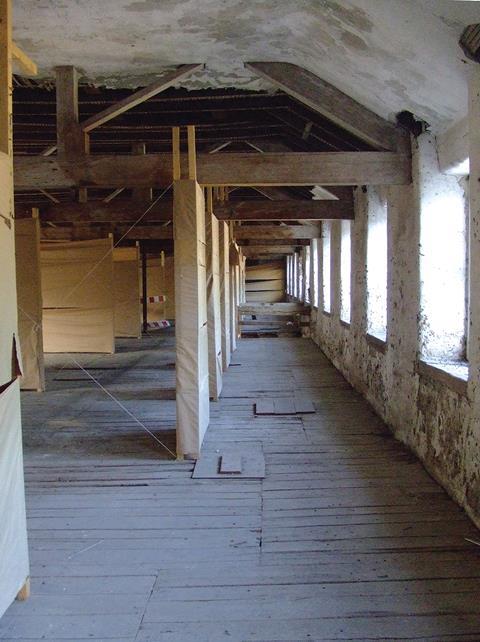 Visually the results are rather stunning; the wood becomes saturated by an iridescent rainbow of rich, vivid colours. But structurally the effect is debilitating, with timber joists essentially de-laminating, causing fibres to become weak and brittle before corroding away entirely. Therefore restoring the wood was essential to Building 17's successful refurbishment. The refurbishment has been divided into two phases: the first involves the decontamination of the wood and is being carried out by contractor Bonsers Restoration. The second will essentially involve internal fit out of the new visitor and business spaces.
A previous attempt to decontaminate the timber in 1995 proved spectacularly unsuccessful and in some ways made the situation worse. So a new, more sophisticated methodology was selected this time round: encapsulation. This solution was developed in coordination with expert advice from scientists at the University of Lincoln and timber decay and restoration specialist Hutton & Rustron.
Paul Thorneycroft of Bonsers describes the encapsulation process as "the dry cleaning of surface contaminant and sealing remaining structure to allow for building reoccupation." It was a process further complicated by English Heritage's insistence that as much of the building's original fabric should be retained as possible.
There were three types of encapsulation process employed, one for the degraded timber beams, another for the walls and ceilings and a final remedy for the floors. With the beams, loose and corroded splinters and surface fibres were removed and the remaining surface sanded back. The beam was then sealed by an application of Envirograf coating, a flexible intumescent seal that provides up to one hour's fire protection.
For the walls and ceiling, traditional lime render products were used to repair fabric. This presented a double boon. Not only did the lime render contain chemical properties which neutralised the acidic contamination wrought by the dye, but it also pleased English Heritage as lime render is a traditional building material similar to that which would have been used during the original construction of the mill.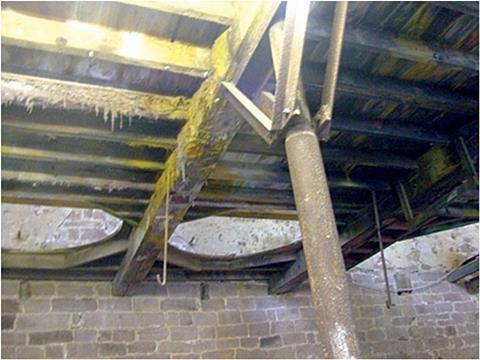 The final encapsulation process related to the floors. Corroded floorboards were lifted, dry hoovered and then encased in a layer of Novia black breathable membrane, a microporous polypropylene underlay often applied to roofs. A hardwood floating floor was then constructed above the reconstituted floorboards. As with the lime render walls, the emphasis was again on repairing and reusing as much of the original fabric as possible to satisfy stringent heritage and conservation requirements.
As Thorneycroft explains, some of Bonsers' encapsulation work crossed over into phase 2 considerations. "The encapsulation seal would have been broken had phase 2 fit-out elements, such as installing service runs or fixing stud walls cut or knocked through repaired elements. So it was essential that we identified where encapsulation had taken place and consequently, where new internal fit-out fixtures and fittings could or couldn't be located."
As the building's masonry was in remarkably good condition and remained large unaffected by dye contamination, refurbishment here has primarily been limited to cosmetic repair. Other structural aspects of the project involved the installation of new steel columns to accommodate distortion and additional anticipated loading as well as the addition of steel plating at various points of the building to strengthen joints.
For Thorneycroft, there have been key lessons learned from the project. "Ongoing testing is hugely important, particularly in the refurbishment in a heavily contaminated timber structure subject to further environmental aggravation from elements such as dry rot and damp. Ensuring the survey was as accurate as possible was also critical. As with all refurbishment jobs, we uncovered several unforeseen issues as the project progressed. Exhaustive surveying is the best way to guard against this."
But for Thorneycroft, perhaps the defining legacy of the project remains the "balancing act between English Heritage requirements and structural engineering."
In their inventive approach to decontaminating the building while reusing as much of the original fabric as possible, the design team and Arkwright Society have clearly found an acceptable middle road that satisfies all. The result is a critical piece of world social and industrial history which has been secured for generations to come.