Bennetts Associates impressed the judges with the breadth and strength of its projects, the practice has also expanded with a new office in Manchester
Sponsored by Comar
Winner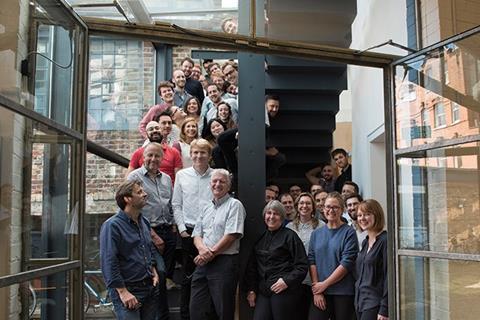 Bennetts Associates
By accumulating 20 industry awards and securing work on schemes as diverse as offices in Argent's King's Cross development and the Shaftesbury Theatre refurbishment, Bennetts Associates won over the judges with the breadth and strength of the practice's work in 2016. Having established an Employee Ownership Trust, the practice has secured its future and, with a new office in Manchester now a firm fixture, the company has laid the foundations for growth for years to come.
RUNNERS UP
5plus Architects
With headcount and salaries increasing, this Manchester and London-based practice is on the rise. Notable successes this year are the completed Corn Exchange Phase 1 in Manchester, planning approval for the Crescent towers marking a gateway between Salford and Manchester, and a lift in operating profit by a third. Projects in the pipeline such as the £300m West Bar masterplan in Sheffield mean the future of 5plus looks bright.
Allford Hall Monaghan Morris
With the Stirling prize for Burntwood School in south-west London in the pocket and a pipeline of work that includes the BBC Television Centre and Scotland Yard, AHMM has been one of the UK's stand-out practices in 2016. Critical acclaim has also transferred to the balance sheet, with fee income rising 15% and operating profit up a third.
Assael Architecture
Known as one of the best employers in the industry, the practice's move into offices in south-west London has allowed its headcount to grow by 17% while strengthening its reputation as a resi expert. A particular focus has been on the build to rent sector, with Creekside Wharf in London's Deptford, currently on site, being the UK's first rental building dedicated to families – featuring flats with child-friendly balconies and extra storage space.
BuckleyGrayYeoman
By breaking into new sectors, giving staff a pay rise and opening new offices in Bristol, Manchester and Milan, BuckleyGrayYeoman hit the ground running in 2016. Schemes such as Transport for London's transformation of South Kensington tube and four sites at The Goodsyard in Shoreditch have helped fee income rise 44% in a year, with operating profit up a healthy 59%.
HLM
The scale of HLM's projects this year is impressive. The Ministry of Defence's £400m Project Wellesley includes a 1 million ft2 defence college and the redevelopment of Deepcut barracks. Meanwhile a £155m job for the Royal Hospital for Sick Children in Edinburgh has focused on the therapeutic recovery of patients. Beyond the practice's "three pillars" of healthcare, justice and education, HLM has branched out into hospitality with commissions from Marriott, Intercontinental and Chester Grosvenor.
Levitt Bernstein
As one of the fastest-growing practices in the UK, Levitt Bernstein has honed its reputation as a leader in quality housing architecture in the past year, having worked with the National Housing Federation to publish a Housing Standards Handbook as well as forging links with the UKGBC. Operating profit increased 85% in the year and employee count went up by a third.
Make Architects
With turnover up 26%, 22 new projects and 13 buildings completed, Make has finished 2016 in rude health. Projects which caught the eye include 5 Broadgate and 40 Leadenhall Street in the City of London as well as York's Hiscox building. The firm also broadened its horizons to become a truly global architect with projects in China, and India and a new office in Sydney, Australia.
Ryder Architecture
Putting education at the heart of its business, Ryder, with support from 20 industry partners, implemented its PlanBEE campaign – a skills initiative aimed at inspiring industry professionals. Its books are looking healthy, with turnover up more than 30%, while notable buildings include the grade A office scheme 1 West Regent Street in Glasgow and the £16m Ashington Leisure Centre.
Scott Brownrigg
The acquisition of GMW Architects and launch of an advanced technology business, aimed at technology-intensive buildings, and a new design delivery unit have propelled Scott Brownrigg's total global fee income over 50% higher. The practice opened an office in New York and the aviation sector has been a particular area of growth, with projects such as Istanbul Grand Airport now on site.