This extraordinary modern Acropolis is one of the most spectacular cultural complexes in the world
Sponsored by Gowling WLG
Winner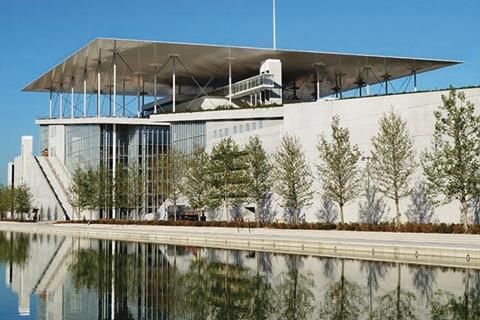 The Stavros Niarchos Foundation Cultural Center
Expedition engineering, Arup, British Library, Faithful + Gould
This extraordinary modern Acropolis in Athens is one of the largest privately funded cultural projects ever undertaken in Europe. Ambitiously conceived as a dislodged fragment of the Earth's crust, the SNFCC rises diagonally from the ground to a vast rooftop piazza crowned by a gigantic ferrous cement canopy. In a remarkable act of civic generosity, a richly landscaped new public park not only surrounds the building but extends across the entirety of its roof. Beneath this lie a sumptuously appointed national opera house and library, all of which combine to form one of the most spectacular cultural complexes in the world.
RUNNERS UP
Buenos Aires Ciudad Casa De Gobierno
Entered by: Foster + Partners
The new city hall for Buenos Aires is a remarkable project that brings Foster + Partners' trademark brand of cool expressiveness and organisational efficiency to the heart of the Latin American capital. Spanning an entire city block, the building is essentially a four-storey glass box fronted by a full-height colonnade and surmounted by a decadently rippled concrete barrel vaulted roof.
Daytona Rising
Gleeds
The iconic Daytona International Speedway in Florida, USA is home to the legendary Daytona 500 and is one of the most famous racing tracks in the world. This however hadn't prevented its timber decked 1950s grandstand from falling into disrepair. Its renovation was conceived on a massive scale with the structure so long it was forced to accommodate the curvature of the earth. The project also triumphed over extreme logistical challenges and was marked by technical prowess, rigorous risk management and supply-chain ingenuity.
Hong Kong International Airport Midfield Concourse
Mott MacDonald / Arup JV
The new Midfield Concourse at Hong Kong International Airport is one of the biggest and most advanced BIM-enabled projects ever undertaken in the world. The new concourse is conceived on a gigantic scale, complementing the existing Terminal 1 by providing 20 new aircraft parking stands and 105,000m2²of new concourse space over five levels. BIM was fully integrated into all aspects of the project.
Parc Olympique Lyonnais
Populous
The new home of top-flight French football club Olympique Lyonnais represents a new generation of French football stadiums heavily influenced by their English counterparts. But it isn't just the defensive exterior and intensified seating bowl that look across the Channel, the generosity of the corporate facilities seeks to emulate the commercial success of Populous' Arsenal Emirates Stadium, only possible because incredibly, Lyon's is one of the few French football stadiums in private ownership. One of the largest fabric tensioned roofs in the world completes the ensemble.
Rio 2016 Masterplan
AECOM
Hot on the heels of its success in masterplanning London's 2012 Queen Elizabeth Olympic Park and helping deliver the regeneration that has followed since, AECOM sought to recreate this formula at this summer's Rio Olympic Games. Here too the masterplan created a series of landscaped public spaces that formed a parkland backdrop to independently designed venues. As with London the site has been modelled for games and legacy scenarios.
Sacred Heart Cathedral of Kericho
John McAslan + Partners
This magnificent cathedral, 250km west of Nairobi in Kenya, provides a powerful synthesis between Western and African architectural and ecclesiastical ideals.
A soaring vaulted nave is supported by a ribbed and exposed concrete frame and finished in hewn timber battens parted at the apex to accommodate a continuous strip skylight. The arrangement provides an uplifting yet contemplative space.
Shai Osudoku District Hospital
TP Bennett
This state-of-the art new facility is part of a wider strategy to ensure that Ghana's healthcare infrastructure matches its recent economic growth. The hospital, in Dodowa, mimics local vernacular by inhabiting a single-storey building complete with walkways and verandas. But it combines this with that a sophisticated series of clinical care facilities that update provision to 21st-century standards. The project gave work to more than 2,000 local people.