'Berkeley remains innovative and original in all that it does'
Sponsored by Payapps.com
Winner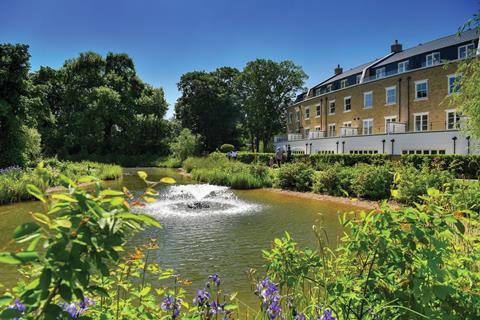 Berkeley Group
According to the judges: "Berkeley remains innovative and original in all that it does. It is always willing to push boundaries and stand out each year for showing a huge amount of ambition and drive." As industry observers have come to expect, the group's financial figures were also seriously impressive, with revenue up 33% and pre-tax profit 53%. The company's pre-tax profit last year came in at an eye-watering £812m.
In terms of projects, Berkeley highlights a trio of towers on the Albert Embankment – Merano Residences, the Corniche and the Dumont – as well as One Blackfriars, and the regeneration of a former aerodrome site at Beaufort Park, Colindale. "Berkeley is brave but stays incredibly professional in everything that it does," the judges commented, adding that they were particularly impressed by the fact that 70% of the firm's schemes lay on brownfield sites.
RUNNERS UP
Ballymore
In the last year, Ballymore has completed more than 2,000 homes, with a further 7,000 under construction on major brownfield sites including Goodluck Hope and London City Island. The housebuilder has also secured a forward sales pipeline of £2.6bn – treble its £842m pipeline in 2015/16. The company's property portfolio is now valued at £568m and its turnover increased more than fivefold in the last year, from £99m to £555m. Other projects in the pipeline include Embassy Gardens in Nine Elms, where 550 homes are now complete and occupied. The development will soon be home to an elevated swimming pool suspended between two buildings, known as the Sky Pool.
Barratt Developments
Barratt can boast a huge number of impressive statistics relating to the last year. Over the period, the firm had over £1.1bn of land approved for development and constructed 17,319 homes, of which 48% were built on previously developed land. It also provided around 56,000 jobs, contributed £3.1bn to the UK's economic output and provided opportunities to 268 graduates, trainees and apprentices. The firm also highlights that it paid out £412m in local contributions, not least in supporting affordable housing, and that it contributed 113 community facilities, including sports, health, youth and community centres.
Hill
With group turnover reaching £367m and profit exceeding £37m in the last year, Hill cemented its place as one of the UK's most significant housebuilders. The company's net worth now stands at over £100m while its landbank has a predicted turnover of over £1.4bn and is in line to deliver more than 3,200 homes. Another 4,500 homes are under direct negotiation. In the last year, more than 3,000 homes also started on site, including on landmark sites such as the North West Cambridge development, Barton Park in Oxford, and Fish Island Village in East London. In the last 12 months, the housebuilder also established itself as the University of Cambridge's partner of choice, having been awarded a further two phases on the North West Cambridge project.
Miller Homes
2016 was a significant year for Miller. It was the first time that the firm achieved an operating profit in excess of £100m, as well as an operating margin of 18%. Both achievements were delivered ahead of Miller's long-term business plan. As a result, the company's targeted number of units to be delivered each year has been increased to 4,000, something that it hopes will be supported by the establishment of a new business division in the south-west Midlands this year. Miller is also proud of its charitable endeavours, having raised £228,062 for housing charity Habitat for Humanity and built four homes in Malawi, in the last year.
Redrow Homes
Redrow can boast a solid set of financials in the last year, with revenue up 20% and pre-tax profit growing by 23%. Indeed, the company highlights its consistently strong financial performance, with operating profit up by 90% over a five-year period. The housebuilder emphasises its commitment to the next generation, stating that 15% of its workforce is either on a traineeship or part of an apprenticeship programme, and points to its contribution to building sustainable communities by building schools, doctors' surgeries and other valuable community facilities.