Read about the winner and runners up for this year's Building Performance Award

Winner: UCL Student Centre
Entered by Nicholas Hare Architects
This latest addition to UCL's Bloomsbury campus opened in spring 2019, containing space for 1,000 students to study as well as provision for welfare and wellbeing services and social and cafe spaces. Offering a mix of group, open-plan and more private working spaces, with plenty of natural light and acoustically designed walls and ceilings, the centre is designed to offer as much variety as possible for its users. To optimise usage, many of the study spaces are fitted with a sensor that feeds into a live occupancy information system that can be accessed via a student app.The students are able to learn what are the peak usage times for different areas of the building, and the estates team can gain a greater understanding of peak times for usage, occupancy and efficiency.
The centre achieved a BREEAM "outstanding" rating, thanks to its 400m2 of photovoltaics, the use of 100% recycled aggregate in precast concrete elements, floor slabs containing 50% ground granulated blast slag, and two 120m-deep boreholes linking to a ground source heat pump system to provide natural passive cooling and winter heating. The boreholes connect to 40 pipes that pass chilled water through the concrete floor slabs, maintaining a cool indoor temperature. The centre's cooling strategy maintained an internal temperature of 23ºC without air-conditioning during July's heatwave period.
>> Smart building: What makes UCL's Student Centre so special?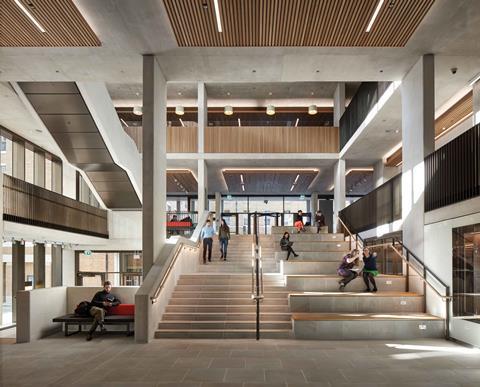 Runners-up
Palestra HVAC system upgrade
Entered by E.ON with Transport for London
The initial 2006 construction and fit-out of Transport for London's (TfL's) Palestra office incorporated a number of energy-efficient initiatives and achieved a BREEAM "excellent" rating, but when TfL took full occupancy in 2012 a study found that the design did not work as planned. Domestic hot water required a two-hour recharge, it was not possible to use waste heat from the CHP engine appropriately, and electrical demand on the CHP's transformer was insufficient. So in 2015 TfL appointed E.ON to carry out works, including revising pipework design to use excess heat from low-temperature hot water on building systems; linking the energy management system to the BMS to ensure electrical demand is kept above its minimum output for as long as possible, maximising the CCHP run time; and installing a high-efficiency controllable chiller.
The retrofit was completed without any downtime and resulted in a £566,000 12-month saving compared with the baseline prior to the E.ON works. The project also resulted in a 20% reduction in carbon dioxide emissions year-onyear. It thus exceeded the 2015 targets of £110,000 a year in cost savings and an 8% carbon dixode emissions reduction. The project achieved £1.59m capex payback in under three years, as well as greater occupant satisfaction with a secure hot water supply.
The Marq
Entered by Rolfe Judd
This new-build project for the Crown Estate, comprising 46,000ft2 of offices as well as retail, restaurant and gallery space and situated near Piccadilly in London, is designed to achieve a Gold rating for WELL Shell and Core Certification – one of the first in the UK to do so – as well as BREEAM "outstanding" for the office space. Rolfe Judd met the WELL criteria through several factors, including the choice of natural colours and patterns, using materials low in volatile organic compounds, external window design that provides all building users with outdoor views, and private external south-facing terraces to help link the building to its surroundings.
The office floor plan is designed to encourage an open layout and atmosphere, with high ceilings that bring more light and air through the building. The floor plates themselves are flexible, with the office space allowing for bolt-on WCs and showers. To hit its sustainability targets, the building's roofs are landscaped with bio-diverse planting and bird and bat boxes. Clean rainwater is harvested, filtered and reused to supply all WCs throughout the building. The energy management system is fully automated and is integrated with plant operation and fuel, power and water meters. The building management team were involved in the design process as part of the soft landings approach aimed to ensure a smooth handover at completion.