Read about the winner and runners up for this year's Contractor of the Year (up to £300m) award
Winner: CField Construction
With operations in Ireland and the UK, London-based CField Construction has extensive experience in a wide range of sectors. Established in 2011, the firm has experienced exponential growth year-on-year ever since.
Key achievements in the past year include ISO 45001: 2018 accreditation, a significant increase in wellbeing initiatives for employees, and securing 80% repeat business from clients. Recently completed projects included One Molyneux Street in London, where the basement design required extensive deepening of vaults underneath streets to a depth of 10m, which was 4m below basement excavation level. The basement was redesigned to eliminate exceptional risk, and a significant amount of money was saved for the client.
The firm prefers early engagement with clients, building value and relationships as well as solving issues before they arise. Many of CField's clients ask for the firm's input before they buy a site and so together they are jointly committed to budgets and targets set. Its lean approach uses a collaboration-based system that helps the contractor engage with the supply chain and focuses on increasing value for clients using concepts that eliminate non-value-adding steps – or waste – from a process.
With continual improvement in mind, CField upgraded its health and safety management system from OHSAS 18001 to ISO 45001. CField was one of the first construction companies in Europe to achieve the new certification, three months after it was published, with no areas identified for improvement.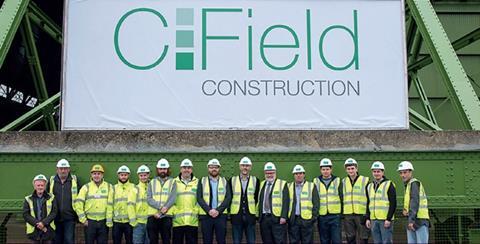 Runners-up
BW: Workplace Experts
Five years ago, fit-out and refurbishment specialist BW: Workplace Experts identified a gap in the market for a new force in fit-out. Since then it has grown turnover approximately fourfold and more than quadrupled its workforce.
In 2018 the London-based firm reported a 20% increase in turnover, with pre-tax profit up 29% on the previous year; 2019 is forecast to be a record year for both turnover and net profit margin. The focus for BW: Workplace Experts in 2019 has been to drive up the levels of defectfree work and develop its customer experience. The last 10 projects it completed have been defect-free and its customer experience team is working hard to continue this trend for the rest of 2019.
Every 18 months the group conducts external research to evaluate its performance against its competitors. Quality and understanding client needs are the two most important factors considered by customers when choosing fit-out partners, but the group's research suggests the industry is far from meeting client expectations. BW: Workplace Experts has employed an external agency to conduct further research into the difference between the perception around expected standards of work and those actually delivered. The company sees itself as the fit-out company that can close this gap.
The company is working with local schools, colleges and the community in the vicinity of its sites to inform them about its work and to encourage them to join the industry. It also supports the Construction Youth Trust by attending workshops and offering apprenticeships to talented and promising young people.
JLES Group
Manchester-based JLES Group is the only contractor to offer a fixed, guaranteed cost to achieve adoption. It also has an online resident login that enables clients' own customers and stakeholders to obtain a real-time update on their site.
The firm has created its own four-stage Adoption Management System, designed specifically for housebuilders. This can be applied to any adoption project, irrespective of its size, nature and history. It is especially useful for housebuilders that have little or no historic information as a result of takeovers or mergers and where legacy sites have been inherited.
JLES operates on a strict basis of payment upon performance, meaning it doesn't get a penny until it has achieved something of significant value for its client. It agrees a fixed cost to undertake and satisfy all adoption obligations, including sign-off of sewers, resolution of remaining legal issues, street light connections, final surfacing, post-maintenance inspection and so on. The group takes on complete responsibility for a site to remove the hassle and risk for clients. It achieves maintenance within 12 weeks from final plot completion and achieves adoption within 12-15 months of final plot completion.
All clients are issued with monthly update reports to counter any control and communication concerns. JLES also provides its clients with full photographic inspection reports, which are validated by the local authority and water company.