Read about the winner and shortlisted entries for this year's housing project category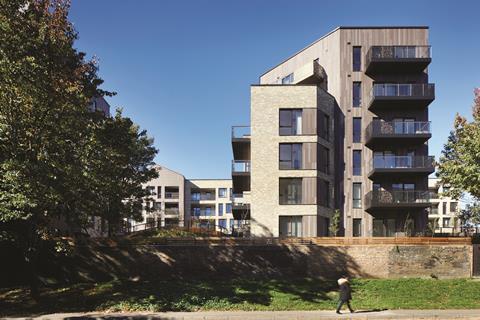 Winner: The Pavilions, 351 Caledonian Road
Entered by Jestico + Whiles
This ingenious redevelopment of a derelict embankment near St Pancras cleverly revitalises a forgotten strip of inner-city land with the construction of a series of standalone tower pavilions among landscaped gardens, enclosed by a linear terrace forming a barrier to the railway. The exteriors feature a handsome combination of brick facades and vertical timber strips, with deep inset or projecting balconies, and crisp zinc roofs.

Runners-up
21 Young Street
Entered by Assael Architecture
The replacement of a 1960s car park in Kensington and Chelsea provided a rare redevelopment opportunity in this historic quarter. The scheme's principal elevation is a series of vertical townhouse bays alternately receding and projecting to mimic the rhythm of the local streetscape. Buff brickwork and decorative ironmongery completes this contemporary take on a traditional London residential block.
Belle Vue
Entered by Morris+Company
PegasusLife has produced several schemes that reinvent perceptions of how older people live. The latest, in London's Hampstead, seeks to attract local retirees who wish to downsize but not to sacrifice the stimulation of city living. It provides a model of dense and urbane living whose interlocking brick blocks are arranged around planted courtyards. As well as an array of generously proportioned flats, the development offers a host of active leisure amenities.
Branch Place, Colville Estate
Entered by Karakusevic Carson Architects
The massive Colville Estate masterplan seeks to redevelop a notorious 1970s east London council estate into 925-unit mixed-tenure development. In this second phase, providing 116 homes, buildings are crafted from a considered palette of high-quality tenure-blind materials chosen to reflect the surrounding Victorian townscape. All dwellings achieve Code for Sustainable Homes Level 4 and Lifetime Homes standards.
Eddington, Lot 1:
North West Cambridge
Entered by WilkinsonEyre/Mole Architects
Lot 1 includes 117 key worker units, a supermarket, an energy centre and a landscaped market square. Its elements range from large blocks to terraced avenues, each with a different neighbourhood character and all built to Code for Sustainable Homes level 5. Their buff brickwork and planted courtyards form a contemporary reinterpretation of traditional Cambridge vernacular.
Mapleton Crescent
Entered by Metropolitan Workshop
High-rise living is a well-worn typology in modern London, but here it is delivered with flair. This 27-storey tower in Wandsworth adopts a staggered triangular configuration in response to a tight site on former waste land. The layout allows for two splayed rows of flats separated by a central core, all contained within a jazzy envelope finished in green ceramic tiles.
Marmalade Lane
Entered by Mole Architects
As an example of how co-housing can be facilitated by local authority input, this scheme in Cambridge could mark a turning point for the fledgling sector. One of the first co-housing schemes on a significant scale, it forms a unique design response that for the first time attempts to develop a specific co-housing architectural language dealing with wider urban design principles such as the interaction between public and private realm.
Tornagrain
Entered by ZeroC, Part of Places for People
Built near Inverness in the Scottish Highlands, this new town looks to local architectural traditions in using hipped and gabled slate roofs. Beneath lies a pioneering agenda on sustainability, with all homes insulated to ensure minimal energy waste, electrical roof wiring to allow for future installation of solar panels and even light pipes to ensure natural light reaches inner hallways.
Trinity Square
Entered by HTA Design/Barratt
This development in Colindale, north-west London, shows how to maximise density while providing the family units essential to maintain a mixed community. Four courtyard "doughnut" flat and duplex blocks are interspersed with new streets and surrounded by terraces. Central to its aim of density in a human-scale environment are its double- and triple-aspect units and provision of amenity space that is 30% more than that stipulated by the council.
Wallis Fields
Entered by AHR
This charming rural development in Maidstone provides a vibrant take on the local domestic vernacular. A failing 1960s housing development is transformed by the imposition of a new masterplan with a simplified layout, a more pedestrian-friendly environment, active frontages and generous overlooking, all within a rejuvenated public realm with subtly integrated parking to provide a neat and village-like streetscape.