Read about the winner and runners up for this year's Innovation of the Year award
Winner: Composite CLT and glulam design process and software - Engenuiti

The design was put to use at the Pavilion in Manchester's Hardman Square. Engenuiti designed bespoke composite crosslaminated timber (CLT) and glulam rib panels to form the floor deck on site, reducing floor depths by up to 50% compared with a standard CLT panel, matching the external glulam beams. This method minimised material waste, reduced construction time and allowed the use of less material through needing thinner panels. Engenuiti then developed specialist design software to allow for the broader future use of this system, on other projects.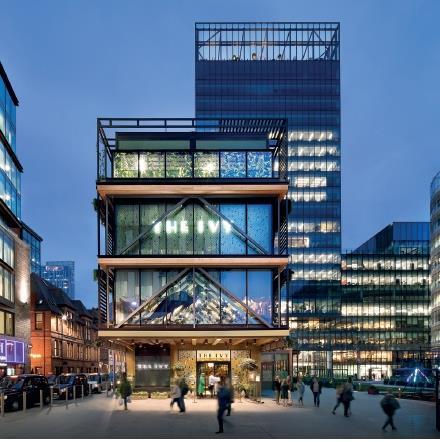 Runners-up
BeadMaster - Aask Us
The BeadMaster products, including frame beads for spotlights and single and double switches and sockets, help make electrical installations more efficient, saving up to £700 on each new-build house and reducing time on site by two to five days. A plastic plate is fixed over the plasterboard hole during first fix and the centre is removed after the plasterer skims the area, leaving edges ready for the final fix. The product is 100% recyclable, reduces snagging and helps keep relations between trades harmonious.
Design Your Home - Places for People
Conceived to place more power in the homebuyer's hands and to bring custom and self-build into the mainstream, Design Your Home gives the buyer control over variables such as internal layout and internal fixtures and fittings, while keeping within planning constraints. The layout choices, set at different cost points, are all pre-approved for planning. The innovation's first site is a 122-home scheme in Basingstoke.
GTL-1000 - Topcon
The technology combines imaging with surveying in one instrument, using a laser scanner and robotic total station to produce continual 3D data capture. Contractors are able to review on-site layout and scan requirements without the need for separate teams and can check the design model against the 3D laser scan in near-real time. The result is a faster identification of deviations, cutting the scan-to-verification process time significantly.
Modular block retaining walls - Kier Highways/Marshalls
Kier Highways' modular block retaining walls were used during the widening process of the M23 J8-10 and M20 J3-5 smart motorway schemes. The system was used to simplify operational delivery on site and reduce construction time. It is suitable for all heights of retaining wall. The offsite prefabricated concrete blocks used are nongrouted, dry-placed and stacked using domes and grooves to form a gravity wall. The blocks have a lifespan of 120 years. Relative to conventional systems, the walls will save the motorway projects £12m.
Rapid intelligent data retrieval for O&M manuals - Denaploy Manuals
The rapid intelligent data retrieval system enables users to retrieve details on any product in use on a project. By indexing every word in every document, from manufacturers' literature to asset registers and information on installation dates, the service allows the end user to quickly find the relevant information without the need to search through digital folder systems. It also allows for an efficient handover of documents from the main contractor to the FM service on completion.
SMARTLogistics - Focus Logistics
SMARTLogistics is a programme designed to ensure project teams take more responsibility for waste on site. Initiatives to tackle material management, distribution and clearance include an on-site waste segregation and recycling system through the use of colour-coded bins, and its SMARTTechnology logistics software to provide a virtual audit trail of materials and track performance. The programme was first implemented on South Quays Plaza in London for Berkeley Homes, resulting in significant savings on packaging, waste removal costs and labour costs.
The Choice Factory - Kier
The Choice Factory is a publication outlining behavioural change programmes, created by Kier to help overcome some of the barriers to the uptake of offsite construction that remain despite many well-documented benefits. Its aim is to embed the informed adoption of offsite as a habit, nudging intrinsic behaviours through making adoption easy, understood, desirable and rewarding for long-term gain. Through sharing guides, best practice and client-facing resources, Kier's method has helped secure a number of contracts, including the £253m Wellingborough prison.