Read about the winner and runners up for this year's Specialist Contractor of the Year award
Winner: NG Bailey
NG Bailey's targeted strategy of achieving a 50:50 split in work between engineering and services projects has paid off, with the business posting a 16% rise in revenue and a 42% hike in operating profit. It has achieved this while investing in sustainability measures in-house and for its clients, in innovative tools to address engineering challenges on site, and in wellbeing programmes for its staff. Key projects over the past 12 months include the installation of a £25m energy centre at North Tees and Hartlepool hospital and the implementation of a data driven maintenance regime for 31 of Land Securities' buildings, helping the developer to meet its carbon targets.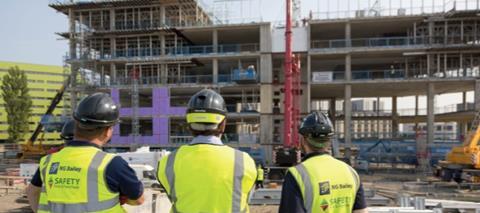 Special Commendation
Trustmgt
Managing a variety of new and established open spaces for developers and housebuilders alike through comprehensive maintenance programmes and bespoke service packages, Trustmgt's offering has spawned a series of initiatives, ranging from complete management and maintenance packages for developers to longer-term resident-funded schemes. The firm has committed to a focus on sustainability initiatives through working on conservation efforts with the Royal Society for the Protection of Birds, as well as on staff retention through inviting contributions to board meetings from junior members of the team and its work with local colleges. These initiatives, in addition to measuring customer satisfaction and feedback from both residents and housebuilders, have helped Trustmgt to double its revenue year-on-year.
Runners-up
JLES
This technical engineering outfit provides legal, design, surveying and on-site works to housebuilders. Over the past 12 months JLES introduced an online status update facility for residents and clients; a 24/7 response team for developers; and a fixed-fee post-build adoption package for sign-off on infrastructure such as sewers and street light connections. The fixed fee has helped clients to establish a definitive project cost figure at an earlier stage. Recent projects include a series of post-build completion works on behalf of Keepmoat Homes in Sheffield and remedial works to progress a Harrogate site to adoption on behalf of Accent Group.
Munnelly Support Services
Responding to uncertainty in the market, Munnelly's approach to sustainable working has reaped rewards in the form of a 23% rise in construction revenue. It has achieved this through advocating the Prompt Payment Code as both supplier and procurer, developing lean logistics on site and encouraging a multi-skilled labour pool. The latter, in tandem with a new programme to monitor staff fatigue and wellbeing, has seen the firm increase its workforce by nearly one-third by positioning itself as an attractive employer. Munnelly has worked on projects at the University of Manchester, Bank underground station in London, and the Newfoundland skyscraper
SCS Group
The building engineering services firm has focused on driving both innovation and skills to grow its business. It opened a new factory earlier this year in order to provide prefabricated products for its clients, reducing time and the number of people going to site. SCS has responded to the construction sector skills shortage by upping its apprenticeship and training programme, including an in-house training suite, which it notes as a significant factor in its 90% tender success rate. Over the last 12 months SCS has grown its order book to the largest it has seen, landing work at Birmingham New Street station, Central Square in Cardiff and Battersea Power Station.
SES Engineering Services
Following on from its performance as a finalist in this category 12 months ago, M&E provider SES has continued to make strides in winning work on 29 projects, including its work on technically advanced sites such as an energy-from-waste complex in Avonmouth, a commercial fit-out scheme in Stratford, east London and GlaxoSmithKline's aseptic manufacturing facility in County Durham. On the GSK project, VR technology was implemented to immerse the client in the final phase of construction. Concentrating its efforts on supporting the supply chain through early engagement workshops and waste reduction strategies, and on its CSR initiatives investing in the community, has seen the business continue to dedicate its work to drive value on site.