Read about the winner and shortlisted entries for this year's Architectural Practice of the Year award
Winner: HLM Architects
HLM launched its Thoughtful Design Toolkit this year, a digital suite designed to ensure that the vision of a given project is delivered from briefing to completion. A range of the toolkit's assets use data to advance HLM's understanding of what people want and need from the built environment so that designers know their proposals will deliver what building users require. The tools also help clients make better-informed decisions about targeting their investment. On the staffing front, the practice has an agile-working approach including nine-day fortnights, while its recently launched apprenticeship programme sees its first apprentice graduating this year. Schemes completed during the year include Ysgol Pen Rhos, a £10m new-build school in Llanelli, south Wales, which used timber frame construction and was a winner at the RICS Social Impact Awards.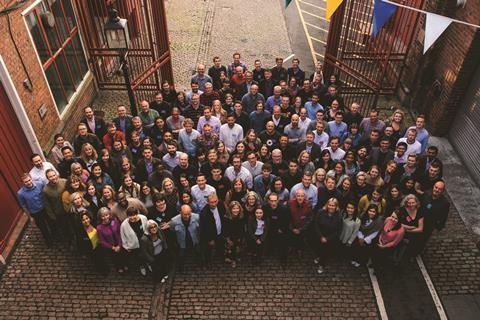 Runners-up
Assael Architecture
This year saw the completion of three of Assael Architecture's build-to-rent projects, including the 249-home scheme at Union Wharf in south-east London, while work continues on other developments. The London-based Assael, which became an employee-owned trust at the beginning of this year, worked tirelessly to engage with staff during the lockdown through online consultations, ensuring home-based staff had the technology they needed, as well as regular checks to ensure everyone was coping, both physically and mentally. The firm is also proud of its long-lasting client relationships and boasts 80% repeat business, including with Connected Living London and The Collective. It was also part of a RIBA research group that published a social value toolkit in July 2020, aiming to measure direct benefits to residents' and communities' lives.
Buckley Gray Yeoman
Ensuring that its staff were being looked after during the lockdown, BGY also offered covid-related design services and in two cases established a retainer approach, where staff work directly for clients to provide critical space planning and fit-out work to make offices covid-secure. The practice transitioned to an employee ownership trust last year and says this has provided a less hierarchical company structure, encouraging active involvement for all its employees and a more comprehensive continuous career development programme. This year has seen the introduction of wellness policies to support employee wellbeing; these include group life cover and income protection plans and an employee assistance programme. Notable schemes completed in the last 12 months include Fred Perry's flagship store in New York City and 77 Coleman, a 113,000ft² office, retail and leisure redevelopment in the City of London.
Ryder Architecture
During 2019/20 Ryder worked on more than 50 projects across the globe, covering healthcare, education, leisure, civic, office and residential. As part of the firm's stakeholder engagement commitment it begins every project by listening to a client's exact requirements and examines the space required, how it will be used and what it represents. Ryder then sets smart objectives that result from the feedback received through this process. When covid hit the sector Ryder's first response was self-preservation. But it soon realised the pandemic was an opportunity to do good beyond the secure confines of its practice and be a catalyst for supporting both the industry and society. Socially responsible business practices are interwoven into each project, with a goal to generate a social value equivalent of 2% of annual turnover, with a focus on education and learning.
TODD Architects
TODD Architects has now grown to 80 staff, with offices in Belfast, London and Dublin and a new office just opening in Manchester. The practice has invested heavily in new technology – BIM in particular – to enhance its service offer, notably to tier 1 and tier 2 UK contractors. Covid-19 has seen the firm embrace home-working, putting in place hardware and software to make sure everyone can work effectively remotely. In the past year TODD has introduced the concept of a client relationship manager, whereby project directors organise informal quarterly meetings with clients to allow any issues or concerns to be identified and addressed. Recent project wins include the two foremost health trusts in Northern Ireland, securing positions as lead framework partner for each.