Read about the winner and shortlisted entries for this year's Construction/Consultant Surveyor of the Year (fewer than 100 staff) award
Winner: Soben
Soben has recorded year-on-year growth in fee income of 32% and pre-tax profit of 46% in the past year, while staff numbers rose by 40%. It has also expanded internationally, launching in Australia, the US and India. The firm has broadened its client base, having historically supported tier 1 contractors. Soben has now been engaged by several major developers to support their capital investment programmes, including SSE and Lidl as well as HS2. The consultant has developed its own in-house quantity benchmarking tool, which helps clients identify potential inefficiencies in the design of projects. By increasing design efficiency, the firm is able to both drive costs down and increase project sustainability. The company also takes pride in the diversity of its workforce, 30% of its team being female and nearly 20% being from black and ethnic minority groups.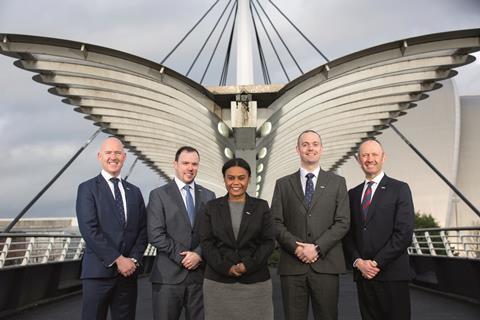 Runners-up
Fulkers Bailey Russell
Over the past year Fulkers Bailey Russell has worked on a number of high-profile schemes – including several for different emergency services. Schemes for the London Fire Brigade included a £16m training facility refurbishment in Croydon and the refurbishment of its river station in Lambeth. The firm was also involved in building the London Ambulance Service's new 111 call centre to assist with increased emergency calls and a training facility in response to covid-19. The consultant has carried out several technical advancements over the past 12 months, including migration to a file sharing and database IT system linked with Microsoft Teams and Office 365; this has helped the firm with the current pandemic circumstances.
MESH Construction Consultancy
Over its first five years of trading MESH has seen continued growth in turnover, project value and number of clients. Pre-tax profit grew by 35% in the past year, while the consultant saw the percentage of its work attained through repeat clients increase from 70% to 80%. MESH is on six frameworks, working with clients including Nuffield Health, Great Ormond Street Children's Hospital and Vodafone. In 2019/20 the firm secured roles on 209 projects, 115 of which were healthcare schemes, an area of specialism for the firm. Looking forward, the firm has secured 70% of its workload for 2020/21 and has plans to grow its average project value. This was epitomised by the firm being named cost manager on a £120m hospital extension project in July.
OFR Consultants
In the past 12 months, OFR has welcomed 20 new staff and seen its UK fee income increase by 38%. The consultant has been invited to work for clients such as Google, the All England Lawn Tennis Club, Urban Splash and Rugby Football Union. As part of the UK's response to the pandemic the consultant undertook roles helping to deliver three NHS Nightingale hospitals requiring fast-paced completion. Each year OFR publishes more than 35 peer-reviewed papers on fire safety in academic journals, to which staff across the business contribute, and it is currently in the process of evolving a graduate development programme that encourages senior employees to mentor the growth of more junior participants, alongside paid placements and internships.
Plan A Consultants
During 2020 Plan A has continued to grow and has diversified into the European and global market. The consultant has used its experience on large infrastructure projects such as Heathrow and Silvertown Tunnel to help develop masterplans, including the one for NEOM in Saudi Arabia. It is also working with Snøhetta on a scheme in Greece and has been bidding with architects based in Paris, the Netherlands and Denmark. The firm secured 70% of its work from repeat clients in the past year, and during the lockdown it both maintained its full workforce and continued to win work. Plan A has produced a design management toolkit to help clients become more efficient and better define the design process, specifically the role of the architect post-novation.
Quantem Consulting
Quantem has continued to achieve sustainable growth in the past year, with its turnover up 21% and headcount growing from 61 to 76. The consultant is involved in more than 200 projects across the UK. The clients it has worked with include Tristan Capital, Argent and British Land. On the technology front, the firm introduced drone valuations due to restrictions imposed by covid-19, helping it to continue to provide services to clients. Looking to the future, the company has worked closely with Oxford Brookes University to help develop its QS apprenticeship programme. The firm has a proven graduate programme of its own too, with most graduates staying within the business. Three graduates are now partners and one heads up the New York office.