Read about the winner and shortlisted entries for this year's Engineering Consultant of the Year award
Winner: Cundall
In the past 12 months Cundall experienced a rise in demand for its services, especially around net zero carbon, sustainability and data centres. Highlights include the Facebook Data Centre in Odense in Denmark, which has a waste heat recovery system to reduce the city's reliance on coal by 20%, and several new and innovative healthcare facilities including the Tessa Jowell Health Centre in Dulwich, south-east London, as well as Ulster Hospital. The firm has also developed big data collection and analysis tools to assess compliance with net zero emissions pathways.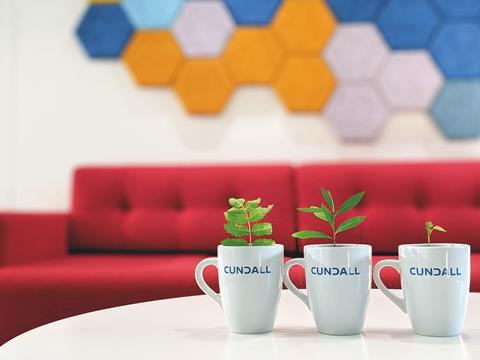 Runners-up
Aecom
Aecom has been involved in several big-name projects this year, including BBC Cymru Wales at Central Square in Cardiff, where the firm provided building MEP services and structural engineering, as well as a major mixed-use scheme at One Crown Place in Hackney, London. It was also involved in construction of the covid-19 field hospital NHS Louisa Jordan in Scotland. Aecom's multidisciplinary experts have collaborated to develop a tool to assist its designers and clients in making informed decisions based on an understanding of whole-life carbon and cost implications.
Black and White Engineering
While covid lockdowns have had a significant impact on the MEP design supply chain, Black and White Engineering has enjoyed a record year of growth and has increased its UK workforce by 44%. The engineer has been involved in a range of new projects, including Fujifilm Diosynth Biotechnologies, Newcastle United Foundation's Murray House, and Harton Quay in South Shields – the first net zero building in the North-east. Black and White has also been involved with work on listed buildings including the Pattern Shop in Newcastle upon Tyne.
BWB Consulting
BWB Consulting is heavily involved in the UK's booming logistics and distribution projects and is currently working on more than 30 major projects across the country that will, when complete, provide 30 million ft2 of warehousing. The firm is also involved in Northampton Gateway highways and the regeneration of Nottingham's Waterside, as well as the Jerusalem Light Rail project – an example of the firm's burgeoning international rail activity, which in the past year has grown to include work in the Middle East, Australia and Ireland.
Ramboll
Ramboll has been involved with an incredibly diverse portfolio of works in the past 12 months, including work on the British Antarctic Survey's ongoing climate-related research, the net zero tower at 2 Finsbury Avenue in central London, and the new North Zealand Hospital in Hillerød, Denmark. These highlights were despite tough market conditions, which saw Ramboll prioritise servicing clients and protecting people's health, wellbeing and jobs. The company removed profit targets so that no covid-related redundancies would be made. Clients awarded the firm an average satisfaction score of 4.5 out of 5 in surveys.
RED Engineering Design
In the past 12 months RED has been involved in more than 400 global projects, masterplanning over 5GW of data centres in 2020 alone. Work has included MEP design and advisory consultancy, specialist engineering, sustainability solutions and climate change, ICT design and consultancy, and digital and virtual engineering capabilities. The firm boasts repeat client business of 84%. RED also acquired Callaghan Engineering, one of Ireland's leading engineering consulting firms, this year, a move that brought in complementary technical capabilities while providing a springboard for growth into key sectors.
Services Design Solution
Services Design Solution has had a successful year and was nationally recognised by the industry for its efforts in the fight against covid-19, thanks to its involvement with the Nightingale hospitals. The firm worked on the NHS Nightingale Exeter, which was delivered in just 57 days. The engineer adopted repeatable design, prefabricated systems and modular approaches on the project, with several of its engineering systems adopted by NHSI for incorporation into other Nightingale facilities. Work such as this saw the firm handed an average client satisfaction score of 90% for 2020/21.
Thornton Tomasetti
The Edge at Hudson Yards, which provides views of Manhattan from 100 storeys above ground level, is just one of Thornton Tomasetti's standout schemes this year. The engineer is working in Milwaukee, Wisconsin, to deliver what will be the world's tallest timber building, Ascent. It has been developing new uses for timber in office design, working with KLH and Klockner throughout the pandemic to develop long-span CLT applications. As a result, the firm has already delivered on the 2030 targets set by the London Energy Transformation Initiative and RIBA.