Waterproofing strategies have a high failure rate and can lead to costly repairs. Specialist RIW has some tips on keeping a project dry
A fundamental requirement of any building is that it is watertight. Get the waterproofing strategy right and a scheme will be dry throughout its lifetime. Get it wrong and a building is likely to be dogged by problems from the outset. Once water has penetrated the envelope the damage can lead to further problems and costly repairs. Waterproofing specialist RIW estimates that one in seven of the projects it is called in to advise on involves making good the failings in someone else's design.
Developing a robust waterproofing strategy early in the design process is crucial to a building's long-term success. The solution must be capable of dealing not only with rainwater but also surface water and even the hydraulic pressure of ground water for designs with basements and lift pits. With such a high failure rate, it is clear that without specialist knowledge it is easy to get it wrong. "Specifying waterproofing is a bit like choosing gas or electricity - you only notice it if it goes wrong," says Martin Radford, RIW's national sales and marketing manager.
Ask a waterproofing specialist to become part of your design team to identify any issues before it's too late
The challenge for designers is that a building's skin is made up of numerous elements which are intended to combine to form a cohesive waterproof envelope. However, when the links between these elements are incorrectly specified or poorly detailed water intrusion can occur. "Getting the right technical advice at the design stage can make all the difference to a scheme's success, so ask a waterproofing specialist to become part of your design team to identify any issues before it's too late," says Radford.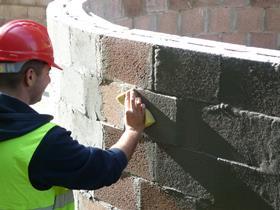 Many water incursions occur at the transition between different waterproofing elements. RIW's advice is to keep a design simple and ensure the transition from one system to another is carefully detailed. The firm also recommends a design that minimises the number of penetrations through waterproofing elements, such as a roof. Where penetrations cannot be eliminated entirely, for example where steel columns support rooftop plant, consider boxing in the column's baseplates to avoid a complex detail that is difficult to waterproof.
A specifier needs to understand how a building will move in order to appreciate the demands on a waterproofing element. This is advice the structural engineer should be able to provide. It is also necessary to recognise how the building is likely to be used, for example will a podium roof need to cope with pedestrian traffic?
There are numerous waterproofing products and systems available and a specifier should understand the strengths and limitations of each option. Construction joints, for example, will be subject to structural or thermal movement, or both, so specify a product with the capability to bridge a construction joint without cracking.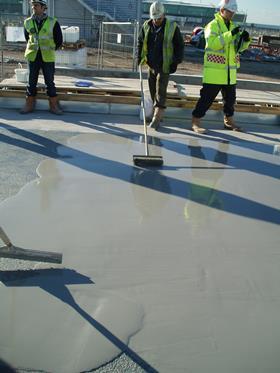 In order to form a cohesive solution, a waterproofing product must be compatible with the adjacent coatings and treatments. While waterproofing products may have similar performance, they may not have the same compatibility characteristics. According to RIW at least half of the projects that it is asked to tender for have incorrectly specified elements and poor complex detailing. "We frequently have to work with contractors to supplement, simplify and enhance the original specification," says Radford.
Getting the right contractor to install the waterproof solution is essential. RIW states that poor workmanship is the biggest contributor to the failure of a well-designed strategy.
To ensure the correct installation of its two-coat liquid waterproofing system, RIW has developed a two colour solution with contrasting coats to make it obvious where the top coat has been poorly applied.
Whatever the product selection, it is clear that a waterproofing strategy should form an integral part of any building design. The best way to ensure a design will be watertight is to work with a specialist from the outset.
For more information visit www.rememberitswaterproof.co.uk