Arup's Sensing City project in New Zealand's Christchurch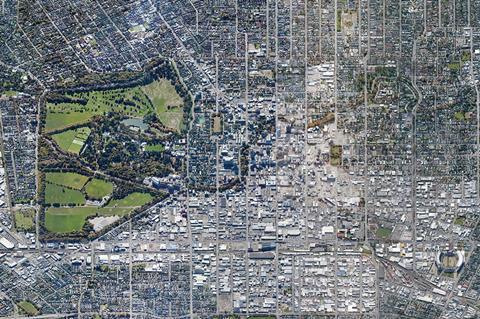 Imagine half the buildings in the centre of London, Liverpool or Glasgow destroyed. Imagine thousands of homes, hospitals, offices, schools as well as major historic landmarks such as Westminster abbey or Liverpool cathedral damaged beyond repair. Imagine water, waste, transport, healthcare, sanitation and energy infrastructure across a 25-mile radius either severely disrupted or totally wiped out. Tragically, this is the fate that befell New Zealand's second city of Christchurch after the devastating earthquake of February 2011.
While measuring an undeniably powerful 6.3 on the Richter scale, the Christchurch quake was only two-thirds the strength of the earthquake that triggered the Japanese tsunami barely a month later. But the scale of destruction in Christchurch was gravely exacerbated by the twin misfortune of the epicentre being located relatively close to both the city centre and the earth's surface.
However, even tragedy can harbour opportunity in its wake and Christchurch has responded to the disaster by embarking on a monumental rebuilding programme that will not only restore the city's fabric but turn it into a global exemplar of "smart city" principles.
Citizens have to be made to feel that they can trust that the data will be used in an open and transparent way

Volker Buscher, Arup
Despite having offices across the world, including New Zealand, it is the London division of Arup that is leading this drive and it has recently launched its Sensing City initiative in Christchurch. Building on smart city research already compiled by the office, a pilot programme involving the distribution of 200 sensor kits to students to enable them to test water quality has been launched this month.
But Sensing City goes much further than this. According to Roger Dennis who founded the initiative, by only 2015 it aims to "unlock technology, infrastructure and public data that will improve the functionality of the city and the lives of its residents".
The aim is to transform Christchurch into a "living laboratory" for future cities that will help to address the key urbanisation challenges of the 21st century, while the city itself will benefit directly by means of increased international competitiveness and a more sustainable model of city living and working. Dennis sums up the Christchurch rebuilding challenge simply. "It cannot be that a project this big isn't tapping into digital assets and information."
So what are digital assets and what exactly for that matter is a smart city? And more importantly, how is either concept going to help Christchurch?
Smart but not necessarily new
At its simplest, a smart city is essentially one that uses intelligent technology to enhance quality of life in urban environments by managing complexity, minimising waste, reducing expenditure and increasing efficiency.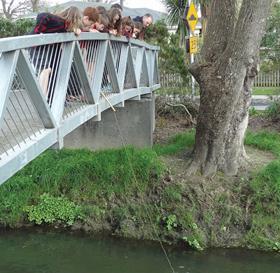 For Volker Buscher, director of Sensing City for Arup, intelligent use and distribution of digital assets is the key to achieving these goals. "The role of digital technology in the built environment is changing. Rather than having separate technologies across the city, these digital technologies or assets are now capable of speaking to each other in order to make urban life more enjoyable and efficient.
"For instance, a parking meter has a fixed value in as much as it enables drivers to pay for a parking spot. But if its data is shared, then it can be used to identify a whole new level of information, such as congestion and capacity in a particular area at any given time. It makes the value attached to that collective data far greater than the sum of the original piece of information."
Not all of this need be new technology either. Buscher refers to the enormous amount of data contained in smartphone apps as indicative of the number of background technologies present in our everyday lives. Apps can already plot the exact location of nearby taxis onto a map for San Franciscans, or tell Londoners how many bikes are left at local cycle hire stands. For Buscher, the key is integrating and connecting these and other layers of data to manage the city more efficiently.
Christchurch presents a unique opportunity to implement this methodology on a large scale. Not only did the rebuilding programme release an unprecedented NZ$40bn (£20.5bn) for redevelopment, but it forced stakeholders to talk to each other, sometimes for the first time, and to review their roles within the wider hierarchy of city management.
Sensing City's initial role within this drive has been to place a combination of sensors at various points across the city in order to collect data relating to various environmental aspects such as water, air and noise quality. This can then be used to build a greater understanding of how these conditions affect the wider urban environment.
"For instance, by placing sensors on asthma inhalers," explains Buscher, "we can measure pollution levels in specific areas which can then be combined with congestion information and health research to enable the authorities to issue early warnings to residents when or if necessary."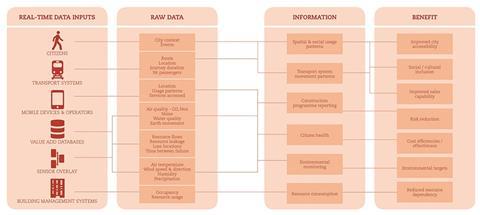 The Sensing City framework involves extracting data from key providers and consolidating this into a raw data database that can provide information that directly benefits the city and its residents
Information gathering
Sensing City aims to collect data from five key areas: people, transport systems, mobile devices, building management systems and environmental sensors. The information produced will then be combined to form a raw database from which general or specific information ranging from public health to construction programming across the city can be extracted. The intention is to use this information to the direct benefit of city and its residents by creating efficiency and fostering a culture of coordination. As Buscher says: "it will be a digital platform for economic benefit."
For Buscher, the way in which this data is collected is as important as the data itself and he is keen to emphasise Sensing City's role as a social enterprise. This, he explains, is one reason why the water sensor kits were specifically distributed to children. "Citizens have to be engaged and involved in the process and it is important that it's designed to enable them to feel that they are giving something back to their community."
These observations touch upon some of the criticisms of the smart city concept - that it involves the invasion of privacy and smacks of a techno-totalitarian Big Brother type state. In Denmark for instance there has been some reluctance to embrace smart city technology as some think it undermines the cultural principles of democratic, free individualism ingrained into Scandinavian society.
Buscher accepts that this is one of the biggest challenges facing smart cities and insists that "citizens have to be made to feel that they can trust that the data will be used in an open and transparent way". But he adds that individuals will have to accept that smart technologies are destined to play a bigger role in our lives.
"Nobody says they want less technology and it's inconceivable that in five, 10 years' time, there's not going to be more data accessibility and technological sophistication out there than is available today. Society will eventually have to make choices about who owns all this information and how it is used."
But can smart city principles be applied to other cities spared the reconstruction possibilities presented by the grim leveller of a natural disaster? Buscher is convinced they can and cites Chicago, Stockholm, San Francisco and Doha as cities that have already actively embraced new technology of this kind. In anticipation of its hosting the World Cup and Olympic Games within the next three years, Rio has also recently introduced a high-tech control centre monitoring everything from weather conditions to public order and capable of scanning video feeds from 900 cameras.
The smart city drive is one in which Buscher believes London is already well placed to take a global lead. "The Smart London board is already beginning to take stock of how we deal with the emerging capability of new technology. Plus London, unlike Christchurch, already has an incredible eco-system of world-class academics and professionals which is truly unique. Of all world cities, it was London after all that pioneered the congestion charge and Oyster card and venues like the Crystal show how these ideas are gaining widespread exposure. All that's needed is something at the top to pull all this together."