Construction skills, design flair and collaborative teamwork: we are talking, of course, about cake decorating. Three brave teams from across the industry came to Building's HQ to compete in a very sweet Christmas challenge. All photography by Tom Campbell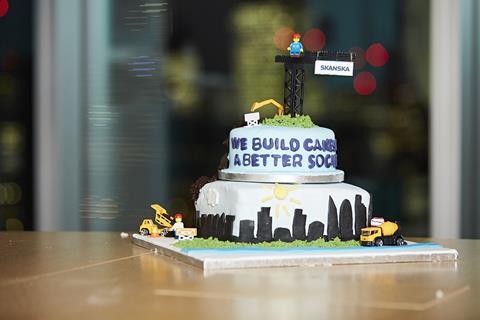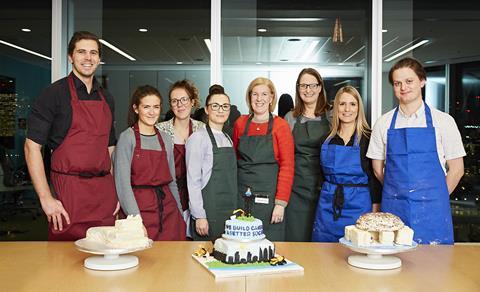 Some things are harder to do than they look. Take construction. And cake decoration. It seems easy enough when the professionals get down to it, combining the deft skills of the master plasterer with the keen eye of an artistic genius. Once deemed "twee", in recent years it has become massively popular across all age ranges, thanks to TV shows such as The Great British Bake Off. It even has its own trade association: the British Sugarcraft Guild. It's all the rage, basically. But easy it definitely isn't.
So what happens when a bunch of baking novices from the building industry who claim to have never been near a spatula in their lives are let loose on some sponge, icing sugar and butter cream, with a view to creating a construction-related decorated cake structure of their own? How would they get on? What would the end result look like? And what sort of mess would there be to clear up afterwards?
Christmas cakes
Such was the lot of the three teams who bravely agreed to assemble and decorate a cake of their own design in Building's 2017 Christmas Charity Challenge, which once again aims to raise money for Crash, the construction charity that puts the sector's skills to good use, working with homelessness charities to improve emergency night shelters, hostels, day centres and "move-on" accommodation, as well as hospices.
It was inevitable that the phrase "It's a piece of cake" would crop up as representatives from architect Architecture Initiative (AI), consultant Rider Levett Bucknall (RLB) and contractor Skanska gathered in a room on the 19th floor of Building's Blackfriars HQ to create masterpieces to be judged by Emete Friddle.
A former graphic designer who now runs her own cake-making business, Friddle's Cakes, Em, as she's known, will also offer guidance to the contestants, so the afternoon is in effect part competition, part masterclass.
Nervous laughter echoes around the room as Em lays out an array of cake-related paraphernalia including stands, boards, tools and brushes. The teams then unload their own supplies: sponge – some home-made, some shop-bought – packets of fondant, tubs of icing sugar, and various other baking bits and bobs. All have come prepared with plans of what their end product should – emphasis on "should" – look like.
The RLB team, of Ben Taylor and Leah Croucher from the consultant's marketing department, have opted to create a cake replica of the firm's Louvre Abu Dhabi. Their plans look ambitious, with the building's famous dome set on columns of sponge, through which one views reproductions of works of art in the guise of small sweets. Perhaps something by Edvard Munch? Let's hope they don't end up screaming by the time it's all over.
Next to them, Lucy Maugham and Tom Eames, architecture assistants at AI, together with Jolien Dirix from the firm's marketing department, are going all "free-form". On paper their design looks an impressive, dare one say "minimalist", structure, the sort that wouldn't look out of place alongside the Sir Denys Lasdun and Peter Softley-designed National Theatre on London's South Bank. Jolien says Lucy is "the cake expert", a plaudit the latter laughs off.
Further down the table are Skanska's Becki Taylor (who works in something called "business change"), Emma Strong (business development) and quantity surveyor Milena Mazhkarova. The trio have brought in what looks like a kitchen's worth of supplies to work on their two-tier design, together with the sketch they'll be working from, complete with a Lego crane, a couple of toy diggers and some mini traffic cones. Yup, mini traffic cones. The mind boggles.
Then the teams are ready, there are a few words of encouragement from Em, as well as what she's looking for – good construction and finish, plus it'll help if it tastes nice – and we're off.
Fruitcakes
Among an array of ingredients the Skanska team have brought in is homemade sponge, which needs to be cut into layers. Em produces something called an Agbay Cake Leveller, a very technical-looking blade thingy, which creates the kind of cake surface a snooker player would be delighted to knock some balls around on.
The AI team, who have already impressed Em by bringing along home-made butter cream, also need layers, and latch onto the tool. Tom spends what seems to be an inordinate amount of time making sure the levels are right, perhaps rightly so, since he expresses the concern that if he takes too much off "we won't have any cake left".
There is also talk on the team of improvising their design. Jolien says: "Stick to the plan!" Responds Lucy: "There isn't a plan!" The improvisation doesn't work. The AI team diligently refer back to their design, which mightily impresses our judge, Em. "That's ambitious," she whispers, before going round the table to help Skanska sort out some corners.
Over on RLB's team, Ben brandishes aloft what he calls his "lucky rolling pin", only for Em to politely but firmly bring him back down to earth: "That's no good," she says pointing to the wooden instrument. "Use a plastic one." Correct tool in hand, Ben gets down to rolling out some fondant to act as the base of the Louvre, while Leah gets on with plastering butter cream to the outside of what will become the building's columns.
On the other side of the table, Skanska's Becki yelps as she nearly slices off the tips of her fingers with the cake leveller. Despite the near-GBH incident, she looks like she's having fun. Laughing, she demurs: "This is my idea of hell." Given how much she laughs throughout the afternoon, it clearly isn't. And that's the thing about this challenge. It is fun, and the nervous laughter soon gives way to something else.
A steady resolve. The teams start to get into it. At one point you could almost hear a pin drop in the room, such is the level of concentration. They want their structure to be the best it can be. People are getting focused. Competitive, almost.
Gradually the structures take shape. Sure, it's difficult for the uninitiated to see what shape, exactly, but progress is progress, whichever way you look at it.
Birthday cakes
Cake-making is part creativity, part science, and part of the science bit is making sure the sponge and icing and whatnot are at the correct temperature for reasons which, well, which flew above this writer's head somewhat. Nonetheless, part-made structures have to be deposited in the office fridge in order to harden up, so that they don't collapse when being assembled. The chilling process can take up to half an hour. That the room's aircon can't take the temperature below 18°C is also worrying Em. "Everything is in danger of melting before it's finished," she warns. Add in the bright sunshine streaming through the windows – requiring much raising and lowering of blinds – and all hell could break loose.
An hour and a half in and things are starting to get serious. Skanska's Milena has bagged up some Oreo biscuits and is bashing them with a rolling pin. Why? "To make earth," she replies. Of course. Silly question. Meanwhile, Emma pauses her fondant-kneading to enquire how she can get a few more subscriptions to Building. Luckily Chloë, the magazine's deputy editor, is helpfully on hand to sort out her request.
Just then, RLB's Ben utters a loud sigh as a piece falls off his team's edifice. Then another one. The pressure is definitely mounting. But he sticks at it, literally, and the Louvre starts to take shape, especially when Em shows him and Leah how to make the famous dome from off-cuts, rather than a mound of butter cream, "which definitely wouldn't work", she says. She then shows them how to carve it to the correct shape. "I can't help getting involved," she says, ruefully.
Over on the AI team, Jolien is vigorously mixing icing and putting it into piping bags, when Tom lets slip that today is Lucy's birthday. Everyone wishes her many happy returns, along with the hope that she won't be too sick of the sight of cake by the end of the competition to enjoy her own, should she receive one on her special day.
Fondant fancies
While it's a competition, there is also generosity. Short of white fondant, the RLB team politely ask Skanska if they can nick a bit of theirs. Skanska, having finished with it, gift them the whole lump. Bless. That's the Christmas spirit in action. Skanska's Emma is now cutting round a profile of a skyline comprised of buildings the firm has worked on in some capacity, which will adorn the base of the team's structure. It's fiddly work, but with risk comes reward, as they say.
The Louvre's dome complete, RLB's Ben deftly flicks food colouring over it to give the impression of the structure's lattice work. Chloë looks nervous about Building's boardroom table. The dome then goes on top of the sponge columns, and looking through the structure you can see the mini artworks, which is a nice touch. Over at Skanska, the team reveal their cake's adornments; the Lego crane and workmen, two diggers and the aforementioned mini-traffic cones. Becki sets to work grating green fondant, which will become grass for the riverbank. Riverbank?
Em shows AI how to swivel. This involves turning the revolving cake stand while creating a whirly pattern on the surface icing in order to render an intricate finish. A lot of swivelling ensues. It then transpires that AI's Lucy isn't a complete novice after all. She has a hobby-cum-sideline called "Self-Raising Power", which sees her making and decorating cupcakes for friends, family and anyone else who wants them. Eyebrows are raised, but she insists she's "not used to cakes".
With 15 minutes to go the AI and RLB teams have finished. Everyone stands and watches the Skanska team applying the finishing touches to their creation, which include fluffy clouds in a milky blue "sky", a road that winds its way around the base, and rubble tumbling down the side of a hill – those Oreos Milena was smashing up, basically. Oh, and the firm's corporate strapline, amended to mention the word "cakes". They've put in a lot of effort. But will it be enough?
Cakes completed, the teams are asked to adjourn to a nearby room while Em decides on a winner.
Brownies
She admires RLB's Louvre Abu Dhabi, especially being able to see inside the building but sadly, despite all Ben and Leah's hard work, "the final execution let you down". So despite being the only structure to be based on an actual building, third place it is. Second comes AI, who score big brownie points (sadly not exchangeable for actual brownies) for making their own butter cream, says Em. "And when I saw your design I thought you could have ended up the winner. It's a shame your structure couldn't have been bigger, with the scale of the end result matching your bold ambition," she says.
So that leaves Skanska the victor. Em says the trio's teamwork approach has been very impressive. "Plus I could see that you listened when I offered you advice. And that fondant grass … not many people would know about doing that." The Skanska trio, whom Em says have "worked brilliantly together" can't believe their luck. "I'm gobsmacked!" says Becki, echoing the feelings of her colleagues, while Emma is delighted, "especially as we were up against architects!". Milena adds: "We stuck with our idea and it was worth it."
Everyone says what a great time they've had, and how they have learned a lot about what at first sight seemed a fairly easy thing to do. "It's a lot harder than it looks," says RLB's Ben, while Leah states "fondant is definitely the way forward". The AI team are happy with both their building and Em's observations, with Tom describing the afternoon as "brilliant fun". Which is exactly what it was.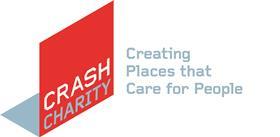 Support Crash
Please donate to Crash's Christmas Card Appeal. With your support Crash can continue to make a lasting difference to people who are homeless or in need of end of life care in a hospice today, tomorrow and throughout the year. Donate at www.crash.org.uk/event/crash-christmas-appeal-2017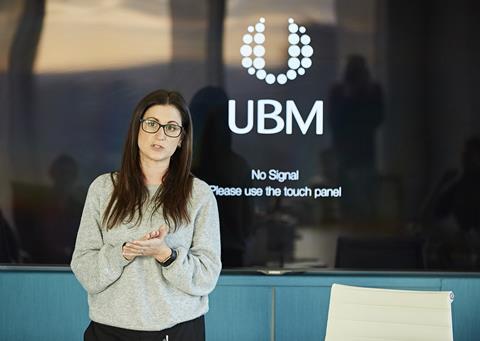 Many thanks to Emete of Friddle's Cakes for judging. Follow her creations @Friddlescakes