As a historic peace deal between the Colombian government and rebel group Farc is signed, Building returns to Bogotá to find out how British companies can benefit from the opportunities offered by a fast changing country hungry for housing and infrastructure - and the skills to provide them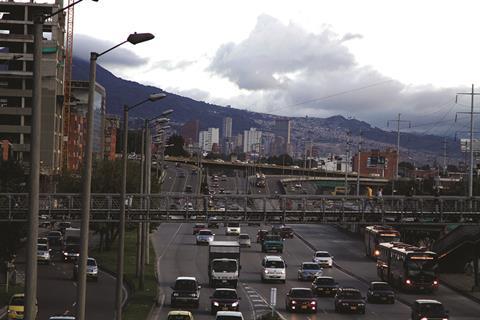 When Building first visited Colombia in 2012, we were greeted, like all visitors to its largest airport, by a brooding concrete hulk that was built in the 1950s and was painfully out of date. Four years later, Building is back in Bogotá, but has flown into the capital's new El Dorado airport. An impressive building - voted the best airport in Latin America, as posters dotted around the place will tell you - it is a match for Heathrow Terminal 5, with its glittering facades and stunning steel and glass structures.
El Nuevo Dorado, to give the airport its Spanish name, is a sign of the progress Colombia is making. The country is one of Latin America's fastest-growing and most open economies. GDP has grown by 4-5% annually for over a decade. While this is forecast to slow, it is still expected to grow by an average of 3.2% a year to 2030, according to Global Construction Perspectives. The country's construction sector meanwhile is expected to expand by 4.2% a year over that period - almost doubling in value to $136bn (£105bn), from $70bn (£54bn) in 2014. And that's before we start talking about the peace dividend that might fall to Colombia if this week's deal between the government and the rebel group Farc is approved in October's referendum (see box below).
Four years ago, Colombian officials and business leaders talked enthusiastically to Building about the wealth of opportunities available for British firms, particularly in the country's buoyant infrastructure sector. They talked a good game. But has this actually materialised? Clearly a few Brits think so. Arup, Currie & Brown and McBains Cooper have all joined transport consultant Steer Davies Gleave (SDG) in opening offices in Bogotá. Atkins has also picked up contracts here, while Gleeds is eyeing up the market from its newly launched Latin American outpost in neighbouring Ecuador.
What's new to the picture is that the real estate market is proving just as attractive to firms as the traditionally strong infrastructure sector, driven in part by growing demand from Colombia's burgeoning middle class.
So how are British firms taking advantage of Colombia's bountiful opportunities? And how could you go about joining them?
Inviting infrastructure
Infrastructure opportunities have long attracted firms to Colombia. British transport planner SDG first set up shop in Bogotá in 1999 - before even US globetrotting giant Aecom arrived in the country. For SDG, winning a bid to design the initial phase of Bogotá's Transmilenio bus rapid transit system opened the door to the country. The firm now has a 50-strong office in the Colombian capital, its second largest after London.
"There are a lot of infrastructure projects, and there is a lot of investment from the government," says Germán Lleras, a principal consultant at SDG responsible for all of its Latin American offices. "Also, unlike some other countries, Colombia is friendly to international investment and to British firms who want to locate here."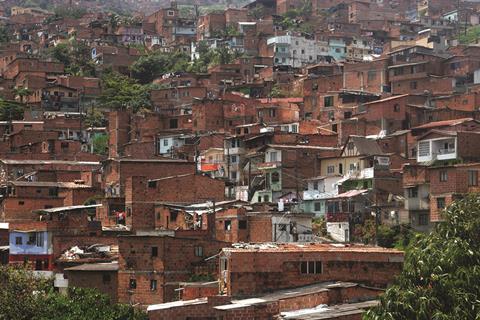 Colombia's president Juan Manuel Santos has long put a big emphasis on infrastructure spending. In 2011, he lit the blue touch paper on a £40bn, 10-year programme to upgrade the country's congested four-lane highways network, improve railways and expand the ports. This was followed up last year by a further £55bn programme of investment for transport links to 2030.
Part of Santos' plan involves revamping Colombia's entire road network. His flagship £7.6bn "4G" toll road programme aims to deliver 5,892km of new roads over the next seven years. As many taxi drivers in Bogotá will tell you, the country badly needs it. British firms are enjoying success on this 4G programme. SDG has won consultancy work on 95% of the 4G programme, while Arup - which started out in Colombia in 2007, but only set up an office two years ago - has also secured some work.
The 4G programme is a prime example of the country's booming infrastructure sector. Other examples include major upgrades to the transport network in Bogotá, with plans for a £2.3bn metro line - due to be operational by 2021 - and two new tramlines worth £1.2bn. There are also plans to invest £4bn in the country's ports and £3bn in the water sector.
Growth
Evidence of Colombia's economic growth can be seen on the streets of Bogotá - suited, middle class commuters pack the newly-built Transmilenio bus stations, on their way to jobs with big corporations in fancy office blocks situated in plush neighbourhoods like Chapinero or Usaquén.
Bigger and better infrastructure powers the economy and helps grow the country's middle class. It's reflected in the increasing number of glittering residential towers popping up across the city. Low-cost housing is also a pressing challenge for the country, particularly in rural areas. The country's housing deficit stands at 400,000 homes. Research from Spanish bank BBVA, which has a big presence across Colombia, suggests the housing deficit in cities like Bogotá and Medellín stands at around 8%, while in rural states like Chocó, it's a staggering 84%.The housing sector has been given presidential backing by Santos, who has an ambitious aim to halve the housing deficit within three years. His government recently handed over the last few hundred of 100,000 free homes built for the country's poorest citizens, at a cost of £560m.
Residential is now the second largest construction sub-sector in Colombia, worth around £22bn a year. It is also where a lot of firms in the country, including the Brits, are turning their attention. "For us, [infrastructure] is the main sector. It is the sector which opened up the opportunity to work here," says Juan Pablo Hoyos Trujillo, a director at McBains Cooper's office in Bogotá. "But now we are looking at the other big sector in Colombia, which is real estate."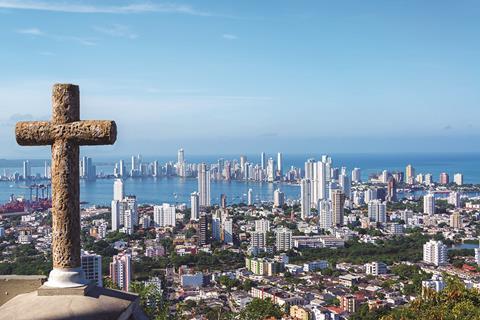 With the scale of residential opportunities available, it's clear to see why the likes of McBains Cooper are getting involved. Arup and SDG are also working in the sector. With so much demand, there's got to be a chance for more British firms, right? "Oh yes. It's one of the main industries that drives the economy. It gets jobs for people," says Enrique Botero Ramirez, a Colombian architect who used to work in the UK for a practice called THiiiNK Design. "There's a big shortage in this country with both the quantity and quality of housing - in real estate there is a very big industry."
SDG's Lleras agrees: "There is a big investment in housing, not only in the private sector but also the government is developing free or low-cost housing all over the country. That's a big area where we are looking to get involved."
Housing of all types is a big priority. The government has five policies for different income ranges, from middle class families and high-income earners to those in poverty. On average, the UK has 2.29 people per household. Colombia has 3.72 people per household. Its government wants to help everyone get on the property ladder.
Opportunities nationwide
Bogotá isn't the only Colombian city building skywards. The hill-town of Medellín - infamous as the former base of cocaine kingpin Pablo Escobar's violent drug empire, now mercifully consigned to Colombia's past - is a similar story. And in the tourist city of Cartagena, within walking distance of its picturesque old-town of colonial buildings, lies Bocagrande - an area dubbed "Mini Miami" due to its plethora of skyscrapers overlooking the Caribbean coast. It's typical of modern day Colombia, a nation with a growing middle class trying to give its people better housing and better access to jobs, facilitated by ever-improving transport links.
But it's not there yet. That's why Mauricio Uribe Gonzalez, director of Bogotá's Institute for Patrimonial Culture - which is part of the Ministry of Culture and aims to retrofit historic buildings across the city - believes opportunities for British firms are "immense".
"Colombia has so many opportunities for development, for industry, for foreign investment. Therefore it has a lot of opportunities for construction. The scope for work not just in Bogotá, but in Colombia as a whole, is immense," he says.
It also means the country needs more skills and more workers to help it grow. Gonzalez adds: "Colombia is changing. We need a lot of professions, and a lot of professionals."
New projects are happening here all the time. At the institute, Gonzalez is working on a plan to give old buildings in Bogotá a facelift. Juan Manuel Santos, his country's president, is working on a plan to give the whole country a facelift. Netflix's Narcos this isn't. But is it, to coin a gringo phrase, a Land of Opportunity? It seems ever more so.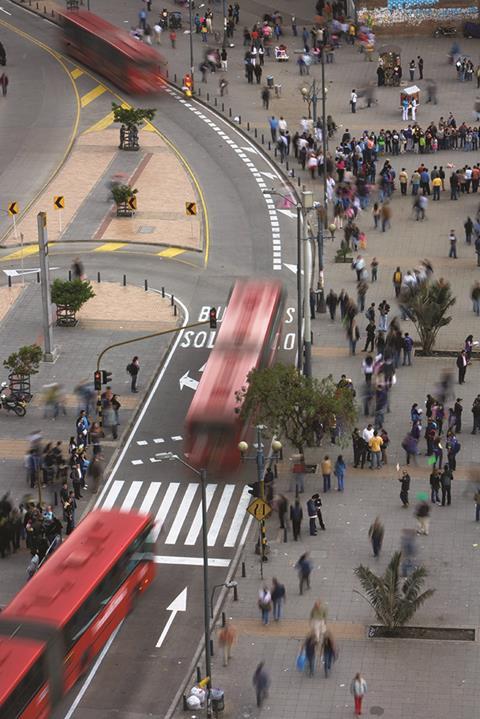 Want to come to Colombia?
Advice from McBains Cooper director Juan Pablo Hoyos Trujillo
"If you decide to go to Colombia, you have to understand it's for the long term. It is not a short-term solution. Otherwise you will not gain any substantial return on your investment. My advice is, 'if you want to go, okay let's do it'. At the start there will be a dip but after that you will see results. But if you want to solve a cash flow problem, it is not a solution. Throughout Colombia, you will find a lot of English speakers. We have a lot of people who try to learn English. But for technical issues, it will be better if you have a good understanding of Spanish. To have a common conversation there is no problem, but when you are talking to specialised people from the market, it's important to have a little bit of knowledge of the technical aspects of the vocabulary."

Why Colombia?
Germán Lleras, principal consultant at Steer Davies Gleave (SDG), admits the pipeline in Colombia isn't that much greater than in other countries across Latin America. A Colombian himself, Lleras is also responsible for SDG's offices in the likes of Brazil, Mexico and Chile. But he believes there is one good reason to choose Colombia over other places in South America. "The pool of staff is one of the best in Latin America," he says. "In other countries we can often struggle as there is not the same level of qualified staff. The pool of resources is much better in Colombia, there are a lot of well-trained architects and engineers. We even have Colombian engineers who work for us in our other offices around the world because the level of talent is so good here."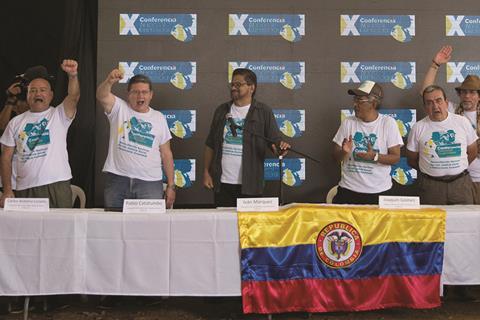 The peace dividend
Britain isn't the only country having a once in a lifetime referendum this year. Colombia is also having a vote on a peace deal between the government and left-wing guerrillas the Revolutionary Armed Forces of Colombia (Farc, pictured), which could end five decades of armed conflict if the public votes to accept it. But it's a referendum dividing the nation. Building spoke to several Colombians in both Bogotá and Cartagena who were split evenly between voting "yes" or "no". As far as the economy, and therefore construction, is concerned, the outcome is important. This week president Juan Manuel Santos told the BBC the peace deal will boost economic growth and enable the country to rebuild its social fabric. While Humberto de la Calle, chief government negotiator in the peace deal, warned a "no" vote would put an end to the peace process. "No" voters believe the deal is too lenient on Farc.