It's just 32 homes on a small plot in Toxteth, but Habitat for Humanity's housing project is creating a community of volunteers, trainees and entrepreneurs and bringing hope to an area feeling the brunt of the housing crisis
Writing about Liverpool's housing situation, which I have been doing in one capacity or another for more than seven years, is usually a dispiriting business, involving stories of economic decline, community upheaval and personal tragedy. But my latest trip to the city for Building proved to be a different experience entirely. Not that the elements of loss and waste were absent, but this time they were accompanied by something that had previously proved elusive: hope.
I was there to visit a project run by Habitat for Humanity (HfH). Most of the charity's work involves helping communities in the developing world to help themselves by building safe, decent homes. However, recognising that housing poverty isn't just a developing world issue, it decided to get involved in Liverpool and London, offering construction firms an opportunity to offer their support to communities both internationally and domestically.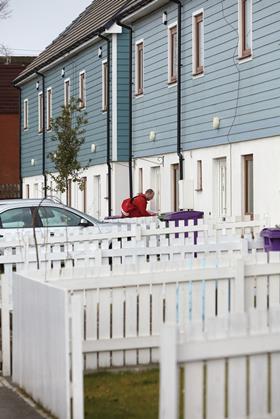 Today's housing crisis is a curse that blights all parts of the country but nowhere more poignantly than in Liverpool. It is impossible to approach the city by any form of transport without noticing the rows of boarded-up houses that surround the city centre. From some approaches it is as if a terrible plague has struck, taking all but the hardiest Scousers with it.
The basic problem is one of population decline and societal change. In 1950, Liverpool's population stood at around a million. It is now about half that figure. Such rapid contraction obviously has a profound impact on the number of homes needed, even once the increasing trend for single-person households is taken into account.
However, the changing nature of the local job market has played at least as great a part. At one time, the docks and surrounding infrastructure provided working class employment on a massive scale, creating a large population on broadly similar incomes. It was these people that Liverpool's inner suburbs were constructed to house. The homes weren't - aren't - big, but they were within walking distance of the docks and engendered a sense of community.
Then came the collapse of the shipbuilding industry. Those that could found work elsewhere. Those that couldn't remained in ever-worsening conditions, surrounded by half-empty streets, and with nothing to do but watch the value of their homes plummet. Anybody fortunate enough to find work in the new economy left their community, either for shiny new city centre developments or for the leafier suburbs - and who could blame them?
Into this unholy mess in the late nineties strode New Labour, bursting with confidence following a landslide election victory and determined to do something. That something turned out to be the Housing Market Renewal Pathfinder programme. It was controversial to say the least: hundreds of terraced homes were razed to the ground to make way for housing aimed at a wider cross-section of society, very few of which were actually built before the 2010 election.
If you ask a volunteer to hammer in four nails they use eight. But ask the same of a subcontractor, they put in two unless you keep an eye on them
However, the rights and wrongs of the Pathfinder programme are now irrelevant. The coalition cancelled it, rendering the refurbish or rebuild debate largely meaningless: there is now precious little money for either option. And so the people of areas such as Toxteth, Anfield and Edge Hill are left in an arguably worse situation than they were in in 1997.
Reporting from Liverpool over the years, I've met people who find their circumstances and the fatuousness of national politicians' claims of support darkly amusing. I've also met people who have cried tears of frustration in front of a perfect stranger. What I hadn't encountered until my latest trip were people who viewed the entire saga as an irrelevance.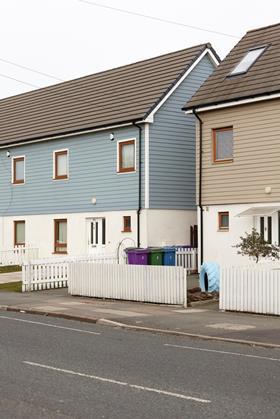 However, that is exactly what I found when I visited HfH's admittedly small-scale housing project on Kingsley Road in Toxteth. On the way to the site I asked programme and procurement manager Paul Taylor whether the project lay within the old Pathfinder boundaries. He replied that he thought it was just outside, but he wasn't sure. In fact, he didn't seem to know much about the programme. Given that Pathfinder has been headline news in Liverpool for years and that Taylor is responsible for a housing project in roughly the same area, that speaks volumes.
The HfH project involves the construction of 32 homes, nine of which have been completed, on a 2.2 acre plot donated to the charity by the Catholic church next door. It isn't aimed at Toxteth's poorest residents; rather, it is meant for people in work but lacking the funds to put towards a deposit for a mortgage. Future residents - "home partners" as they're called - commit to work 500 hours on constructing their home in exchange for a deposit of £10,000 supplied by HfH. The £10,000 is sufficient for home partners to secure a mortgage on a 50% share of the home, with the other half held by project partner Metropolitan Housing Association, which also supplies most of the development finance.
At first participants were selected on the basis of housing need, but it soon became obvious that this was raising hopes only for them to be dashed: potential residents would get so far through the process only to discover that a poor credit rating meant they couldn't access the necessary mortgage. Now anyone signing up for the scheme is required to get a credit rating check done first to ensure that they will be able to secure the loan. The system has led to a remarkable degree of resilience. Despite the economic downturn, no resident has as yet defaulted on their mortgage repayments, resulting in a stable community in an area recently famed for its transience.
Arriving at the site, the first person I meet is Ben Mpofu, one of the first people to benefit from the project and a naturally gregarious and laidback individual. Mpofu, a domestic decorator by trade, tells me that he first came across the project in 2009 when he was living in nearby Kensington. He signed up to the scheme, began volunteering on site in the same year and moved into his new home in 2010.
Normally on work experience placements you just end up making the tea, but here you get to do everything from the beginning to the end
However, Mpofu's involvement in the project did not end when he and his family were handed the keys to their new home: he continues to volunteer his time and Taylor says that Mpofu has painted most of the weather boards and fences on the homes completed thus far. Mpofu acknowledges this with a shrug of his shoulders and a grin.
In fact, Mpofu is just the first of many inspiring people I meet during the day. HfH has set up a partnership with a local college whereby students can volunteer at Kingsley Road in order to gain the practical experience required to complete their various vocational qualifications. One such volunteer is Paula Bowers, now completing her electrician's qualifications. Bowers is a professional translator, but wants to make a career change to something more hands on. In her hard hat and high-vis jacket her eyes radiate warmth and contentment as she evangelises for the experience she is gaining on the HfH project. "It's the best thing ever," she says. "Normally on work experience placements you just end up making the tea, but here you get to do everything from the beginning to the end."
As important as the home partners and volunteers undoubtedly are to the project, HfH's few full-time staff are clearly what hold it together. As well as Taylor, there's French-born Fabienne Matthews, who started out as a volunteer on the project five years ago before being promoted to volunteer co-ordinator last year. Fed up with paying out for shoddy electrical work, she trained as an electrician in her spare time and is, suitably enough, something of a live wire. "If you ask a volunteer to hammer in four nails they use eight," she sighs with just a hint of Gallic melodrama. "But if you ask the same of a subcontractor, they put in two unless you keep an eye on them."
While Matthews is responsible for managing volunteers on the site, Taylor looks after the few professional subcontractors that are required to ensure HfH meets its insurers' requirements.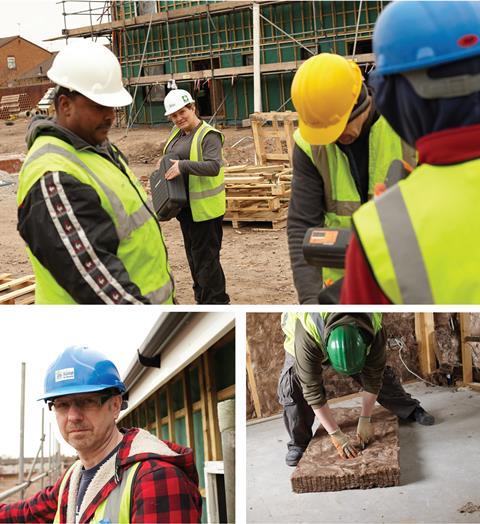 It is clear that the passion and camaraderie of the banter at Kingsley Road is more than skin deep: I got the sense that if you cut either Taylor or Matthews in two you would find a HfH logo etched through them like a stick of rock. And that was before we got onto the financial issues they have to contend with.
Under the arrangement the project has with the Metropolitan, the amount of money they can draw down from the housing association each month is dependent on how much progress they made in the previous four weeks. Fair enough, except for the fact that Kingsley Road is dependent on volunteer labour, which tends to fall off a cliff if the weather is bad. As a result, there are some months when the project can't cover its overheads, and the staff have on more than one occasion been forced to sacrifice their salaries in order to keep the entire enterprise from going under.
So the project constantly faces financial crises, but is kept going by the entrepreneurialism of the staff. Matthews' decision to train as an electrician to prevent HfH from getting ripped off again by incompetent firms is one example. Their having persuaded Pret a Manger to donate sandwiches to cover lunch costs for volunteers is another. The latest challenge is securing funding for a new road to provide access to the later stages of the project. They have already spent £100,000 on the road but don't have the funds to finish the job. "We need the money to make the road happen," says Taylor. "They're not cheap."
Ironically given the fact that the project is run by HfH, the current and future residents of Kingsley Road don't need charity. They need the structure provided by HfH to help themselves, for sure, but not a hand-out. In fact, what I witnessed was a classic example of entrepreneurial endeavour: people living off their wits and proceeding by any means possible. If that takes a small financial shot in the arm, in Liverpool or anywhere else HfH operates for that matter, then so be it. It certainly beats bowing to the uncertainties of the political breeze.
How you can support Habitat for Humanity's work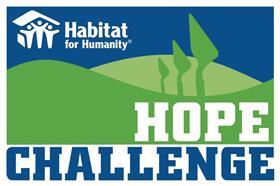 Taking place from 5-7 July this year, Habitat for Humanity's Hope Challenge will see teams compete to build shelters out of scrap materials in the heart of the Peak District. The teams will have to live in the shelters they construct for two nights and compete against each other in a series of challenges over the weekend, at the end of which one team will be crowned Hope Challenge Champions 2013.
Hope Challenge last took place in 2011, when teams from companies such as CBRE, Bovis Homes, Lovell, Barclays, HSBC and Taylor Wimpey competed for the top prize. Between them, the 35 teams raised £105,000 to support Habitat for Humanity's work around the world (see below); enough to help 85 families to escape poverty housing.
However, Hope Challenge isn't just about fundraising; it's also intended to be good fun. An on-site bar, the Drunken Hammer, will cater for all alcohol-related needs.
For more information visit www.habitatforhumanity.org.uk/hopechallenge
Habitat for Humanity

Founded by Millard Fuller, an American self-made millionaire, Habitat for Humanity has since 1976 assisted more than three million people repair, renovate or build over 600,000 homes in the belief that a decent home is an essential factor in tackling poverty. The charity now works in 70 countries worldwide and says that in the last year it has supported 94,618 families to build a safe home for themselves.
While the majority of Habitat for Humanity's work is done in developing nations - Millard's first international project was in Zaire, now the Democratic Republic of Congo, in 1973 - the charity says it will work to address housing poverty wherever it is found. As such, it has several projects in the UK in areas such as Peckham in south London, as well as Toxteth in Liverpool.
For more information visit www.habitatforhumanity.org.uk