If the top UK consultants want to stay at the top they need fast ways to grow, and that's not easy in a stagnant market. So the hunt is on to find suitable mergers, acquisitions and overseas ventures. Building reports on the latest manoeuvres in the sector
This week WSP is the latest consultant to publicly admit it is looking for a merger partner, in the teeth of falling sales and a tightening public sector market. It follows hot on the heels of EC Harris' admission of merger talks last week, and the lead taken by the likes of Davis Langdon with Aecom, and Scott Wilson with URS.
The drivers for the change are pretty clear, and have been known for a while: in a globalised market in which the UK is set to remain stagnant for some time, the only option for large consultants to retain their place at the top of the table is to achieve global scale.
Global reach to service major international firms and benefit from the high growth Asian and BRIC markets is vital, as is the ability to offer a wide range of services beyond traditional QS-ing and engineering. "With the UK and many other western economies in the doldrums, expansion means emerging economies," says Tony Williams, chairman of consultancy Building Value. Whereas last year, for many, was the year of thinking and planning, 2011 looks set to be the year of execution, with rumours growing of major deals on the cards.
The question for the top five UK consultants - ranked according to number of chartered staff - is whether a merger is the way to achieve the required scale, and if it is, whether they are the hunter or the hunted.
Scott Wilson and Davis Langdon were large meals for big American engineers URS and Aecom respectively last year. Those stalking UK firms include other large American firms such as Hill International which can gobble up UK firms cheaply thanks to a weak pound and large cash piles. Meanwhile well-capitalised UK players, like Capita Symonds, may snack on smaller firms if a tempting opportunity appears.
However, mergers aren't the only way to achieve scale, they are just the fastest way to get there. This week we look in detail at the strategies of the top five consultants and ask how likely they are to work.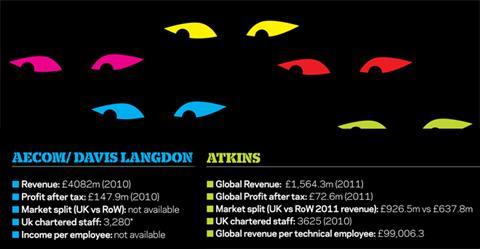 Aecom / Davis Langdon
What's its plan?
The US engineering and consulting giant has its tentacles stretched to all parts of the globe, growing quickly through raft of acquisitions in recent years funded with deep pockets - at the end of September 2010, it had $613m in cash and cash equivalents. In 2009/10 alone it spent $768m on acquisitions, using these purchases to enter new markets and new disciplines. These purchases mean it now boasts planning, consulting, architecture, programme and construction management in addition to its core engineering offering, and last year it became one of the highest profile American firms to acquire a UK consultant when it bought Davis Langdon for $324m. Now, according to DL's global boss Jeremy Horner he is focusing on growth in North America, Australia and New Zealand, moving directors out to these markets to drive business. Aecom as a whole has also said it is looking to expanding services and revenues in transportation, facilities, environmental, energy, water and government markets in particular. In its most recent annual report, the company said it would "continue to pursue [its] acquisition strategy […] We believe that the trend towards consolidation in our industry will continue to produce candidates that align with our acquisition strategy".
Will it work?
Yuri Lynk, senior equity analyst at Canacord Genuity in the USA, says Aecom's acquisitive strategy has "worked well for them". As for the future, he says: "They are going to expand geographically and by product offering. They are eyeing India and Brazil especially -but that's no surprise; who isn't? The mining market in Canada is somewhere they would like to grow, as well as in Australia and Africa." Mining, India and Brazil are areas where the company is not big at the moment. Tere is concern, however, that Aecom has been too acquisitive. A senior figure in the sector speculates that Aecom globally is now so large that it is very dependent on getting enough work to cover its overheads."As long as the market keeps growing and they keep doing acquistions, it is good. "
*Aecom was unable to issue exact figures for UK chartered staff. Our figure was compiled from DL's 2010 staff numbers plus the technical staff record in Aecom's most recent accounts, from 2009
Atkins
What's its plan?
The engineer and architect has a strategy of expansion through smaller acquisitions and organic growth. Its best markets in recent years have been the Middle East, partly helped by the recovery of £8m of outstanding debts, and the US, where it was buoyed by the takeover of US design firm PBSJ in August 2010. Heath Drewett, group finance director, says that currently Saudi Arabia and Qatar have "material opportunities for us" in housing and infrastructure. Outgoing chief executive Keith Clarke, who announced his retirement last month, says there's room for organic growth in the US after the PBSJ acquisition.
Other key geographies include Scandinavia - the firm bought Danish bridge builder Gimsing & Madsen in 2010 - and China. Drewett says Atkins will continue to invest there, although growth may take several years.
Energy is a key area. Atkins acquired some energy firms and set up a joint venture, NAAA, with French firm Assystem to provide nuclear new build and services. Its expansion beyond niche safety case work into wider design also brings in work for other parts of the firm, Clarke says.
Will it work?
The big question is whether the change in leadership will affect Atkins' ability to deliver. Graham Brown, director at investment bank Evolution Securities, predicts there might be a pause in Atkins' acquisitions while incoming chief executive Uwe Krueger gets acquainted with the business, but eventually the firm will buy more companies, particularly more US assets. Nevertheless Atkins is viewed as a stable firm without any exceptional pressures. Their strategy - to expand in growth markets and countries through small acquisitions and organic growth - is widely seen as sensible. "Atkins is big, established, very spread out with continued work load," says a senior QS. "It is business as usual; they are choosing a couple of areas where they want to put more emphasis."
Capita Symonds
What's its plan?
Quantity surveyor and architect Capita Symonds has a reputation for being acquisitive, buying eight firms in the three years to September 2010. In December 2010 chief executive Jonathan Goring said he wanted to buy around three property management firms to make it the biggest player in the sector in the UK and also buy a project manager. He confirms that's "still the plan" but will not give any more details. "The issue with the project manager is we are gradually moving into emerging economies globally so having fire power in these areas would be useful," he says.
He's especially interested in Africa, the Middle East outside the Emirates, and India. Capita Symonds has local joint ventures in Kenya, India, Saudi Arabia and Qatar, and is looking for more. Currently Capita Symonds' overseas operations make up a small part of its turnover - 7.9% in 2010 and 6.7% in 2009 - but this is set to grow. "We will probably grow by 50% a year overseas for the next three years at least," says Goring. The rumour mill has suggested that Capita Symonds might want to take over Mouchel but Goring refuses to be drawn, only saying that it is "difficult to see what's inside Mouchel at the moment".
Interestingly, it is one of the few firms in the current climate that, given its relationship to its outsourcing giant parent Capita, is still saying that the UK public sector will provide much of its work.
Will it work?
There's no denying that with little overseas work and a high public sector exposure, things are difficult. But while the UK public sector is enduring spending cuts, a number of experts think the firm will ride out the storm. "A lot of government spending is around change strategies and outsourcing, so as a business they can see opportunities there," says Jan Crosby at consultancy KPMG. In addition Capita Group is also not as skewed towards public work as might be thought; half its revenues come from the private sector. Both Capita Symonds' and Capita's revenues have continued to rise, and Capita Symonds' underlying profit rose £2.5m in 2010. While the firm's overseas turnover is expected to grow, it will still lag a long way behind the rest of the top five consultants. Meanwhile being owned by the £2.7bn turnover Capita Group means it is relatively immune from external takeover approaches.
Mott MacDonald
What's its plan?
Mott is a different beast to the rest: it is employee-owned and has no ambition to become more traditionally corporate or float. Building's engineering consultant of the year is aiming for £1.5bn turnover by 2015 with growth of about 10% a year. Chairman Keith Howells says: "We are employee-owned and want to stay that way". He admits it gets the occasional approach from other employee-owned firms but "nothing we are taking seriously," he says. While he may look at purchases to take it into a new region or market, he is not looking at big acquisitions, with M&A activity typically representing under 5% of growth. "Most of our effort is in organic growth; we are not great acquirers," he says. Howells is interested in expansion in water and energy in the US, and more generally in Australia and Scandinavia. "If we were going to buy anything it would be outside this country and ideally something with a bit of mining in it."
Will it work?
Of all the top five, Mott is probably the one under least pressure to expand, given its existing scale. The boss of one competitor firm says: "It's a good business and has good international coverage. They are able to manage their risks quite well." Tony Williams at Building Value adds that they are "very profitable and stuffed with cash. They do not need anybody."
EC Harris
What's its plan?
EC Harris has been open about its intention to position itself as a strategic "built asset consultancy" rather than simply a QS and project manager, and as such it is looking hard at getting in to higher value areas of consultancy. It has also made no secret of the fact it needs to expand, targeting a flotation when it reaches between £400m and £500m in turnover. How it gets there is one of its big issues - turnover actually fell 18% to £270m in its last results - with acquisitions and mergers both big and small on the cards. Last week the firm revealed it had been in talks with several potential merger partners, with its broad "built asset consultancy" aim meaning it is able to entertain talks with property consultants, engineers or rivals QSs without compromising its position. Sources have mentioned Turner & Townsend, URS and property consultancy King Sturge. EC Harris' chief executive Philip Youell says: "We have set out our stall. In order to be successful we need scale. So we're actively looking for organisations that share our vision and want to go on that journey with us."
Will it work?
EC Harris is a good business, but there is no disguising the fact that traditional QSs are under pressure. Not everyone is convinced by the talk of a public listing. Building Value's Williams says: "I am not surprised they are talking about a float but a merger will be cheaper and more satisfactory for them longer term." He says the stock market has tended to tar all consultants - both troubled and successful - with the same brush. Some in the market doubt whether they will float at all, believing that the talk of a listing was an advertisement to attract a merger partner. "It puts a flag up," says one industry source, adding that the firm needed to grow in order to deliver the promised diversity of services it provides beyond its core base of project management and quantity surveying. "Their challenge is to diversify but to have sufficient size within the diversifications so they can be treated credibly."