After last November's super-typhoon Haiyan, the Filipinos are showing their resilience. Alan Hearn of Langdon & Seah and Magda Skalska-Burgess of EC Harris outline an impressive economy and strong construction market forecasts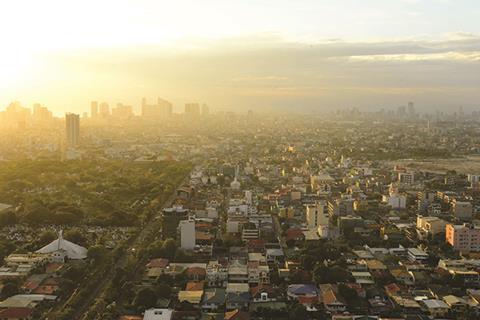 01 / Introduction
The Republic of the Philippines, an archipelago of 7,107 islands, is a sovereign island country in Southeast Asia situated in the western Pacific Ocean. It is the 64th-largest country in the world and with a population of 99 million, it is the seventh most populated country in Asia and the 12th most populated country in the world. Additionally, there are 12 million overseas Filipino workers (OFW) who constitute one of the world's largest and most influential diaspora.
While the most populous city is Quezon City, Manila is the Philippines capital and the centre of Metropolitan Manila, the National Capital Region. Metro Manila is composed of 16 cities and is the 11th most populous metropolis in the world. The Manila region accounts for 37% of the Philippine GDP, 13% of employment and contributes 41% of the country's total tax collection.
The Philippines is the 41st largest economy in the world, according to the World Economic League Table report for 2013, and is forecast to gradually rise to reach 18th place in 2028. However, the recent typhoon Haiyan exposed a certain political dysfunction in the country as well as gaps in public services. An informal system of patronage and family ties underlie the country's formal democracy and shape everyday politics.
02 / Economic outlook
Due to a combination of robust domestic spending, sound fiscal management, resilient remittance inflows and political stability, the Philippines is seeing a resurgence of growth. Since 2008 the Philippines' GDP has expanded from 4.5% to 6.8% in 2012 - meeting the government's targeted 6%-7% growth. Although rocked by the worst typhoon in its history last November, the Philippines was one of Asia's 2013 success stories, maintaining strong macroeconomic fundamentals and steady GDP growth.
In 2013, the Philippines earned upgrades to its investment grade ratings from three of the world's leading ratings bodies. According to HSBC, the Philippine economy is to become the 16th largest economy in the world, fifth largest economy in Asia and the largest economy in the South East Asian region by the year 2050. Goldman Sachs estimates that in the same period the Philippine economy will become the 14th largest in the world.
03 / Construction market
There are several factors boosting growth in the construction sector in the Philippines - namely, population growth, tourism and retail expansion, but there are three that prevail and truly influence this sector. These are public-private partnerships (PPP) initiatives restructured by the government in 2010, rapid growth in the country's business process outsourcing (BPO), and the reconstruction of areas devastated by Typhoon Haiyan.
PPP was intended to be the Philippines' answer to financing, construction and operation of key government infrastructure projects as well as one of the administration's strategies to improve the economic environment in the country. It is estimated that it has generated about US$19.5bn of investment since inception. A variety of projects offered for bidding under the PPP scheme provides a huge boost for construction in the country.
BPO emerged as another stimulant for construction when in 2005 the Philippines started to compete with India and other low-wage destinations in a rapidly evolving outsourcing market. It is forecast that the BPO industry will add around 124,000 jobs to the Philippines market this year alone.
Finally, the destruction left by Typhoon Haiyan has highlighted the pressing need for the Philippines administration to spend more on building quality infrastructure. As a result the country's construction sector is expected to post double digit growth for 2014 with at least a 40% share in the first quarter's GDP.
04 / Infrastructure
Philippine's government historically limited spend on infrastructure, on average 2% of GDP, compared with 9% in China or 5% in Europe, placed Philippines at 98th out of 148 countries ranked by the World Economic Forum according to the quality of their infrastructure. Typhoon Haiyan has helped focus government spend, and forecasters predict that infrastructure construction will be the fastest growing construction market this year. In the first eight months of 2013, infrastructure spending grew by 38.5% year on year with overall government spend at US$6.7bn in 2013. There are plans to increase this to US$19bn by 2016.
Most of the landmark infrastructure projects are part of the PPP programme. The Philippines set up a dedicated PPP centre that acts as a co-ordinating and monitoring agency for the programme, and together with other governmental facilities and units focuses its attention on smooth preparation, procurement and bidding of PPP projects. At the beginning of this year the PPP centre had 35 projects in its pipeline of which five had awarded contracts.
However, progress on the Philippines' PPP programme is slow. Delays during prequalification, design and land acquisition, lack of transparency, poor communication between authorities and investors as well as problems with implementation are some of the issues. Despite dedicated institutions set up to lead the programme, a lack of experience in dealing with private investors as well as an outdated legal framework have already caused delays and cancellations of contracts.
Roads
Mountainous terrain, the scattered geography of the islands and the government's persistent underinvestment has led to only around 20% of roads in Philippines being paved. As a result, roads are now at the forefront of PPP programme. Two of largest projects are the construction of the NAIA Expressway, an elevated toll road that will connect Manila's three airports; and the Mactan-Cebu International Airport (US$330m) and the Cavite-Laguna Expressway (US$800m).
Rail
Train services in Philippines are provided by three main railway networks that serve different areas of Metro Manila and parts of Luzon. Out of five PPP initiatives in the sector, the 900-kilometer Integrated Luzon Railway is the most ambitious, but is still in the preparation/feasibility study stages. Additionally, the government plans worth around US$1.4bn expansion of the Manila Light Rail Transit System (LRT-1) line as well as privatisation of the Manila Metro Rail Transit System (MRT-3). There is also a plan for the 90-kilometer commuter railway under Mass Transit System.
Ports
With around 3,200km of navigable waterways around the Philippines, port infrastructure is essential for the socio- economic development of the country. The majority of projects this year include renovation of ports damaged by typhoon Haiyan, but several upgrades and expansions are planned too.
Airports
Although there are 247 airports across the Philippines, only 83 are tarmaced and only four are classed as international (Manila, Cebu and two ex-US bases at Subic and Clark). While there are several PPP airport projects planned (six are operation and maintenance contracts, one is the construction of a new terminal building at Cebu) delays in evaluation of bids and revisions to the concessional terms mean that works are not likely to commence soon.
05 / Energy
Geographical position of the Philippines exposes it to earthquakes and typhoons, but is also a source of natural resources. The Philippines has vast reserves of oil, natural gas and coal as well as geothermal energy and hydroelectricity potential. What is more, the country's current exploitation rate of these resources means they will be obtainable for a long time.
Notwithstanding this, a growing population and industrial development forces the country to depend on imports of coal to meet the domestic demand. Despite a coal extraction rate increase in recent years, coal consumption outweighs the production. Similarly with electricity demand, which is currently being met by hydroelectricity centres, but is forecasted to outstretch supply by 4,000 - 4,350 megawatts by 2016.
06 / Key data: The Philippines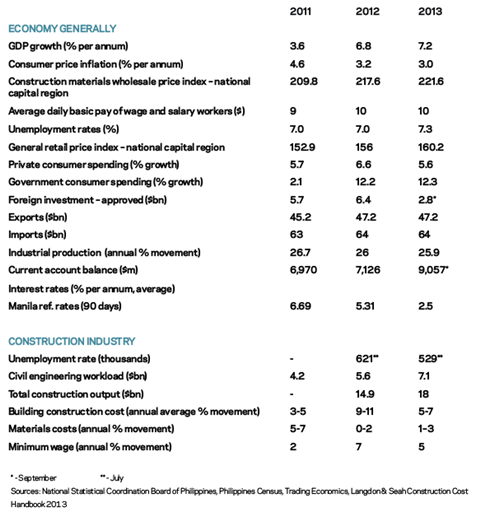 07 / Commercial sector
Overall, developers are optimistic in investing due to strong domestic consumption supported by the robust Philippine economy. Optimism in the business climate continues to drive demand in the sector.
Office Real estate agents point to the growing Outsourcing and Offshoring industry, which is expected to continue driving demand in the office market. Revenues of the BPO industry in Philippines in 2012 were estimated at US$13bn. Several multinational companies are planning to establish themselves in the Philippines, which will result in supply of more than 250,000m2 of office space by mid-2015. Metro Manila remains a strong player in the field and as of the third quarter of 2013, CBRE reported that 97.3% of metropolis' offices have been occupied.
Retail Metro Manila retail stock increased by 180,000m2 to 5.5 million m2, with four new malls completed from April to September 2013. By year-end, an additional 195,000m2 will be added to the retail stock, the highest level of construction in a single quarter since 4Q 2004. Additionally, over 548,000m2 of retail space is in the pipeline and is targeted to be delivered within 2014 to 2016. Forecasters point to an average of 5% increase in rent in Manila, Makati and Cebu in the short term.
Industrial The industrial property market sector was slow moving but is set to pick up pace in 2014. Rising labour costs as well as growing regional territorial disputes have prompted a number of manufacturers to move out of China, Japan or South Korea and are now looking for more hospitable locations in Southeast Asia. Philippines offers low value land (in Manila land value remains at $8.66m2 compared with $13.38m2 in Bangkok and $29.12m2 in Beijing) and weaker local currency, which benefits exporters. The majority of industrial park development is seen in Calabarzon as well as in the Angeles-Clark area.
08 / Residential
The residential leasing and sales markets are forecast to remain stable in the next 12 months with healthy residential demand, moderate rent and capital value growth moving forward. Sustainable conditions in the sector are predominantly due to population growth but also a high demand for residential constructions from the OFWs who want a permanent residence in their home country.
In the five submarkets tracked by Colliers, a total of 4,400 condominium units were completed in 2013. Of these, 2,100 were delivered in Fort Bonifacio while the rest were located in Makati CBD and Ortigas Centre. Some 80% of these were studio and one-bedroom units. An average of 5,880 units will be completed annually between 2014 and 2016, leading to a total supply of over 78,000 units in the CBDs being covered.
09 / Public sector
With the construction sector expected to become a $21bn industry by 2016, growth of the public sector on the back of PPP programmes is forecast to comprise $9bn of this. Overall construction is set to account for up to 50% of economic expansion in 2014.
Education
Despite substantially lower investment in education than in other emerging economies, the country's educational system has produced around 93.4% literacy. Under the PPP umbrella the Philippine government has already implemented two school infrastructure projects with a combined value of US$600m.
Healthcare
The Philippines' healthcare facilities lag behind those in other East Asian countries. Expanding population led to the establishment of a dual system of public and private healthcare. Investment in the healthcare system will continue to increase and the construction of a 700-bed super-specialty tertiary orthopedic hospital projected to cost around US$132m, is just one example.
10 / Construction capacity and price levels
The Philippine construction industry is expected to grow by 17% to US$21bn this year from last year's estimate of US$18bn. Of the US$21bn worth of construction projects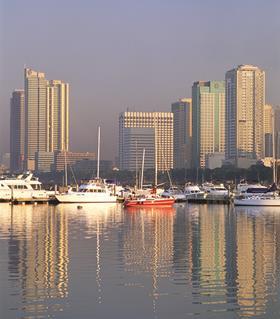 expected this year, US$11bn will be for commercial, residential and leisure construction and US$10bn in civil, infrastructure and utilities. Utilities construction starts are forecast to equate to 56% of total civil construction starts for 2014, while infrastructure construction starts will comprise 44%. Infrastructure (including transport) projects are expected to reach over US$4.2bn throughout 2014.
11 / Labour and materials
Although wage rates and materials' prices have been steadily increasing, the margin has not been significant nor has it been fluctuating randomly. The increase in material prices has been within 3% year on year and for wage rates between 5% and 7%. The country's focus on infrastructure development will increase the demand for civil engineers and construction labourers, which in consequence may lead to a rapid growth in the salary and wage levels. The demand for construction works has posed a challenge in securing sufficient skilled workers for projects being carried out concurrently. Whilst this has not necessarily translated to any shortages of materials to date, it is a factor that the contractors consider when bidding for work.
12 / Construction tender prices
Although there is no tender price index that is readily available to provide the trend regarding tender prices in the Philippines, several conclusions may be observed: the materials and labour rates have only marginally changed from 2012 to 2013; the level of preliminaries included in the tender returns has significantly increased; many projects now have allowance for expat consultants and supervisors, and contractors tend to include pricing risk within the contract. All of those factors ultimately influence the tender price.
13 / Construction costs