Taming the industry's out-of-control practices could benefit all levels of the supply chain – but who can make that happen? Will Ing examines the case for a national regulator for construction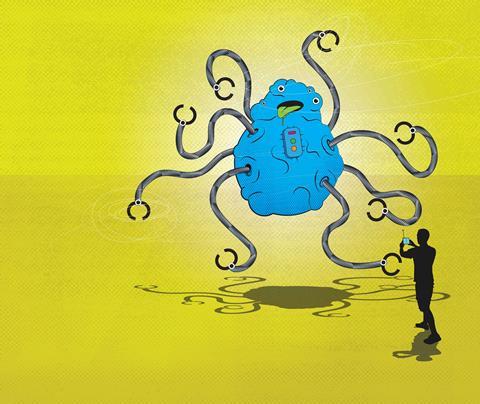 "We keep on getting more reports and more wringing of hands," says Rudi Klein, chief executive of the Specialist Engineering Contractors Group. "Nothing ever changes. Bad practice is embedded 50ft into the ground in this industry."
Klein represents a group of seven trade bodies for engineering subcontractors, and he has spent more than two decades campaigning for better payment practices. For Klein, the problem is an urgent and severe one that is doing significant damage to small firms, as "main contractors retaining funds through late payment are putting their supply chains in financial peril". Many small firms are unable to get insurance to work with the UK's biggest construction companies because of the ailing balance sheets of those main contractors. And yet in Klein's 20 years on this particular soapbox, not much has changed. The private member's bill in the House of Commons to rein in damaging retention practices, proposed by Tory MP Peter Aldous, has been delayed five times, leading to doubts it will ever be heard.
Yet it's not as if the big companies are rolling in cash and the payment model isn't really working for them either: at Building Live last year a senior director at one of the country's biggest contractors warned that operating models had to change. "The current business model and risk profile [of big contractors] is not sustainable in its current form," said Mark Castle, Mace's deputy chief operating office for construction. "Companies need to be able to earn sensible levels of operating margin so as to reinvest."
"Government cannot manage its own public procurement, so what regulator is going to have the ability and teeth to do it?"

Andy Steele, Osborne
So, what can be done? Reformers say hange is unlikely to come from the contractors themselves – after all, they haven't done much so far to initiate reform. Many call for a top-down approach; most sectors of the economy have one, if not several, regulatory bodies. In November, the SEC Group, on behalf of 60,000 firms, called for construction to have one too.
So, what would a permanent regulatory authority look like – and what would it do? Is it feasible, let alone desirable? And could it just be the answer to the industry's many woes?
Potential
"Nothing can manage the industry," says Andy Steele, chief executive of Osborne, a £320m-turnover contractor based in Surrey.
"I think you would create a monster. If you are just adding another layer of administrative costs to the industry, we're going to be even less productive."
Klein has an answer to this objection, saying the government would fund the body, with a levy on industry an additional possibility. But he is clear he thinks a regulatory authority would pay for itself over time, through productivity gains and improvement to the sector's GDP. The actual cost of a body depends hugely on what it does. The Financial Conduct Authority for the financial services sector costs £600m a year, while the water sector's Ofwat costs £23m and the supermarket ombudsman, £700,000.
The question of the remit of such a body is more complex to address; Klein says a regulatory body could carry out three main functions.
First, a construction body could provide accreditation for firms in order to raise standards in the industry. This, Klein says, would improve the quality of buildings across the board, and would also rein in firms which perform poorly, and which undercut legitimate businesses.
Second, the body could arbitrate on the most severe cases of financial disagreements between contractors and subcontractors.
And thirdly, it could promote better methods of procurement in the public sector. Klein says a new body could draw up a code of practice for procurement, including competency and ethical provisions.
"People have tried to use the carrot approach to making contractors behave better. we need to start using the stick'

Rudi Klein, SEC
Licensing
Ann Bentley is global chairman of Rider Levett Bucknall (RLB), as well as the Construction Leadership Council's lead on supply chain and business models. Bentley says she is "sympathetic" to the idea of a body such as an official regulator licensing firms. "In other industries – and in other countries [such as the US and Germany] – this is standard."
A regulator could create a set of rules and standards which have to be followed for firms to be allowed to work in the construction industry. "Nurses not only have to be licensed, they have to be relicensed after a certain period," says Bentley. "When I go to hospital, I'm grateful knowing that this professional has passed rigorous tests and knows what they are doing. When I stand in a multi-storey car park, it would be good to know that the person who poured the concrete was properly qualified to do so."
Osborne's Steele points out that accreditation schemes have been introduced in the past, but they "didn't gain traction because nobody insisted they were used".
"The only way it could be done is if it's legally imposed, and even stuff that is legally imposed the industry doesn't always deal with," he adds.
Then there is the question of sheer scale. RLB's Bentley says a lot of problems that occur in buildings come as a result of a lack of professional standards further down the supply chain, while big firms have a reputation to consider. "Raising professional standards is desirable, but it needs to happen from the bottom – which probably just isn't realistic," she says. But with over 350,000 businesses operating in construction, licensing would take an enormous bureaucratic capability – an expensive and time-consuming task even if the government weren't already trying to plan for Brexit.
How they do it elsewhere
Building and Construction Authority – Singapore
The regulatory authority was funded in 1999 through a merger of two existing bodies: the Construction Industry Development Board and the Building Control Division, a part of the former Public Works Department. The agency has a remit to ensure the construction industry builds high-quality buildings in a safe way. It has several schemes to help raise the construction industry's professionalism: there is a register of tradespersons, an "academy" to train firms with new technologies, and targets for the adoption of BIM. The authority also promotes sustainable building under a "Green Building Masterplan".
The Office for Procurement Ombudsman – Canada
Founded in 2008, the body resolves contract disputes between businesses and the federal government. It investigates complaints and provides dispute resolution to help parties get back to business when issues arise. It also reviews contracting by the federal government and makes recommendations on how it can be improved.
Arbitration
For the arbitration prong of a proposed regulator's work, Klein suggests looking to the Groceries Code Adjudicator: an ombudsman created in 2013 to monitor the actions of the 10 supermarkets with a turnover of above £1bn.
A grocers' code of practice, setting out guidelines for how supermarkets should treat their supply chain, had already been drawn up four years earlier. It includes provisions for prompt payment and outlaws several practices supermarkets had previously used to transfer risk and cost to suppliers.
The ombudsman was given the power to launch investigations where there is suspicion a grocer has broken the code; arbitrate in disputes between retailers and suppliers; and ultimately fine firms up to 1% of their turnover.
"When you penalise a few firms, others sit up and notice," Klein says. "Over the years, people have tried to use the carrot approach to making contractors behave better, but they just ignore that. We need to start using the stick."
Klein suggests money raised from fining firms could be reinvested in the office regulator itself, although he also suggests an alternative sanction available to a regulator could be banning contractors from winning further public work.
RLB's Bentley expresses concern about unintended consequences to this: "You would have to make sure that if you were going to fine someone or stop giving them government work, their supply chain doesn't suffer unduly. Although that must be equally true in supermarkets – that if Tesco got fined, the people they buy tomatoes off might be threatened," she acknowledges.
But with several high-profile contractors having chalked up losses and gone, cap in hand, to ask lenders or investors for more money in the past year, the idea of slapping poor performers with further fines or removing a hunk of their revenue could prove unpalatable.
And the supermarket industry is different from construction in more ways than this. The top 10 grocers have around a 95% share of the market and if Asda and Sainsbury's merge, as planned, the top three would have a 70% stake. The top three construction companies by revenue, according to Building's 2018 leaderboard, are Balfour Beatty, Barratt Homes and Kier. These firms have nowhere near a 70% share of the market – it's probably nearer to 10%. And it's worth noting they are, despite some overlap, very different businesses working in different parts of the market.
This does not render the comparison redundant. Klein acknowledges a construction arbitrator along these lines would have an "immense workload," and suggests it would have to start by arbitrating on the most severe disagreements and investigating the most egregious malpractice. The outcome, he argues, would be that other companies "sit up and notice," with the industry collectively improved over time.
But for Osborne's Steele, regulators need a narrow focus, and are better at maintaining, rather than driving, a minimum standard.
"The construction industry is already regulated [like all industries] by the Health and Safety Executive: does that drive a massive improvement? I don't think it does – I think it's a policeman, not an improver."
Procurement
Steele says financial disagreements between contractors and subcontractors are merely symptomatic of a wider malaise in the sector, which should be the area – if any – that needs most fundamental reform. "We need to be improving contractual relationships so we have the right risk profile between the customer and the contractor and therefore the supply chain. If the cash flow is managed properly, right the way through the supply chain, subcontractors' concerns will be addressed. We need to tackle the cause, not the single issue."
Klein agrees that risk management in the industry is a problem – but thinks a regulatory authority could play a key role in looking at procurement practices. "Britain is the outsourcing capital of the world, and it's all about transferring risks to somebody else," he says. He suggests an "Office for Construction" could set up a code of practice for public-sector procurement, promoting methods which appoint competent project teams that can work collaboratively with one another. His favourite route to this is integrated project insurance – notably used to construct a building for Dudley College in the West Midlands – which incentivises teamwork and insures contractors against cost overruns.
Bentley has long spearheaded a campaign for better public procurement. Last year she wrote a paper for the government in which she suggested an overhaul of procurement practices could save the construction industry £15bn a year. She also thinks there is a need to reassess how contracts are structured in order to improve the quality of building: "We need to change the attitude toward value from lowest tender price, to tender price plus performance."
So does she think there is a case for a body to promote better procurement? "In short, yes. But from working with government I know that the more you look into proposals like this, the more difficult they are in practice. I advocate government using its buying power to improve the construction industry. I absolutely think at the moment it still doesn't do as well as it could, and if you had a body that was even just looking at that, it would improve things."
Steele remains sceptical: "Government cannot manage its own public procurement, so what form of regulator is going to have the ability and teeth to be able to do that?"
He also points out that there are other means by which to improve procurement without setting up a regulatory body. The government has recently asked firms to apply for a £30bn mega-framework in a bid to simplify its procurement processes, while Network Rail has added in conditions about prompt payment into its frameworks. "As a procurement company," says Mark Robinson, chief executive of public sector procurement body Scape "we are able to change how contractors deliver projects by enforcing strict minimum standards on payment terms."
Cost
Against a possible £15bn of savings, the price tag for a regulator looks decidedly cheap. And the case for doing something dramatic to improve the industry is compelling, no matter where you sit in the supply chain.
Osborne's Steele says if procurement can be improved, payment practices will get better for subcontractors. "Over the long term that will no doubt be the outcome," agrees Klein. "But the lump-sum, lowest-price contracting is still very much with us across the board. In the mean time we cannot justify not paying people who add most of the added value."
But the scale of the task at hand is offputting. "Probably the biggest problem we have in the industry at the moment is how fragmented it is," says Steele. As well as not having a regulatory authority it is one of the unique things about the industry. Scape's Robinson says he would "in principle" support the introduction of a regulatory authority for construction but adds: "With over 350,000 supply chain businesses spread across a £90bn workstream […] putting mechanisms in place to have sufficient tough points and oversight would be a significant, and costly undertaking." Licensing construction companies, whatever the positive benefit for outcomes and businesses and employees, would be an immensely complicated task.
Perhaps a better case for a new body revolves around improving public procurement.
But whatever its remit, and whatever the level of support for the idea, question marks remain over whether there is the political momentum to see the idea through. Bentley says the problem with establishing a regulatory authority is that it covers a longer timescale than politicians work to. "MPs have a five-year tenure, so if you don't deliver something by year three – so you can sit on your laurels and demonstrate it works for a year before the next election – you have got to think long and hard from a political point of view of whether it is worth supporting."
Nevertheless, she thinks there is a chance a new body for construction could be established. "It's much more likely that a Labour government would do it than a Conservative government – it's central control versus free market economics. But under a Labour government, I think it would happen."
That Klein will finally get his wish and see any kind of regulator created that can impose on construction the reform it clearly needs, is certainly possible – but a lot of attitudes, industry opinion and perhaps even the national government may need to change first.