As the pressure to achieve low-carbon developments intensifies, decentralised, privately-funded energy solutions are in increasingly high demand. Andy Pearson examines the rapidly expanding market for Energy Services Companies, or ESCos
On 29 June in Orchardson Avenue, Leicester, city mayor Peter Soulsby cut the turf in a ceremony to mark the start of a project to lay 7km of insulated pipework and construct a major new district energy scheme. The project is a 25-year partnership between the council and energy services contractor Cofely District Energy. When it is complete, the £15m scheme will provide over 5MW of low carbon heat and power to over 3,000 homes, 15 council buildings and the University of Leicester's campus.
The scheme is one of many privately-funded district energy schemes under construction or being planned as cash-strapped councils, hospitals and universities struggle to meet carbon reduction commitments. Research from the Building Services Research and Information Association predicts the energy supply contracting market to be worth £4.5bn in 2020, up from £320m in 2009.
Research predicts the energy supply contracting market to be worth £4.5bn in 2020, up from £320m in 2009
An Energy Services Company, or ESCo, is a company established to design, build, finance and operate a communal, decentralised energy scheme. Using their expertise they are able to utilise technologies such as combined heat and power (CHP) to generate electricity and exploit the waste heat by linking to district heating systems. This enables them to generate electricity and supply heat more efficiently and with lower carbon emissions than a grid-based solution.
At the heart of most district energy schemes is an energy centre. In addition to housing CHP plant, the energy centre increases the opportunity to use other low and zero-carbon technologies such as fuel cells, biomass boilers and even waste-to-energy technologies. And, where there is a need for cooling, surplus heat from the CHP can be used to drive an absorption chiller. Thanks to their connected consumers, district energy schemes have an income to recoup their investment. Cofely's scheme to service the 2012 Olympic Games with low-carbon heat, power and cooling will continue to serve the Olympics legacy projects for a period of 40 years under an exclusivity agreement.
The district energy scheme was installed at the Olympics as part of the Olympic Delivery Authority's commitment to make the 2012 Games the greenest ever but environmental legislation, including the mandatory Carbon Reduction Commitment (CRC) energy-efficiency scheme, are leading to increased levels of interest in ESCos. "The big driver for ESCos is C02 reductions," says Simon Woodward, chief executive of Cofely District Energy. According to him, councils and public sector organisations are struggling to find funds to invest in meeting carbon targets, either to reduce exposure to the CRC or to meet manifesto commitments. "One of the ways to reduce carbon is through district energy projects, but if you don't have the funds the only way to do it is through a private sector partner," he says.
Of the funding for the Leicester scheme, £14m will came from Cofely, with the remaining £1m funded from the Community Energy Saving Programme. "Councils are being set carbon targets and so they are looking for ways to reduce emissions but they've got no capital with which to do it," says Woodward. The Leicester project is predicted to save over 12,000 tonnes of CO2 a year, and will help the council meet its commitment to cut carbon emissions by 50% of 1990 levels.
Bulen Hourshid, a director at Mitie Asset Management, agrees: "One of the reasons for the increase in undertaking district energy schemes is that, in current market conditions, clients are unable to meet both their carbon commitments as laid down by the EU and their construction revenue programmes," he says. "Most large multi-building sites such as hospitals and universities have financial challenges in upgrading their old and dilapidated plant and systems." Hourshid says companies such as Mitie can "help unlock these issues by setting up ESCo-type contracts where the projects are both funded and maintained over the contract period, which is typically 15-20 years".
The energy centre becomes an asset that helps generate revenue for the hospital rather than costing money

Simon Brown, Mitie
Four years ago, Mitie set out to grab a slice of the energy market through the acquisition of Dalkia Technical Facilities Management and by restructuring to create a new division: Mitie Asset Management. The firm has just completed the development of an energy centre at London's Royal Free Hospital that will enable it to supply all of the NHS trust's energy independently of the National Grid for the next 15 years.
The scheme came about because the trust had a target of reducing its carbon footprint by 10% from 2007 to 2015. The redevelopment of the hospital's 4.6MW energy centre was carried out by Mitie and funded by its partners who will maintain it for the next 15 years. In addition to saving 4,500 tonnes of CO2, the ESCo will save the hospital £850,000 annually, or about 20% of its utility bills.
"This performance-based contract solved the dilemma we faced as an NHS trust, in allocating resources to sustainability actions while maintaining our clinical funding," said Martyn Jeffery, estates director at the Royal Free Hampstead NHS Trust.
Mitie has derived further value from the project by selling surplus heat to Camden council. This will be used to provide hot water and heat to 1,500 homes at a reduced cost to the council. "The energy centre becomes an asset that helps generate revenue for the hospital rather than costing money," says Simon Brown, senior accounts manager at Mitie.
While carbon reduction may be the driver for many of these schemes, the fact that they are mostly designed, built, funded and operated by the private sector means that they have to stack up commercially. Cofely funds projects with money direct from its parent organisation GDF Suez. Mitie has yet to directly fund any scheme but according to Brown it is assessing the option. Otherwise, funding can come from banks or equity investment partners, depending on the client.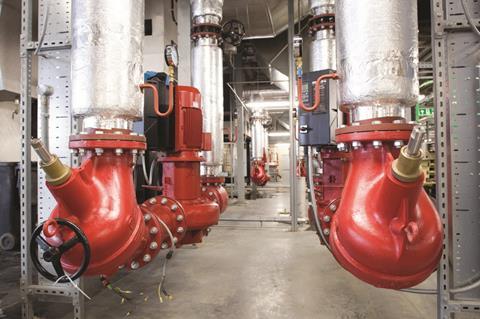 Most of Cofely's projects are with councils. "Our business model is predicated on working with the council because it is generally a unitary authority with control of the roads - if you are going to be laying a large district energy network you want the people in charge of the roads on your side." Mitie, on the other hand, has targeted the hospital market, where £100m of funding from the NHS Carbon Energy Fund has been matched by £100m of European Investment Bank funds. The firm is one of the framework contractors pitching for the work on the first tranche of 23 large-scale energy projects under the fund. "The fund has captured the value decentralised energy can bring to the NHS and applied a mechanism to unlock that," says Brown.
ESCos are not confined to the public sector. Mitie has formed a partnership with Waitrose to deliver the food retailer's first biomass-powered, carbon-negative store on the Isle of Wight. The ESCo will develop and operate an energy centre fuelled by locally produced woodchip from sustainable woodlands. Electricity and heating will be used by the store, with surplus energy exported to nearby homes and a medical centre. The project will reduce the store's consumption of grid electricity by 91% and gas by 80%.
Carbon reduction is also driving decentralised energy schemes for residential developments built to meet the requirements of the Code for Sustainable Homes. Barratt and E.ON are working together on the construction of low-carbon homes typically serviced by district energy centres undertaken through an ESCo agreement. Under the ESCo agreement, E.ON is supplying over 550 homes in Hackney, east London with low-carbon heat and hot water from a central CHP unit and biomass boilers. The firms are now working on two other ESCo schemes to supply 1,900 Barratt homes in east London and Croydon.
This trend of privately-funded energy schemes looks set to continue, as environmental legislation becomes increasingly onerous and energy costs rise. If further proof were needed of the growing importance of the energy services sector, the UK District Energy Association was set up last year to help promote the sector. According to Woodward, Cofely is involved in "a lot" of feasibility studies for energy schemes to help deliver reduced carbon emissions. "There is a lot of interest from councils; there are a lot of projects about to go out to tender and a lot of tenders we're responding to," he says.