Last month's shareholder rebellion at Balfour Beatty's AGM shows investors are now more willing to challenge large pay packets for the industry's executives. And with political pressure growing to make pay more accountable to shareholders, should construction's bigwigs be worried?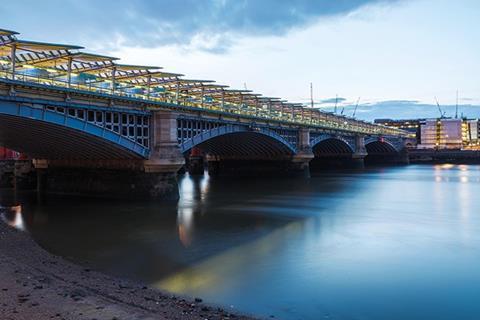 It was the shareholder revolt that sent shivers down the spines of the construction industry's best paid executives.
Nearly a quarter of Balfour Beatty's shareholders voting at the contractor's annual general meeting (AGM) last month rebelled against plans to increase bonuses for chief executive Leo Quinn and finance director Philip Harrison.
Although their basic pay of £800,000 and £400,000 respectively was unchanged, the bonus pot they could accrue on hitting certain targets could mean an additional 150%, up from 120%. With other elements of his pay package, such as pension, Quinn could end up earning £3.79m this year.
Institutional Shareholder Services, a US-based corporate governance provider, advised institutional investors that the new deal was "inappropriate". In Balfour Beatty's annual report, however, remuneration committee chairman Iain Ferguson pointed out the changes had "taken into account the significant milestones that have been achieved in the group's transformation as a result of the performance of the individual directors". When it came to the shareholder vote, although 23% rebelled, the proposal was carried.
So with opinion divided over the merits of Balfour Beatty's bonus plans, do some of the issues at play form part of a wider trend? Are there legitimate fears that the Balfour Beatty revolt marks the start of construction's own shareholder spring? And should the sector be preparing itself for greater scrutiny of senior directors' pay packages?
Big league
Perhaps most significantly, the Balfour Beatty pair have returned the group to profit two and a half years after Quinn was poached from defence technology group Qinetiq following Balfour Beatty's announcement of a £75m profit shortfall in its UK construction business.
Quinn has salvaged Balfour Beatty through his "Build to Last" programme and many industry observers are dismayed by what they see as a lack of investor gratitude. Tony Williams, chairman of construction corporate adviser Building Value, says: "I'd have paid him [Quinn] twice as much.
I think he saved the business – and that's not an exaggeration.
"Whatever they pay him, he deserves it. If you're a shareholder, you've got appreciating shares rather than pieces of paper that are worth nothing."
Whatever the merits of the revolt, it is clear that listed companies generally face greater scrutiny of their senior management pay packages than at any time since the so-called "shareholder spring" of 2012, when it was reported that an increasing number of companies were facing shareholder rebellions over directors' remuneration. For example, in April this year advertising giant WPP imposed a maximum pay package on chief executive Sir Martin Sorrell of £13m from 2021 to avoid yet another clash with investors, who have been riled by earnings of as much as £70m in previous years.
Moreover, the Conservative Party's general election manifesto included a pledge to legislate to make executive pay packages subject to "strict" annual votes by shareholders. The manifesto also called for listed companies to make public the ratio of their executives' remuneration to broader UK workforce pay and for complicated incentive schemes to be better explained.
Whatever they pay Quinn, he deserves it

Tony Williams, Building Value
Howard Seymour, director of equity analysis at Numis Securities, says: "Across the market there is more discussion by shareholders about payment. The Balfour Beatty situation is part of a general trend. I suspect it will result in management teams setting out harder and more tangible targets."
Others do not see the experience at Balfour Beatty as cause for wider concern. Corporate governance research firm Manifest was damning of Balfour Beatty last month, giving the group a "D" on an A-F grading on executive pay, criticising its "vague benchmarking disclosure" and failure to "establish a reasonable degree of alignment between executive remuneration and company strategy".
However, Manifest chief executive Sarah Wilson adds: "Construction companies do not appear to be unduly problematic in terms of shareholder concern."
Alan MacDougall, managing director at shareholder advisory firm Pensions and Investment Research Consultants, also points out that Balfour Beatty differs from other construction groups in that it compares executive pay with companies listed in the FTSE 51-150, excluding investment trusts.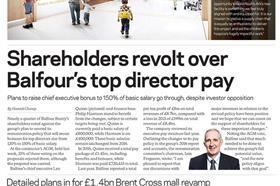 "They chose to compare the company's performance with companies of similar market capitalisation rather than sector, basically," says MacDougall.
Given large FTSE companies tend to have more generous executive pay packages – and that construction firms are usually outside the 150 – this means remuneration at Balfour Beatty would be typically greater than among its peers.
Balfour defended Quinn's pay, saying in a statement: "The Build to Last transformation programme is delivering positive change and Balfour Beatty now has a solid foundation for future profitable growth.
"Balfour Beatty consulted widely on the directors' remuneration policy and the remuneration committee is of the firm view that the changes were necessary, appropriate and in the best interests of shareholders."
"There remains much to be done to get Balfour Beatty to its full potential and the remuneration committee believes the policy provides the discretion to support the transformation.
"The committee will ensure that implementation of the policy, from target-setting to incentive awards, focuses on that objective and will continue to listen carefully to shareholders' views and consult on any material changes."
Building's comparison of executive pay at seven of the UK's biggest listed contractors (see right) illustrates that construction's best paid executives are indeed well remunerated, but not excessively so compared with business heads in other sectors.
As such, while further assaults on executive pay can be expected from both politicians and increasingly angry shareholders alike, the Balfour Beatty situation is probably an outlier in the construction industry. Contractor executives will undoubtedly see greater scrutiny of their remuneration, but this is part of a wider trend and there are unlikely to be many further revolts any time soon.
Carillion's Richard Howson

| Total pay package: £1.5m | Bonus: £245k |
| --- | --- |
Chief executive Richard Howson's pay package came to a little more than £1.5m last year, up from less than £1.3m in 2015. His basic salary was up £50,000 at £660,000, though his bonus fell by £48,000 to £245,000. Carillion's pay policy has been in place since 2014, but some modest changes, such as simplification of pension awards for executive directors, are being made this year. The new policy was approved, with nearly 99% of votes cast at Carillion's AGM last month.
Costain's Andrew Wyllie

| Base salary: £457k | Maximum bonus: 250% |
| --- | --- |
Pensions and Investment Research Consultants (PIRC) supported the 2016 remuneration report and urged shareholders to vote in favour of it at May's AGM. Pirc noted that the £456,590 salary of chief executive Andrew Wyllie was "considered to be above upper quartile" of Costain's peer group, but approved of his remuneration to average employee pay ratio of 19:1.
But Pirc was less pleased with plans to introduce a remuneration policy that would see the maximum potential award under all incentive schemes reach 250% of salary. deeming this "excessive", PIRC asked shareholders to vote against this change of policy, which, however, received the approval of 98.24% of shareholder votes.
Galliford Try's Peter Truscott
Total pay package: £1.46m
Another Pirc report states that the pay of chief executive Peter Truscott and that of predecessor Greg Fitzgerald, whom he replaced in October 2015, is "considered in line with [the] company's total shareholder return". Truscott received a total of £1.46m last year, though this included £303,396 compensation for forfeited bonuses as a result of leaving Taylor Wimpey, where he was a divisional chairman.
However, PIRC adds: "The chief executive's variable pay, which represents more than 250% of his salary, is not considered acceptable. The ratio of chief executive pay compared to average employee pay is inappropriate at 27:1."
Interserve's Adrian Ringrose*

| Total pay package: £679k | Bonus: £0 |
| --- | --- |
Chief executive Adrian Ringrose saw his pay package more than halved in 2016, receiving just shy of £680,000 against more than £1.4m the previous year. This reflected what remuneration committee chairman Keith Ludeman described in his section of the annual report as the "disappointing performance in our UK construction business" – the group posted an overall pre-tax loss of £94.1m in 2016 against a pre-tax profit of £79.5m in the previous 12 months.
As a result, Ringrose, like the rest of the executive team, did not receive any bonuses or other forms of annual variable pay. They had been entitled to some reward for making progress on a few strategic targets, such as health and safety, but the remuneration committee used its discretion to reduce this to zero.
However, Ringrose's base salary was increased by more than £14,000 to reflect cost of living increases and this was broadly in line with those awarded to the wider Interserve workforce.
*Ringrose will step down in September, to be replaced by Debbie White, a senior executive from outsourcing group Sodexo.
Kier Group's Haydn Mursell

| Total pay package: £1.3m | Bonus: £477k |
| --- | --- |
Chief executive Haydn Mursell pocketed nearly £1.3m last year, including a £477,000 bonus. His total package in 2014/15 was less than £1.1m.
A PIRC report on Kier's executive pay structure, seen by Building, states that Mursell's variable pay of 120.6% was "not considered excessive" and approved of Kier's overall level of disclosure on remuneration.
However, PIRC, which previously stoked a rebellion on Kier's executive remuneration in 2013, argued that a planned 11.3% increase in basic salary this year was "not acceptable". PIRC encouraged investors to abstain on the remuneration report approval vote at Kier's AGM last year. Nine in 10 shareholders ended up voting in favour of the report.
One of the Kier remuneration committee's "principle areas of focus" for 2017, according to the last annual report, is to review the group's pay framework to see if better management incentives are needed.
Mitie's Ruby McGregor-Smith*

| Total pay package 2014/15: £1.53m | 2015/16: £2.57m |
| --- | --- |
Mitie incurred the wrath of some of its investors in 2013, when nearly 21% of votes cast did not back its remuneration report.
This again followed a PIRC report, which said: "The focus of remuneration policy is not the operational performance of the business as a whole and the individual roles of each of the senior executives in achieving that performance. Combined variable pay was excessive during the year with bonus and other awards for the chief executive and finance director amounting to over 300% of base salary."
A year later, 27.1% of votes cast went against the remuneration report. But there were no substantial revolts in the past two years because Mitie's remuneration committee made some pay policy changes as a result of shareholder feedback from a consultation prior to the 2015 AGM.
*Baroness Ruby McGregor-Smith, who stepped down as chief executive in December, received £2.57m last year against £1.53m in 2014/15. Her replacement is Phil Bentley, formerly CEO of Cable & Wireless communications.
Morgan Sindall's John Morgan

| Base salary: £476k | Bonus: 125% |
| --- | --- |
Chief executive John Morgan and finance director Steve Crummett received 3% increases in their base salary this year, taking them to £490,537 and £391,142 respectively.
In 2016, Morgan's total package was nearly £1.3m, up from £905,000 the previous year, while Crummett's pay improved by more than £320,000 to just break into seven figures.
The remuneration committee has also proposed increasing the annual bonus from 100% to 125% of base salary. More than 88% of votes cast at last month's AGM were in favour of this change.