Few issues are more contentious in construction than payment practices. So will a new fair payment charter that asks contractors to commit to shorter payment times actually work - or merely add to the pile of previous failed attempts to reform the industry?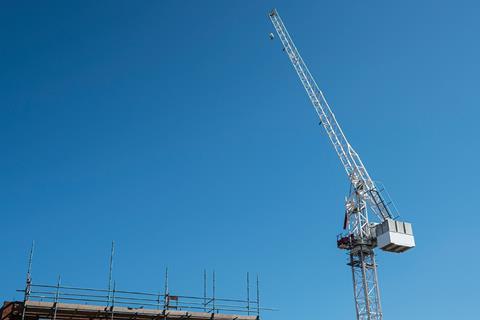 Payment practice is probably the most vexed issue in the whole of construction, and the prolonged recession which the sector is just emerging from has only made the suspicion and enmity on either side deeper. Payment terms of 120 days, retention periods of two years, contractors arguing the tossover contracts simply to hold on to cash a little bit longer: all of these things have fuelled this divide.
But according to the sector's industrial strategy, Construction 2025, produced jointly by industry and government last year, it doesn't have to be like that. The strategy recognises the current problems, but lays out a vision of an industry by 2025 where construction supply chains "thrive" because payment practices have been addressed. And this week the Construction Leadership Council (CLC), formed to drive progress toward the 2025 vision, took the first concrete steps to realising this change.
The business department which the CLC reports to this week outlined how a new fair payment charter, designed to drive improvement in this area, will work, with the full version to be published later this month. The charter will ask clients, contractors and subcontractors in the public and private sector to commit to a stepped programme of steadily shorter payment times, until all payments are made within 30 days by January 2018 (see box). It will also make a number of recommendations, including around the use of project bank accounts, and will call for an end to retention payments.
It is a noble idea, but without legislation, is it workable? The fear is people will pay lip service to this, but then just ignore it

Tony Williams, Building Value
The charter, agreed after lengthy negotiations between the clients, contractors, specialists and consultants on the CLC, and drawn up independently by the Institute for Credit Management, is designed to vastly improve the relationship between client and contractor, and between contractor and specialist. But questions as to the exact terms of the charter, and how it will be implemented and enforced, will be crucial to determining whether or not it succeeds.
The headline terms of the charter have already been welcomed by many in the supply chain. Steve Sutherland, chair of glazing specialist Dortech, has previously hit out at the culture of poor payment in construction. He says that if enforced, the charter will be a step in the right direction. "Anything that will improve the current uncertainty that subcontractors face will be a step forward. You could argue that the better payment times don't come in quickly enough, but everyone's suffered in this recession, main contractors included. You have to be realistic about what's possible," he says.
The initial signatories of the charter - not yet announced - are likely to include the main contractors on the CLC, including Skanska, Kier and Laing O'Rourke, with the charter's dissemination then thought to be driven by the CLC via the industry's trade bodies. Main contractors are also supportive in principle, given that many stand to benefit themselves if clients also sign the charter. Morgan Sindall's managing director Graham Shennan says: "I'd support any fair payment charter. If the whole industry did this, it would create a level playing field."
Shennan argues that poor payment practices simply add cost in the end. "The industry gets what it pays for, and those subcontractors that can withstand long payment times either have a different business model or somehow you're paying more for them," he says.
Main contractors' support may also have something to do with the relative success the government has been having in driving the use of project bank accounts (PBAs) on publicly funded construction schemes. These involve putting subcontractors' fees into a separate account which cannot be accessed by the main contractor, stopping them from using the cash that flows through their business to bolster their own balance sheet - a practice which has always been part of how contractors work.
Contractors such as Kier and Mace claim the use of PBAs will push up the cost of work. Certainly compared to an obligation to use PBAs, simply paying subcontractors promptly will have a much less dramatic effect on contractors' cash balances, and is clearly a preferable alternative. "The impact of project bank accounts has been significant. Construction is not as cash-generative as it was, and ultimately the margins may have to go up to compensate," says Shennan
However, if the charter is to be effective, it will need more than warm words of support. In 2007 the then new Labour government drew up its own fair payment charter, which was launched in 2008. But Rudi Klein, chief executive of the Specialist Engineering Contractors' Group (SEC Group), says this was then ignored because public sector clients made no attempt to monitor or enforce it. The failure of this charter to reform the industry's practices is evidenced by the need for the CLC's initiative, which is just one part of a raft of government efforts to change how the public sector acts as a client designed to tackle this problem. The government has already specified approved payment times for central government work, started the roll-out of PBAs, and is due to legislate for 30-day public sector payment times later this year. Klein says: "We've tried charters before and they haven't really worked.
If this is going to make a difference, then it's going to have to have a way to ensure compliance. What are the consequences if you don't do in practice what you've signed up to?"
Klein says business secretary Vince Cable should write to the UK's 100 largest private clients asking them to comply with the charter, and take steps to ensure it is enforced. He says that being a signatory of the charter should be required for pre-qualification on government contracts, and a penalty system should be put in place to police its use once contracts have been signed, with those found in breach who fail to improve their performance rendered unable to tender for further public work for two years. Without these kinds of measures, Klein says the assumption the CLC will be able to drive take-up is "fanciful". Dortech's Sutherland, likewise, says the government will have to use its own procurement muscle to enforce the charter if it is to have any chance of success. "The government should reward and recognise those that perform, and isolate those that don't," he says.
Certainly any initiative in this area will have to overcome a natural reluctance from clients and contractors to loosen their control of cash. Tony Williams, chair of analyst Building Value, says: "It is a noble idea, but without legislation, is it workable? If I was a contractor I'd probably say that no-one's going to tell me how to run my business. The fear is people will pay lip service to this, but then just ignore it."
For it to be a success, undoubtedly the reality of these ingrained practices will have to be tackled, and simply publishing the document will not be enough to make it happen.
What will the charter say?
The government this week said the charter, to be published on 22 April, will include the following commitments:
60-day maximum payment time with immediate effect
45-day maximum payment time by June 2015
30-day maximum payment time by January 2018
Work towards a zero retentions policy by 2025
Apply the fair payment commitments in dealings with the supply chain
Allow monitoring for the purposes of compliance by reporting against a set of agreed key performance indicators
Consider the performance of the supply chain against those KPIs when awarding contracts