Hyde Housing Association has just built a four-storey apartment block. The job took 14 months less than a traditional build would have, and was £210,000 cheaper than a standard prefabricated solution. We found out the secret of its success
On Monday morning, the building site in south-west London was bare. Only a few concrete strip foundations were to be seen. By 4pm on Thursday afternoon, a four-storey block of eight flats had appeared, complete with cladding and roofs, fully fitted kitchens and bathrooms, electric circuits and plastered walls.
Hyde Housing Association's Barling Court is exactly what John Prescott had in mind when he called for the use of prefabrication to speedily tackle the shortage of affordable homes for key workers in the South-east. And whereas previous projects overshot budgets laid down by the Housing Corporation, Hyde may have just found a solution.
All in all, Hyde's volumetric system comes with the well-rehearsed advantages of prefab. The erection of Barling Court, from groundworks to the final services connections and landscaping, took four months, 14 fewer than usually required. In essence, as Andrew Ogorzalek of PCKO Architects, readily admits, it is no different from the Peabody Trust's two Hackney housing schemes, Murray Grove in 1999 and Raines Dairy earlier this year.
But what does make Barling Court different – and less costly – is the location of the prefabrication plant. The modules were made in Krakow, southern Poland, where technical competence is conveniently combined with labour costs just one-sixth of UK rates. The result is that Barling Court's all-in construction costs, including full fitting out, amount to £700,000, or £1260/m2. Hyde says this is "at least 12% lower than a traditional new-build, and 20–30% less than equivalent modular systems". Little wonder, then, that the housing minister Keith HIll turned up enthusiastically on cue on Thursday afternoon to top out the building.
The low costs were combined with the type of quality control that can only be achieved in a factory. In fact, the modules were not only completely clad and roofed in the factory, but fully fitted-out with kitchens, bathrooms, plaster, paint and flooring. Even the communal entrance and staircase leading to all eight flats were prefabricated as four modules, one for each floor.
One other distinct advantage of Hyde's system is that it has been so robustly engineered in wraparound steel frames that it is truly recyclable. After erection, the modules can be quickly and repeatedly unbolted, transported to a new site and reassembled. In fact, the prototype created in 2000 by the prefabrication contractor, Buma, was demounted and re-erected no fewer than eight times as a travelling exhibition, before it settled down as a permanent family home outside Krakow.
Ogorzalek equates the flats' demountability with what he calls urban sustainability.
"Fast-changing urban life requires flexibility of buildings and sites," he says. "So rather than blowing up buildings when a new use is found for a site, it is much better to dismantle and re-erect them where they are needed."
The benefits of this aspect of the system are not lost on Hyde. Indeed, it has planned its two sequel developments to Barling Court on short-lease sites, from where they could be easily moved on to other sites. Other yet more ambitious British projects are under consideration. One is a bid to the Housing Corporation to build 2000 key-worker dwellings on 12 sites across London, for which Hyde has been shortlisted in a consortium containing three other housing associations and led by Countryside Properties. Another idea that appeals to Charlie Adams, Hyde's chief executive, is to build 200 dwellings in Crawley, West Sussex, on land currently blighted by a proposed second runway for Gatwick Airport. "If the runway eventually goes ahead, we could just dismantle the units and build them somewhere else," he says.
Yet the brave new world of prefabricated housing comes with a downside. How can Hyde's new system shake off the stigma of the mean, poky, repetitive, flimsy "prefabs" that has persisted over the past half-century?
The answer lies in the substantial and attractive appearance of the dwellings, which are designed for a 60-year life, regardless of how many times they are dismantled and re-erected. The flats are made up of two modules, each measuring 50 m2 for a one-bedroom flat and 65 m2 for a two-bedroom flat. With their sense of space, high-quality fittings, smooth plaster finishes and solid floors, nothing about the interiors of the assembled modules suggests prefabrication.
The flats' prefabricated origin is more explicit in their external appearance, particularly as the cladding and roofing were also prefabrication process and not added on site as a modesty screen of faux-traditional brick and tiles. PCKO has not shied away from honestly expressing the building's prefabricated nature, although the aluminium cladding panels and render are high quality and neatly detailed, and an external screen of balconies and sliding sun-screens of slatted timber has been added to soften the building's repetitive, slightly commercial appearance.
Buma hopes that its volumetric housing system will lead to a stream of British contracts. Jacek Michalski, the company's chief executive, is anticipating the next stage of industrialisation and talks eagerly about building a "completely new plant for modular construction". It could be that in the years ahead a fair few more British houses will come stamped "Made in Poland".
How Hyde of London met Buma of Krakow
Hyde Housing Association's venture into volumetric prefabrication began in early 2002 as a response to a plea from the Housing Corporation. Hyde's chief executive, Charlie Adams, volunteered to tackle London's acute shortage of affordable homes for key workers by using prefabricated systems to rapidly develop the city's abundance of smaller infill sites.
Shortly afterwards, Andrew Ogorzalek, the Polish-born director of London-based PCKO Architects, came across the BUMA housebuilding group in Poland just as it was extending its prefabricated panellised system of housing into a 3D volumetric system. With a commission from Hyde and a special £175,000 grant from the Housing Corporation, PCKO and a group of London-based consultants set about adapting BUMA's system for the British market.
Ogorzalek says: "It took six months to design because the system contains 800 catalogued components, and every little detail had to be worked out before it went into production."
When it came to the design of the steel frames, structural engineer Alan Conisbee & Associates worked through a comprehensive pack of calculations to check for compliance with British Building Regulations. Yet Conisbee's design was anything but radical. "We based our design on Buma's system of steel sections," says Isaac Hudson, the project engineer. To be on the safe side, Conisbee increased the thickness of the steel sections from 1.75 to 2 mm, but after physical testing at Krakow University, this was found to be redundant.
Two more problems remained. The first was that the Building Regulations demanded physical tests to prove compliance with revised standards of sound insulation between dwellings. The second was that it took seven months to gain planning permission from the London Borough of Lambeth – and, even then, this was granted for a four-storey rather than a three-storey block.
Meanwhile, production of the modules was already under way at Buma's plant in Krakow. Fortunately, Buma offered to hang on to the modules and erect them at one of its own housebuilding sites. This turned out to be convenient for Buma, as it could do the erection as soon as they were ready in February, when conventional construction shuts down in the face of the eastern European winter. For Hyde, it meant the sound insulation could be checked with no financial risk.
Agnieska Muc, with her husband and two toddlers, was among the first owner–occupiers to move into the prototype block in May. So why did she risk a choosing a revolutionary prefabricated home rather than the traditional brick one under construction next door? "We bought it because it went up faster than the others, and I'm sure it's built just as well," was her instant response.
Project team
developer Hyde Housing Association
architect PCKO Architects
structural engineer Alan Conisbee & Associates
services engineer WSP
cost and management consultant Walker Management
main contractor Rok/Lellwellyn
module prefabricator BUMA Group
On site: Barling Court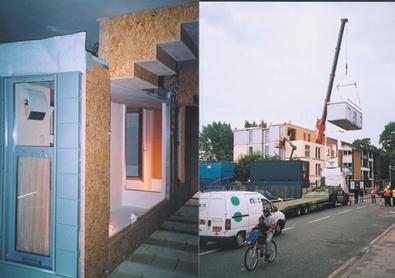 Early May 2004, Krakow Prefabrication of the 20 volumetric modules for the eight flats starts at BUMA's plant. Mild-steel 200 mm deep channels are bolted together to form a rigid floorplate for each module.
May, Krakow The floorplates are sent off for galvanizing. When they return, the frames for the modules' enclosing walls, lids and internal partitions are built up out of galvinised mild-steel channels.
May, Krakow Lightweight screed floors are laid. "It makes the house seem solidly constructed," explains Jazek Michalski, BUMA's chief executive. "Before, we had panelled floors, and they gave the impression of living in a container."
23 May–12 July, London The building site is cleared of single-storey garages by Rok/Llewellyn, the main contractor. Concrete strip foundations are laid to a depth of 1.5 m. Six plastic pipes are cast into the foundations as sleeves for services and utilities.
June, Krakow Walls and lids are lined externally in anodised aluminium panels and render on orientated strand board and mineral-wool insulation, and internally in plasterboard.
June, Krakow Kitchens and bathrooms are fitted out using off-the-peg Ikea kitchen fittings. Electrics and plumbing are installed. Walls and ceilings are finished off with a 2 mm skim coat of plaster and painted.
5–19 July, Krakow to London 23 lorry loads containing 20 modules, balconies and equipment travel from Krakow to the London site.
19 July , London Buma staff check the setting out of the galvanized-steel fixing plates to tolerances of ±2 mm. The first module is craned into position, but all six plastic services sleeves are found to be misplaced by 200 mm and have to be drilled out and repositioned.
19–22 June, London All 20 modules are craned and fixed into position by means of 845 bolts by 4pm on the fourth day. The external rendered plinth is installed by Rok.
25 July–27 August, London Internal service connections and finishing touches are carried out by Rok. Services distribution and connections confined to riser ducts in communal stair block so as to avoid tradesmen tramping through fully finished kitchens.
31 August, London Building handed over ready for first tenants to move in.