Building meets Walkie Talkie architect Rafael Viñoly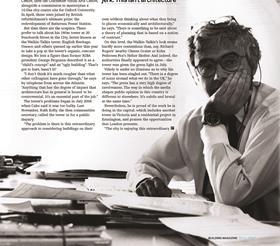 Rafael Viñoly
Controversy is an essential part of the job, says Rafael Viñoly, and he certainly caused some when designing the Walkie Talkie tower, winner of this year's Carbuncle Cup, writes Hollie Tye. In light of his "win", we revisit 2007, when he was interviewed by Building.
"Rafael Viñoly is nothing if not provocative. In the four years since the US-Uruguayan architect designed his first building in the UK, he has been embraced by British clients with almost as much enthusiasm as he has been castigated by the heritage lobby," wrote reporter Dan Stewart. "But then there are the sceptics. These prefer to talk about his 160m tower at 20 Fenchurch Street in the City, better known as the Walkie Talkie tower. English Heritage, Unesco and others queued up earlier this year to take a pop at the tower's organic, concave design. No less a figure than former RIBA president George Ferguson described it as a 'child's concept' and an 'ugly building'."
When discussing his failure to win the competition for the redevelopment of the Twin Towers in 2003, Viñoly said that competition losses never rattle him - "they always teach you something whether you win or not". Let's hope he feels the same way about his Carbuncle Cup award.