Hanif Kara, founding partner of structural engineer Adams Kara Taylor, knows that image can be crucial when you're building a business. So how come he's so nervous telling Marcus Fairs about his own?
What is the optimum haircut for an engineering entrepreneur? Hanif Kara, owner of one of the most distinctive tonsorial combinations in construction, frets over such things, worrying whether his Little Richard quiff and pencil moustache might send out the wrong signals to clients.
"Obviously, one of the dangers of looking too young and quiffy is it's not the right image for the business, is it?" he says, only half in jest. Perhaps he should have it chopped off before Building's photographer arrives, he muses. Kara, lead partner at structural engineer Adams Kara Taylor, takes his image – and that of his firm – very seriously.
Since forming AKT six years ago, Kara has used business acumen and presentational nous to build the practice into one of the most highly regarded in the business. By wooing the glamorous end of the architectural spectrum, the firm has landed a string of profile-raising projects, helping the likes of Zaha Hadid, Will Alsop and Foreign Office Architects make their wiggly designs stand up. One of the first jobs it won was Alsop's Peckham Library; the firm lost money on that, but the publicity derived from a key role on the Stirling Prize-winning building was priceless.
Of Indian descent, Kara is one of the few visibly successful Asians in construction (partner Albert Taylor is one of an equally small number of blacks). With third partner Robin Adams, the brown-black-white trio cut something of a dash in the industry's predominantly grey upper echelons, and Kara is unabashed about how this has helped the firm. "It works wonders," he says, adding that the multiracial image was always a key component in the firm's marketing strategy. "It's helped us a lot more than it's stood in our way."
Kara would like to improve appearances still further by appointing a female partner, but this has yet to happen. "Unfortunately, construction is still a man's world. We've deliberately recruited bright young women; we always said we should have a woman at the top, because that's the one thing we don't have. That would be perfect." An office photo shows that about a quarter of AKT staff are female – not bad, but not good enough.
The firm now turns over £3m and employs 45 people at its offices in fashionable Smithfield. The brochure and the office walls are congested by images of swooshy, blobby and curly structures, although glamour projects, such as Southwark Jubilee Line station (shown in the portraits) only account for half the firm's projects – the other half is made up of things like sheds for BAA and a cement works in Wales.
Peckham Library aside, Kara claims AKT has cracked the riddle that has defeated many a consultant: how to make money out of radical buildings. Good staff, intellectual rigour and efficiency are the secrets, Kara asserts, citing a baffling parable about expecting a horse but getting a zebra. "People say an Alsop building is complex but it's not necessarily if you think of the zebra instead of the horse. There's ways of achieving it and that gives you the edge."
Will Alsop puts it more succinctly: "They're able to do inventive engineering without spending a fortune. And that's very important. If you think of the previous generation of engineers, people like Peter Rice, that form of engineering is unaffordable in today's market. Hanif is very talented: he represents a tradition of shirtsleeves rolled up and get on with it."
People say an Alsop building is complex but it's not necessarily if you think of the zebra instead of the horse
Farshid Moussavi, a director of hyper-fashionable Foreign Office Architects who worked with Kara on the spectacular, mussel-shell roof of the Belgo Zuid restaurant in London, is almost gushing in her appreciation. "Their level of output is amazing, not only in quality, but also in quantity, and at a record speed," she says. "There's not a bit of posing, just pure good work. They have saved our neck several times."
Kara is very much the public face of the practice, spending much of his time personally courting clients and collaborators, and his easy charm is a potent work-earner. Yet an acute self-consciousness shows through his smooth-operator veneer. He is greatly flattered to be interviewed but mortified at the suggestion that he proposed the idea himself. "No, I didn't – did I? Noooo – really?"
"He's a very serious man, takes his life very seriously," says Alsop, proferring a bit of fatherly advice: "He needs to learn to laugh at himself a bit more sometimes."
Kara is an Ismaili, a member of an Islamic sect headed by the Aga Khan that is known for its work ethic. Born in Uganda, where his father ran a business building buses, he came to England aged 14 when Idi Amin, Uganda's crazed dictator, expelled the entire Asian community in 1973. Billetted to a refugee camp in Stafford, Kara at first struggled to come to terms with the weather and language. But he now sees the upheaval as a boon, since it enabled him to get a first-class education. He quickly added English to Gujarati, Urdu and Swahili, a chain of languages that charts his family's migration.
Following a spell at consulting engineer Allot & Lomax, where he designed North Sea oil rigs and Blackpool fairground rides, he joined Anthony Hunt Associates where he met his future business partners. But before setting up AKT, Kara enjoyed a brief spell as a dry-cleaning entrepreneur with a string of outlets around London. This earned him a small forture, but the washing and pressing business was not for him. "It was so boring," he recalls. He sold up after four years, and ploughed the proceeds into his passion: engineering.
Kara believes that there is a simple reason why construction attracts so few Asians: it doesn't pay well enough. "You can make much more money if you put this kind of effort into many other industries, so more Asians go into things like medicine and science. I still think engineering is art and science mixed, but Asians feel art doesn't make money."
Having shown that there's money to be made from structural design, Kara could be just the role model to entice more young Asians into the industry. So who was his own role model? The answer comes as something of a surprise. "I have a lot of respect for Tony Blair. I've always had it – it's been waning lately – but he's got all those skills that people like and trust. In a way he's been quite impressive. For me there was a kind of a parallel between the 1997 election and me setting up my business."
Personal effects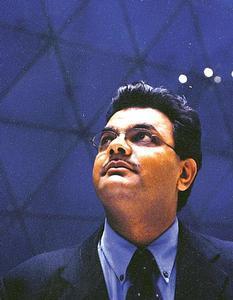 How would you describe yourself?
First and foremost a nice guy, an honest person. I'd say I'm the modern brown Englishman who's thirsty to make good buildings.
How long have you had the moustache?
It's been with me many, many years. I took it off over Christmas and the wife made me put it back on.
Where do you live?
Pinner, just north of London. It's commuterland. I'd love to live in the city but it's related to the education of my little girl. We had to move further out to get a decent school.
What are your hobbies?
I play the guitar. I'd better not tell you what my last band was called. Oh, I'll tell you. We were called The Benders.