As the two-way (un)popularity contest continues in the Cabinet, construction's main man pats the industry on the head and a sustainability expert calls for the chancellor to get his cheque book out
Remembering David Kelly
Hansom would like to pay tribute to Irish actor David Kelly, who died this week at the age of 82. Kelly enjoyed a varied career on stage and screen, including as Grandpa Joe in Tim Burton's 2005 remake of Charlie and the Chocolate Factory. But perhaps his most famous role was the cowboy builder O'Reilly in the Fawlty Towers episode The Builders in 1975.
As many will remember, Basil hires O'Reilly to carry out work on the hotel, predictably setting off a series of disasters. Kelly himself often remarked that he had performed on stage for more than 50 years but it was those nine minutes as a stereotype in Fawlty Towers that made him recognisable all over the world.
A right Pickle
Sometimes the capacity of our elected officials to disappoint me reaches new levels. First, it was cash for questions. Then it was MPs' expenses. And now, this. In June 2010, shortly after the coalition came to power, communities secretary Eric Pickles and communities minister Andrew Stunell met to discuss their respective roles within the department. The conversation, as Stunell recounted at a conference at the BRE last week, went like this: "I asked, 'who is going to be doing Building Regulations?' 'What are they?' asked Pickles."
At least you know that if you don't like something in the revised regulations, due to be published later this year, you needn't blame Pickles because there's a good chance he didn't know anything about it.
Unlucky with Gove
Still with Pickles, Hansom noted last week the continuing battle between him and education secretary Michael Gove to be Whitehall's worst boss, with both ministers presiding over departments with falling morale and an exodus of top civil servants. It was interesting then, to read in a Sunday newspaper that Pickles regards Gove as his "personal hero" for the work he is doing in the Department for Education. Sadly for Pickles, the feeling is not quite mutual. Gove asserted the same week that his hero was Sir Michael Wilshaw, head of the Mossbourne Academy in Hackney and the new boss of Ofsted. Pickles, it seems, has more to do to catch Gove's glad eye. I'm sure the civil servants in the communities department are trembling at the thought …
Straight from the top
Stop panicking about the take-up of the Green Deal! Everything is under control and normal service will be resumed shortly - or at least it will be if the government listens to David Adams, director at the Zero Carbon Hub and head of retrofit at Willmott Dixon Re-Thinking.
Adams suggests that the government should use the scheme's £200m fund to give homeowners a cash back incentive.
But he knows this won't be enough on its own and suggests the scheme should have the chancellor of the exchequer's fingerprints all over it so the humble consumer can do a bit of gloating.
"People should get a cheque with George Osborne's signature on it," he says.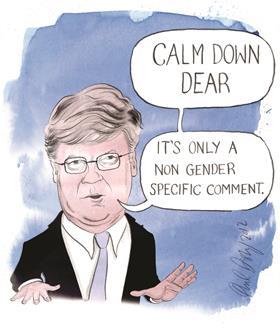 No woman, no cry
First it was David Cameron, with an ill-advised comment in prime minister's questions last year. Now it seems our own chief construction adviser, Paul Morrell, has had an attack of the Michael Winners. Speaking at the launch of the government's latest update to his construction strategy last week, he said that the industry had got over-excited about BIM, and that he'd had to issue a "calm down, dear" message to "hysterical" consultants and contractors. To be fair, while Cameron aimed the patronising phrase at female shadow treasury chief secretary Angela Eagle, Morrell made clear his warning was "totally non gender-specific". But, given the continuing failure of the industry to recruit a significant number of female senior executives, it would be difficult to find a female to accuse him of being patronising to.