We analyse the progress made by both government and industry one year on
One year ago this month the government launched its long-awaited Construction Strategy. The document represented the first coherent attempt for a generation by the government to address the way construction is bought by the public sector. But more than that, it prescribed a set of reforms that, if implemented, would presage huge structural change in the way the industry operates, with implications far beyond central government contracts. Alasdair Reisner, director of external affairs at the Civil Engineering Contractors Association, says: "It's an enormous challenge. What you're talking about is a complete reform of a large section of a £100bn industry, some parts of which may be resistant to change."
Given that the scope of the policy is so huge, ranging from the use of Building Information Modelling (BIM) to frameworks and procurement, the good news is that the strategy, launched by Cabinet Office minister Francis Maude, has both senior government backing and near universal support among the construction industry's major players. The prescription, drafted by chief construction adviser and former Davis Langdon boss Paul Morrell, aims to see public sector construction costs reduced by 15-20% through partnering, supply chain integration and the effective use of frameworks.
In addition, since publication of the strategy, the government has continued to focus on securing infrastructure investment despite budget cuts, and on attempting to open access to government work for small and medium -sized businesses - an area which contains no small tension with the Construction Strategy.
The Government Construction Summit is being used as an opportunity to examine how much progress has been made. Unlike the Latham and Egan reports before it, Morrell's crucially contained a detailed implementation plan running to 25 pages. As Reisner says: "We've got the strategy - it's agreed. It's now about delivering it." So how far have we got?
Changing spending
One year on, Morrell can be pleased with the level of central government buy-in to the strategy. This can be measured by the fact the seven major construction spending departments - communities (CLG), transport (DfT), education (DfE), justice (MoJ), environment (Defra), health (DoH), and defence (MoD) - have published detailed cost benchmarking information, one of the key recommendations of the strategy.
Morrell estimates that only £1bn-1.5bn in central government spend each year is not covered - about 10% of the programme. In addition, all have published trajectories showing how quickly they intend to reduce spending, with £115m estimated to have been cut out already. Key to this buy-in has been the principle that departments get to keep any savings they make to spend on other construction projects.
"It was an early conversation, recognising the lack of incentive if money saved becomes funding lost. So it is clear. If departments save money then it will stay in their programme," says Morrell. "Practically no-one in central government is procuring in the old traditional way."
The publication of cost benchmarks has also been a vital achievement. These showed that the DfE, for example, was allowing some local authorities to spend up to three times as much per m2 on a school as others. Refurbishments under the Procure 21 health framework in 2009/10, for example, varied in cost from £1,130 to £2,450 per m2.
The cost of flood defence walls built by the Environment Agency was between £1,386/m2 and £3,784/m2. For Morrell it is the existence of this variation that means he knows 20% savings are achievable. "The bulk of the savings will come from changing what we buy - not from squeezing margins. The benchmarking for schools, for example, shows that we could deliver schools for about 20% less than the recent average school in a single blow - just by doing consistently what we already know how to do," he says.
Consequently the major departments are all predicting big savings by 2014-5, from just over 10% at CLG to 20% at the MoJ and DoH.
To see a table of the government's trial projects click here
Demonstrating BIM
Another area where Morrell has seen success is in the roll-out of BIM. The strategy mandates the use of 3D collaborative BIM by 2016 on all projects with a value of more than £5m procured by central government departments. It has seen the technology transform from a special interest topic to the hottest in construction. The MoJ has set up four trial projects of the technology, with tenders out for the first of these, Cookham Wood prison.
The government says discussions are under way with other departments about rolling out BIM adoption programmes. There is also evidence the industry is reacting quickly: consulting giant Mott MacDonald has said it will use BIM on all its projects by 2013, and Balfour Beatty has signed a £7.5m deal with Autodesk to roll out BIM technology. The government is planning to invest millions in BIM training, and one in five private clients are also using it.
If anything, Morrell says, the industry has got over-excited. "We had to issue a non gender- specific calm down dear message." he says. "The statement that this is the only way government is going to buy by 2016 seems to have galvanised action all over the place. People are already starting to say 'we're switching over, we're finding huge savings'."
So far so good. The question now is whether this unprecedented consensus can be harnessed to provoke lasting change, or if momentum will wane. "The key is engaging interest by demonstrating practical progress," says Terry Hill, chair of Arup Group Trusts at engineer Arup. The view is echoed by John Hicks, director of public sector at consultant Davis Langdon, who questions if this is being achieved so far. "We need more pilots in order to move the rhetoric into action," he says. "The industry is gearing up to do this, but the government needs to say 'now is the time to accelerate'. At the moment we don't see much traction."
Morrell says he is keenly aware of the issue, hinting that the government is hoping to unveil more trial projects at the Construction Summit. It is clear, though, that persuading departments to allow projects to be used as trials has been difficult. Morrell says this should not surprise anyone - after all, you're asking departments to take a risk with something new.
Former Bovis Lend Lease chief executive Nick Pollard, now practice leader at Navigant Consulting and leader of the procurement workstream for the Construction Strategy, says: "Would I like more trials? Yes, but central government can't dictate these things. Government money is not easy to come by, and you're asking people to break their routine."
Morrell says greater enthusiasm will come when the results of the trials are seen, but concedes that this won't be until next March at the earliest. "The confidence will come when clients repeatedly see that these trials are delivering savings."
Demonstrating this success is particularly important when it comes to the wider public sector, beyond the big seven Whitehall departments. These local authorities and quangos account for around two thirds of public sector construction spend, about £25bn in total, but can't easily be told what to do, and with over 350 councils it is difficult to get the message out. Of the government's trial projects, only those piloting so-called "soft landings" which help ensure that buildings are constructed with the future occupants in mind, include projects outside of central government.
Alasdair Reisner says: "It's sometimes difficult to tell people that they can't do what they have always done anymore. It is vital that the trial projects produce solid evidence, as that will be needed to encourage change, particularly in the wider public sector."
Infrastructure focus
At the same time as the Cabinet Office and BIS have been struggling to reform procurement, the Treasury has been working to increase the delivery of major infrastructure projects. In December 2010 it published the Infrastructure Cost Review, initially commissioned by the previous Labour government, to discover why infrastructure projects in the UK cost anything up to half as much again to build as they did in mainland Europe. Looking at the whole process, from design, planning and commissioning, it also found many of the same problems in procurement and construction of civil engineering specifically identified later by Morrell's Construction Strategy. An implementation plan dedicated to rolling out the findings from the report says up to £1.5bn of savings have been identified, although the report said that ultimately £2bn-3bn of savings should be found each year.
The government has since then placed a growing focus on major infrastructure projects, stemming from a desire to promote economic growth. In November 2011 the long-awaited National Infrastructure Plan was published, which identified 40 UK priority infrastructure projects, and detailed an overall pipeline of more than 500 projects. A Cabinet committee, headed by Treasury chief secretary Danny Alexander, oversees progress on bringing the projects to fruition. The proposals included: sourcing up to £20bn of funding from pension funds and other financial institutions; considering other funding mechanisms such as road tolls and tax increment financing; and looking at giving state guarantees to reduce risk to private sector funders. However, just £2bn of pension funding has so far been promised, and no proposals for the road tolling scheme for the A14 have yet been submitted as promised. The Treasury says it so far has done no detailed work on how it might provide guarantees to specific projects, despite recent statements by prime minister David Cameron and Nick Clegg saying it has been ordered to do so.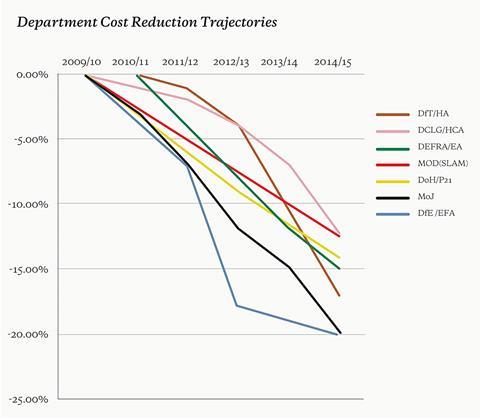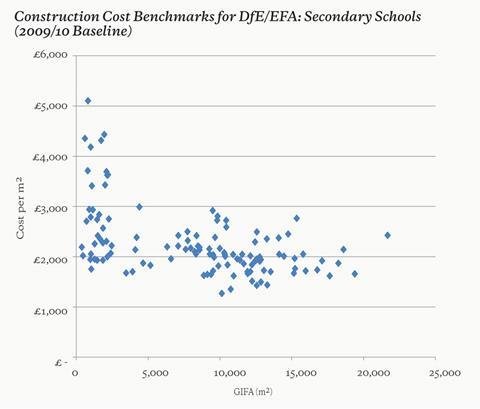 The right skills
This difficulty is exacerbated by the lack of skills in public sector procurement. Time and time again research has shown that the experience of the client is a key determining factor in the success of a construction project. But both central and local government have been losing thousands of staff in the last two years, including about 50% of the staff of the MoD's former construction procurement arm, Defence Estates, as it transitions to the Defence Infrastructure Organisation. In addition a raft of senior management at the Education Funding Agency have left. "If schemes are going to be more contractor-led, there is an onus on the public sector to become a better client." says Davis Langdon's Hicks. "But the danger is that the wider public sector is being de-skilled at a faster rate than they can be re-skilled. We're seeing poorer and poorer tender documents. Agencies don't have the right staff doing the right thing, and with funding cuts they don't have the ability to appoint consultants to advise them."
In response to this problem the government has signed £6.7m deal with the University of Oxford's Said Business School to train senior civil servants to be more effective major project leaders, in a move supported by the Major Projects Authority. But the government accepts this will take years to bear fruit. Pollard says: "It's great to have long-term client training, but we also need some shorter-term action - something that coaches people alongside the projects they're running."
Leadership is also a potential issue right at the top of the strategy, with the government yet to secure a replacement for Morrell. This has fuelled some concern over how momentum will be maintained, and whether a new broom in the role might try to set the industry off in a different direction. Hicks says there is "concern" over who the new construction adviser will be, with Pollard echoing that it is vital that the new adviser is "someone of real stature" in the industry, in particular to ensure that local authorities are signed up to the process. Morrell plays down the concerns: "They will have ideas of their own, of course, but continuity and steadiness is important to business planning. I would hope that the main job of the adviser will be to refine plans and advise on their implementation, rather than to design new ones."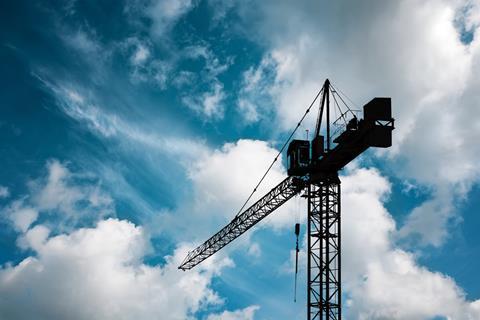 Construction Strategy
The Construction Strategy called for the government adopt an approach to procurement that encourages industry collaboration and an integrated supply chain, through the certainty of long-term work streams. This meant continued use of large frameworks. Competitive tension, it said, should be brought to the process by the use of cost benchmarks, so departments know how much they should expect to pay for specific buildings. It said three new forms of procurement, all designed to encourage this approach, should be trialled, and BIM used to enforce supply chain collaboration. You can chart progress on the strategy scorecard below.
Strategy scorecard
Pipeline: 9/10
Pledge: To produce a fully populated pipeline of public sector work opportunities over the next parliament by autumn last year.
Delivery: A first draft of the pipeline published last summer didn't win the government many friends, but the final version, published alongside the autumn statement last year, has been welcomed by the industry, which has long been asking for a better idea of what work is coming up. Minor criticisms remain about the certainty of the timelines and funding on individual projects.
Client skills: 5/10
Pledge: To ensure that "government commissioning teams are consistently equipped with the necessary high level of skills appropriate to specific projects and programmes." In other words, to retain the skills necessary to be a good client.
Delivery: Evidence from the government suggests that central departments are becoming more consistent in terms of what they demand from contractors. The government has also instituted a programme of training for senior project leaders. However, anecdotal evidence suggest the pressure of job cuts across the wider public sector is taking its toll on the government's ability to buy construction.
Cost benchmarking: 8/10
Pledge: The strategy says "Cost benchmarking will be established to provide a consistency of value for money across each programme and a baseline for new cost/value-led approaches to procurement. This will ensure that cost becomes a lead driver in the delivery of projects, without sacrifice of whole life value; and that clients should be aware, when they go into the market for construction work, what its price should be."
Delivery: The seven major spending government departments have all published benchmarking data for a variety of different building and infrastructure types to varying levels of detail. They have also done work demonstrating how wide the variation in cost has been on previous projects. More detail is needed to refine the benchmarks, and more evidence that those procuring new work actually use them to help guide buying in practice.
Efficiency waste/SMEs: 6/10
Pledge: To reduce bureaucracy in the procurement of construction work, thereby enabling greater involvement from small businesses, by standardising pre-qualification documents and rolling out the use of project bank accounts.
Delivery: The use of project bank accounts has increased quickly, with £500m of work in 2011/2 using them, and the standardised pre-qualification questionnaire PAS-91 has been produced. However, for SMEs and the wider industry to truly benefit there has to be more usage of these methods by local authorities, who often procure smaller pieces of work where the bureaucracy is disproportionate to the value of work done.
BIM: 9/10
Pledge: "To introduce a progressive programme of mandated use of fully collaborative Building Information Modelling for government projects by 2016." Rollout of the programme should commence by summer 2012.
Delivery: Widespread industry interest in the issue, including enthusiasm from major private sector clients. Many problems remain, including questions of how to ensure the necessary skills are picked up by the industry, and whether public clients will all have the capability to oversee BIM projects by 2016. However, few now doubt this will happen now the focus has turned to implementation.
Frameworks: 7/10
Pledge: The strategy calls for work "To assess the effectiveness of frameworks, in collaboration with departments and the National Improvement and Efficiency Partnership for Construction." Findings to be published March 2012 with recommendations to be implemented from summer this year.
Delivery: A controversial part of the strategy, small businesses say the continued use of frameworks cuts them out of bidding for work, in direct contravention of the express wishes of Cabinet Office minister Francis Maude. Morrell says construction is a special case as frameworks are essential to drive supply chain integration and skills investment, but many allege frameworks are still primarily used to sidestep OJEU procurement rules. The report findings have not yet been published but are due shortly.
Procurement pilots: 7/10
Pledge: To develop new model competition and procurement processes in collaboration with central government departments, and rollout these new models through a series of trial projects from April 2012.
Delivery: The Cabinet Office was initially late in identifying projects to take part in the trials of three new forms of procurement, but work is now on track. Morrell would clearly like to see a greater number of trial projects, and would welcome more enthusiasm from departments to put projects forward.
Sustainability and carbon: 4/10
Pledge: To implement "existing and emerging government policy in relation to sustainability and carbon, with specific actions developed following the publication of government's response to The IGT Report: Low Carbon Construction, to be published in June 2011.
Delivery: Morrell has not made the progress expected on delivering whole life costings, with the government as a whole making it clear that the priority is saving money rather than going green. However he argues the benefits of a whole life approach can be achieved in other ways. In general less progress has been made on the low carbon agenda, with the DfE's continuing reluctance to accept the common minimum standard for environmental performance under the strategy being one example.This says all buildings should be constructed to BREEAM excellent standard or equivalent.
A realistic approach
In addition to obstacles in the roll-out, Morrell admits that some parts of the strategy have had to fall by the wayside, given the focus on reducing costs. But only, he says, when it has become clear they are less important. An example is in the area of whole life costing, where the strategy had committed to review how whole life value would be measured by April this year. Morrell says: "The more important thing has to be to make sure that the way we design and procure connects with whole life costs - the soft landings concept. The people who know about whole life are those that run the buildings, so if we can connect them - design and construction to asset management - then I'd rather do that than carry out more academic analysis of what whole life might mean, and how it might be measured."
Other elements to slip include the laying out of principles for setting standards across departments (including use of standardisation), and work on reduced transaction costs. It is likely an updated action plan will be laid out at the Summit. Morrell defends the decision to prioritise. "If there was anything in the programme that we thought critical to the core purpose of securing better value in the long term, then we'd have got it done."
The final, and probably biggest, challenge of the government's construction programme, will be to ensure that projects continue to flow through the pipeline, despite spending austerity and private sector reluctance to fund infrastructure. Government attempts to persuade financial institutions such as pension funds to invest in infrastructure have so far failed to generate concrete funding, and the number of project finance deals coming to fruition has crashed. At the same time the government has effectively ended PFI as a potential funding route, at least until the outcome of the current review, expected in the summer. Pollard says that by adopting the collaborative working envisaged under the Construction Strategy, procurement can help de-risk projects to the extent that private sector funding becomes more readily available. But in the meantime the Treasury seems reluctant to provide the government guarantees that could allow projects to work. The publication of the government's pipeline of work has raised the confidence of construction firms over what schemes are likely to come to market, but concerns over funding remain. An increase in projects funded will allow the industry to embed the new practices envisaged under the strategy.
If this hurdle can be overcome it is only left for the industry to reform to be a more collaborative structure with an integrated supply chain. Morrell says: "The challenge is to people's business models. If a business designs its whole offer to the market around integration, but the market keeps asking for an opportunistic lump sum price, then a business will design its offer and its culture accordingly. Change that runs this deep is always difficult."
It is a challenge the industry's smart businesses are already preparing for.